Zaker Li of Omdia has a great take on a remarkable turn of events, Huawei has taken a lead in the fold-type foldable smartphone market over Samsung. Based on the latest figures for Q2'23, Huawei holds a 32.9% market share in this segment, a big jump given the launch of its new foldable product, the Mate X3, was only earlier this year in April.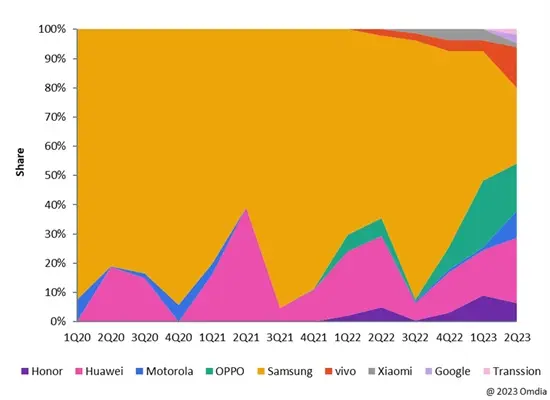 Despite a dip in the first quarter of 2023, foldable smartphone shipments saw an 8.7% sequential rise and an 18.5% year-over-year (YoY) growth. This growth spurt can be attributed to Chinese tech giants ramping up their foldable smartphone production. The pause in Samsung's foldable production lines ahead of its anticipated Q3'23 launch of its own products is considered a significant factor in its decline in market share, now at 26.7%. However, Samsung continues to dominate the entire foldable smartphone market, holding its position as the leading global player.
Chinese brands have a collective market share in the foldable smartphone market of over 70%. Huawei is not only the top Chinese manufacturer but also as the second-largest global player, boasting a market share of more than 22%. Following Huawei, Oppo and vivo secure the third and fourth spots with 16.7% and 14.3% market shares, respectively.
Huawei's Mate X3 accounts for a whopping 76% of the company's foldable smartphone shipments in the second quarter, with 309,000 units shipped. Of these, fold-type devices took the lion's share with about 361,000 units, or 88.3% of its total foldable smartphone shipments.
The second quarter should be Samsung's weakest preceding its new products shipping in the third quarter. The company shipped roughly 151,000 fold-type foldable smartphones in Q2'23, making up 17% of the market. However, its supremacy in the broader foldable market remains intact with a total of 477,000 units shipped, of which flip-type smartphones contributed approximately 326,000 units. Given the cyclical nature of product releases, with Samsung's imminent launch of the Galaxy Z Fold 5 and Galaxy Z Flip 5 in July, industry watchers predict an interesting showdown in the foldable smartphone market for the second half of 2023.