Neoti is a US-based LED screen manufacturer headquartered in Bluffton, Indiana. The company manufactures their own screens, assembling them in the US from domestic and imported components. They were at NAB New York to discuss their products and services and increase the company's profile. As far as I can tell, the company, which has been making LED screens for ten years, has not been covered before by Meko.
ABC's Kelly and Ryan with their guests in front of 1.56mm pitch Neoti LED screen. (Credit: Disney ABC Home Entertainment and Television Distribution)
At NAB NY they were showing their indoor UHD series LED panels. These are available in pitches of 0.93mm, 1.25mm, 1.56mm, 1.87mm, and 2.5mm. The Neoti rep said that while the company has built prototypes of the 0.93mm screen, it has not yet built or sold a full-sized screen. At NAB NY they were actually showing the 1.25mm, 1.56mm and 1.87mm screens because these are the ones most suited for on-set studio use. He added that when he goes on a sales call to a broadcaster, he normally takes the 1.25mm and 1.56mm pitch screens for the broadcasters to test for moiré with their cameras. Almost inevitably, he said, the broadcasters would choose the 1.56mm pitch screen because it did not cause any moiré with their cameras and it was significantly less expensive than the 1.25mm. He said that broadcasters are not particularly concerned about what the panel looks like to the eye – they only care about its on-camera appearance and 1.56mm was fine enough pitch to avoid moiré. He added that the Neoti UHD series 1.56mm pitch screen is used on the morning TV program "Live with Kelly and Ryan" on ABC.
The panel dimensions for the various pitches are all the same: 600 x 337.5 x 66mm (23.62" x 13.29" x 2.6") and each panel consumes 122W of 50/60Hz, 100 – 240VAC power. They are all fanless and produce no noise, important for on-set use. They are designed for full front service and installation so they can be installed against a solid wall. Refresh rate is ≤3840 Hz with 16 bit grey scale. All sizes use SMD 3-in-1 LEDs and are designed for 1000 cd/m² brightness with a 5000:1 contrast and a 160°H x 140°V viewing angle. The panels are said to have a 100,000 hour lifetime.
While they were only showing the UHD series at NAB NY, Neoti also has the Flex Pro and Flex series of flexible LED displays intended for indoor creative and architectural use. These come in a variety of pitches from 1.6 mm to 6mm. The Neoti P series comes in pitches from 3 to 16mm. The 3, 4 and 5mm pitch panels can only be used indoors but the 8, 10 and 16mm pitch panels can be used indoor and outdoor. While the UHD, Flex and P-series panels are intended for permanent installation, the R-series is specifically designed for the Rental and Staging market. The 2.9 and 3.9mm pitch R-series panels are for indoor use only while the 4.8, 5.9, 6.9 and 10mm pitch R-series panels can be used indoors or outdoors.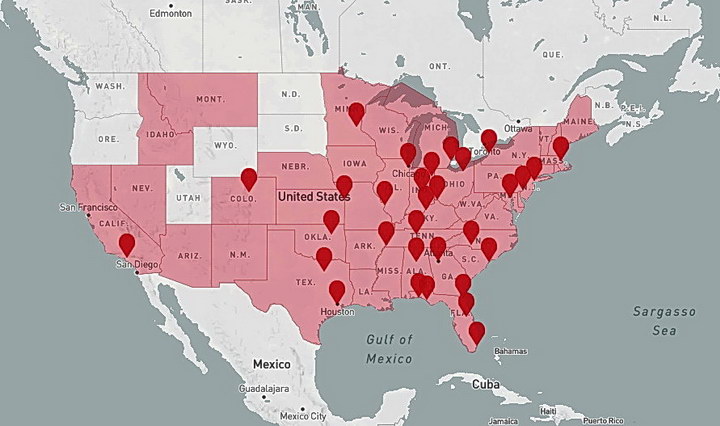 Service area covered by Neoti Associates (Credit: Neoti)
The company also rents LED screens and they will service and repair LED screens from any manufacturer. The service areas in the US covered by their affiliates are shown in the image. –Matthew Brennesholtz