NEC Display Solutions Europe is expanding its MultiSync UHD range with a new 65-inch UHD display, offering a more immersive visual experience. Multiple industries relying on displays for business-critical applications such as control rooms, CAD/CAM design and simulation, industrial prototyping and design, medical review or in retail and corporate environments, are to benefit from the new standards in image quality set by the MultiSync X651UHD.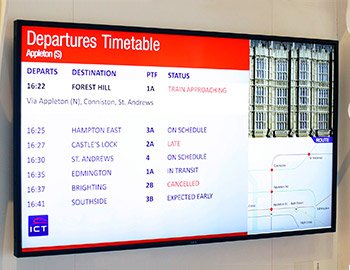 The display offers various multi picture modes, capable of enabling up to four simultaneous content feeds to be displayed and controlled, drastically improving the collaborative efficiency and ergonomics of viewing. It also offers upscaling, providing a sharper and richer image with clear edges even when displaying legacy format content.
The integrated SpectraView® Engine provides full colour management and enables adjustment of all visual parameters to further improve any colour-critical application. In addition to high-end on-board colour management, the display supports full calibration and profiling via the NEC SpectraView® II Software Suite, to achieve even more precise colours and reliability.
Tobias Augustin, Product Manager Large Format Displays at NEC Display Solutions Europe, comments: "Across numerous scenarios, large format displays play a crucial role in business-critical functions. Whether for colour-critical applications in the media sector or those that demand the best visual experience for big data applications, organisations are seeking high-end displays that offer the functionality and flexibility to meet their specific demands. With the addition of this 65-inch UHD display, NEC is enabling even more businesses to enhance their productivity and bring customer experience to a whole new level."
Organisations investing in the MultiSync X651UHD will benefit from the multiple features that offer 24/7 reliability and adaptability to the business need. It offers; LED backlights, intelligent thermal management and hardware LUT calibration, as well as supporting up to eight digital inputs, including one DisplayPort, four HDMI, two DVI-D and OPS. Businesses can upgrade the power of the display at any time with OPS Cable Free Expansion, without the need for external cables or devices. Operation of large venue installations is straightforward as all connected display devices can be managed from a centralised location, using NEC's free of charge Multi-Display Software Suite, NaViSet Administrator 2.
All 4K UHD products align with NEC's Green Vision for sustainability, thanks to its energy saving features and sensors, low power components, recycled plastics, and lack of hazardous materials.
Availability and further information
The NEC MultiSync X651UHD large format display will be available in EMEA from May 2015 onwards.