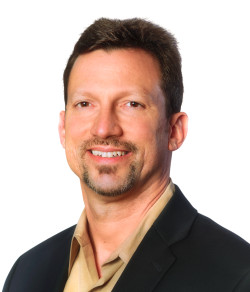 Jason Hartlove, CEO on Nanosys started by saying that all major TV companies are using his technology (except LG – but he's working on this). Consumers do care about resolution, but at some point resolution becomes a case of 'diminishing returns'. He said that research that 3M undertook showed that most consumers prefer wider colour gamut with lower resolution to higher resolution alone. He also talked again about the research from Dolby that showed that consumers like very high brightness displays.
Hartlove then showed the lower resolution of the LG M+ technology and the relatively wide spectrum of the latest LG TVs. He then mentioned a new QD system without cadmium from his company called 'Hyperion' (there's more about this in our issue, but, basically, it puts the cadmium only in the green dots, keeping the cadmium below 100 parts per million, so acceptable for ROHS without an exemption). He explained that the Samsung HDR sets using LCDs with QDs use less power than the LG OLED set in HDR mode, but have higher brightness. He also said that QD costs less than OLED.
He quoted research from IHS which suggests that QD LCDs will outsell OLEDs from this year.
At the Investors' Conference on the Tuesday, Hartlove said that he expects Samsung to sell around 5 million SUHD TVs this year, using Nanosys-licensed materials.
At the business conference, he mentioned the idea that you should not use QDs in the backlight, then throw away most of the light in the filter. It's much better to put the QDs in the LCD where the filter would normally be. (As it happens, I had that idea in 2012 and raised the concept in an email correspondence with Nanosys in May 2013, but it seemed at that point that encapsulating the QDs in a filter configuration would be quite tricky – BR). Hartlove told us when we met that Nanosys has put QDs into the photoresist and that the material is 'locally encapsulated' – it does not need an additional encapsulation process as the QDs are surrounded by other material.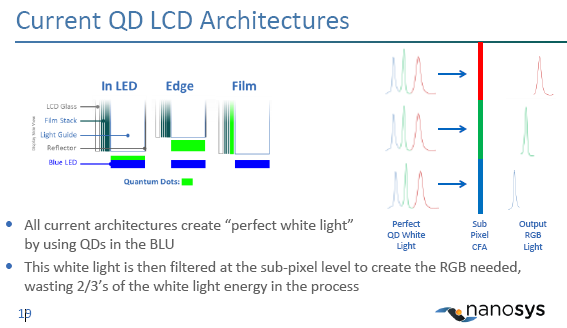 QLED – LEDs based on electrically rather than optically stimulated QDs and using transfer printing are still in development and may even be compatible with gravure printing, Hartlove said.
Analyst Comment
Hartlove said that Nanosys decided to develop the photoresist version of the self-encapsulated QDs for use in the filter as at G8 the filters are made by photolithography. Smaller (G6 and below) filters are often made by inkjet methods. He said that the same concept could be used for materials suitable for solution processing. Nanosys has been working with potential customers for around nine months.
In my view, this is a real breakthrough that will make life much harder for OLED as it will allow mainstream TVs to move up to the 2,000 to 2,500 cd/m² brightness range with today's power consumption. Alternatively, power consumption can be radically reduced.
The Hyperion material removes the need for an EU ROHS exemption, but will probably not be enough to get the material used by Samsung or Apple which have their own reasons not to use it. However, it would mean that an objection to QDs for the auto industry would be eliminated. (BR)