Although we caught up with Mitsubishi at the Embedded World show in Nurnberg a couple of months ago, there were still new things to see at SID. The first display we looked at was a wide format 10.1″ display with 1280 x 800 format and 800 cd/m² of output. The IPS LCD has 1,000:1 contrast and is rated for use from -40º C and up to 85º C – even further than Mitsubishi's 'standard' -30º C and up to 80º range. The display will be available early in Q3 and the company already has a customer in Japan.
At the small end, we looked at a 3.5″ 960 x 540 (quarter FullHD) IPS display with 400 cd/m² of output and 800:1 contrast and there was also a 4.3″ version, with 480 x 272 resolution and 1,000 cd/m² of output.
Mitsubishi recently announced the development of new transflective displays and it had a 10.4″ XGA display with 300 cd/m² of luminance and intended for kiosk applications. The display has around 8% reflectivity.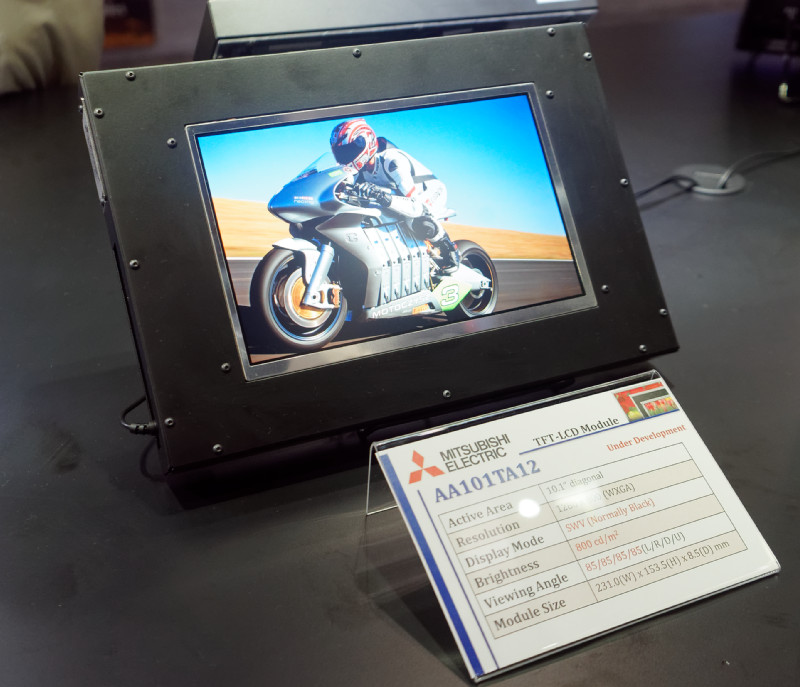 Mitsubishi has given this wide LCD and extended temperature range. Image:Meko