In a presentation at Display Summit (DS14 Luminit Has New Screen Technology) and in a booth on the InfoComm show floor, optical specialists Luminit have announced a new screen technology they call Crystal Screen. It will be offered for sale by Luminit and OEMed to other screen providers. Orders will start to be filled in July for screens sizes of 80, 92, 100 and 106 inches in diagonal.
The screens can be easily rolled up and placed in a tube for shipment. They are then mounted to a frame that can likewise be packed in the tube.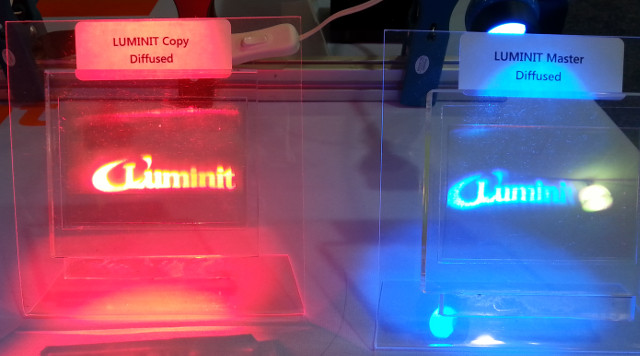 The gain and viewing angle of these first screens is 2.5º and 120º. In development are versions that will offer 3.5 gain and 90º , 4.0 gain and 60º. These higher gain screens are best suited for long throw distances with more narrow venues. The company is also working on a tiling solution to get to even larger screen sizes for bigger venues.
In the booth at InfoComm, a 5K lumen projector was illuminating a small 50" screen. The image was quite bright as would be expected and there was some speckle visible too – probably a combination of the projector and screen material.
At Display Summit, Seth Coe-Sullivan explained that the screen material is holographically defined and then coated with a reflector to send light back to the viewer. It has an unusually pattern as shown in the photo.
Coe-Sullivan ticked off the benefits as high brightness, high gain and wide viewing angle, no hot spots, excellent contrast, no color shift, polarization preserving for 3D, supports 4K projection and beyond. We look forward to seeing how these screens perform in the market. – CC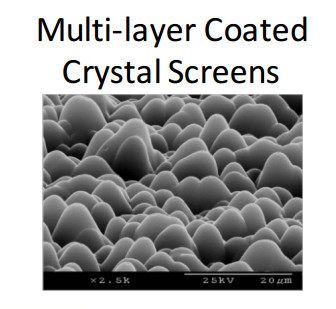 ---