Hmm…, I seem to have messed up my schedules for Display Daily, so you've got me for today and tomorrow. I thought I'd take a chance today, as it's the end of the decade, to look back to the beginning of the decade and see how far we have come.

I looked back at the last issue of Display Monitor that we published in December 2009 – and I've put it here so you can download it here if you are interested. Our lead story was that LG and Samsung, with Acer, were at the top of the European monitor market. Since then, a focus more on profit than market share has seen the Korean brands reduce their focus on market share, and they have slipped behind HP and, particularly, Dell.
Monitors were still, relatively, a big consumer of LCD glass at that time, although, as we reported in that issue, Gen 5 LCD fabs that had been built to meet the demand for 17″ and 19″ monitors were increasingly being used to make netbook (remember them?) and notebook panels.
The State of the Art panel fab was Sharp's G10 at Sakai and, at that time, Samsung was still saying that it planned to go to G10 to build demand for larger LCD TVs.
The PC market was growing strongly, and we reported a forecast from IDC that forecast growth from around 300 million in 2009 to 444 million by 2013. In fact, demand peaked at around 350 million per year from 2011 to 2013 and then has declined, so never hit that level. The market that started at the end of the 1970's and really kicked off with the IBM PC in August 1981, peaked in the period from 2011 to 2013, as smartphones and tablets started to take over some of the functions of the PC.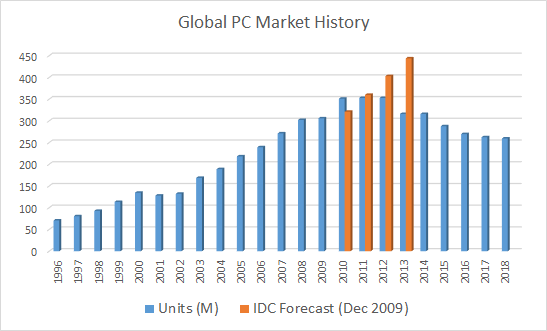 If you think that social media is new, we reported on Dell making significant revenue by advertising directly to consumers using Twitter. Samsung was promoting its concept of 'LED TV', which of course, was just LCD TV. We reported that Amazon's Kindle was the company's biggest import to the UK.
An interesting snippet was that we reported that BOE was getting support to further develop its FPD making in Hefei, China. Meanwhile, Panasonic was still developing its TV business and expanding its plant in Malaysia to boost volume.
In the world of TV, there was much talk of digitisation, still, with the German authorities deciding to end analogue satellite transmissions by the end of April 2012. Also in Germany, ProSieben Sat 1 was planning to go HD in January 2010. DVR recording was increasing, according to market research reports, and Blockbuster (remember them?) was talking of introducing a Set Top Box that could receive streamed content.
CDT, which developed OLED materials and was later sold to Sumitomo, did a deal with Semprius of the US to develop printable transistors to make flexible OLEDs easier to make. Semprius eventually closed in 2017.
We had several stories on 3D TV as that was still seen as a way to develop the TV viewing experience.
An analyst forecast that by 2025, 28.2% of European homes would have an UltraHD TV. That level has probably already been reached or exceeded.
In Product News, BenQ was trying to sell TVs and was offering a 42″ FullHD set that was announced at $924 in Taiwan. Just for comparison, I just looked at the Walmart website and they have a 43″ FullHD set at $140, with plenty of even good brands between $200 and $300.
Quantum Dots were already being touted as a good way to offer better TV performance and in our December 2009 issue, QDVision said that three of the top five TV makers were adopting the technology, with commercial products due to appear in 2011. Nanoco also reported that it had done a deal with a 'major Japanese electronics company'. QDVision eventually closed, with its IP being bought by Samsung in 2016, while Nanoco is still around, just, but has pivoted away from display applications.
A novel technology was from Pixel Qi which had a technology that was good in ambient light, and was to be used for the OLPC project which was intended to supply a special laptop for children in developing countries. That project fizzled out.
We reported on an event run by Panasonic in the UK to highlight its latest range of PDP TVs. They were big (65″ and 85″) and said to be light – even then we thought that that description wasn't very accurate for a 200Kg display! Of course, Panasonic gave up PDP TV sales in the spring of 2014. Its new higher end DLP projectors had dual or quad lamps, rather than laser phosphor light sources.
We also reported from an event on digital signage. Companies were building networks of displays for signage use and Stroer of Germany had got to a network of 2,200 displays. That went past 4,500 by 2017.
What was missing from the issue was any mention of OLED TVs, which were still in the future, although only just. LG created a 15″ OLED TV in 2010. (BR)