LG Electronics USA used its CEDIA press conference to unveil its flagship TV – the 77-inch class LG Signature OLED TV. This is a UHD resolution, HDR Smart TV (OLED77G6P) that carries a suggested price of $19,999 and is available now through select retailers.
It joins the previously released 65-inch class LG Signature TV, as well as the LG OLED E6, B6 and C6 TV series, which all support HDR10 and Dolby Vision. The Signature series is also supported with a 24/7 Concierge service that includes a welcome package, a personalized call to explain program benefits, remote service, priority dispatch, and technician arrival which pinpoints the arrival time to minimize the customer's wait time. In addition, upon registration of the TV, LG Signature Concierge members receive a $200 American Express gift card, an LG G Pad Tablet and future access to special invitations.
LG's Tim Alessi also noted the company's success in the >$2500 category of TV sales in the US. "In 2015, the category had sales of about 7M units and LG had a 14% share," said Alessi. "In 2016, sales so far are 30M units and LG has a 30% share and pushing toward the number one supplier."
Alessi said that LG does not specify the peak luminance levels or color gamut of the displays other than to say they have a wider dynamic range than LCD HDR TV and they are "virtually 100% P3" in terms of coverage (Ray Soneira told us that his tests of LG's OLED TVs have shown 100% of P3). They do meet the requirements for a Premium certification per the UHD Alliance, however.
Alessi was also asked about how LG will respond to Samsung's 10-year no burn in warranty. He said what you might expect: image retention can occur, but there is no burn in issue when used properly and the sets have some anti-burn in mediation techniques too. These OLED TVs have a lifetime to half brightness of 100K hours – much higher than I thought they were.
LG Electronics also showcased a variety of other OLED and LCD panels – mostly commercially focused, however. This included twenty of their 86" Ultra Stretch LCD panel arranged in two rows around a corner of the booth to good effect (photo). These panels have a 58:9 aspect ratio and can be used in a portrait or landscape configuration.
Also being showcased was LG's Dual-View Flat OLED display. This two-sided 55" display (there is a curved version as well) offers a very slim profile of just 8.94 millimeters (0.4 inches), and three different installation options – ceiling suspension, wall-mount and floor stand.
A large sized video wall was also on display. This was constructed with 18 ultra-slim-bezel 55-inch class LG videowall displays in a 3 x 6 configuration. The VH7B series of direct back-lit LED displays feature an industry leading slim bezel width (0.9 millimeters or 0.035 inches), allowing the displays to be connected nearly seamlessly. These videowall displays feature LG's system-on-a-chip that works with LG's webOS to create interactive signage platforms that lowers the cost of ownership by eliminating the need for an external player.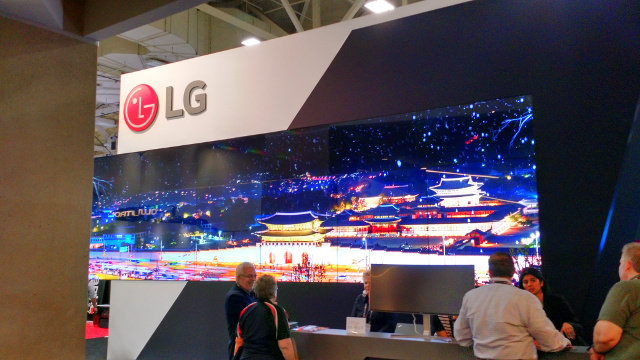 Finally, LG showed the 10″ 10SM3TB-B display that uses Power-over-Ethernet. These touch-enabled panels are targeted at creative communication applications in supermarkets, convenience stores, meeting rooms and more. -CC