Microsoft disappointed a few people that had hoped to see new Surface phones at IFA, as there had been rumours of this development. However, the company was showing its Surface products along with a range of products from its partners and its own Lumia phones. There were quite a few convertible PCs, which is seen as a key growth category.
Perhaps the most strongly represented partner was HP which was showing its new Omen X Desktop gaming PC. This PC has a very unusual design, which makes it look as though the case is sitting on its corner. It's quite convenient if you regularly want to access the add-in boards, but would take up a lot of space in most installations.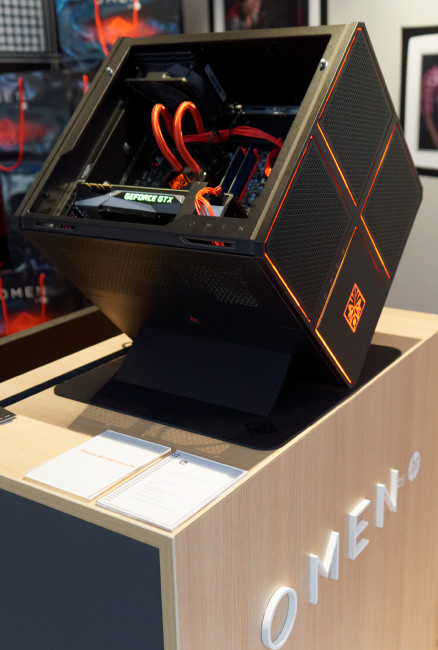 HP' Omen X Desktop PC is very unusual. Image:Meko
Also on show was the HP Omen 32 monitor. The monitor has 2560 x 1440 resoution and a claimed native contrast ratio of 3,000:1. The response time is 5ms and the monitor has dual HDMI inputs and a DisplayPort 1.2 connection. The monitor supports FreeSync and 100% of sRGB. It is for sale in the US at the moment at $429, but European pricing had not been set when we met the firm and at the time of publishing is not on the German website.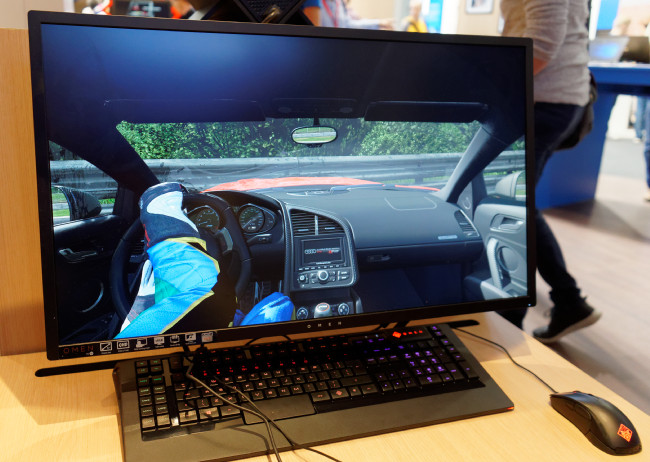 HP's Omen 32 Monitor has 2560 x 1440 resolution. Image:Meko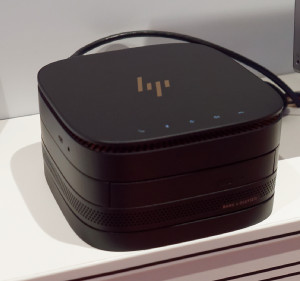 Also on show was the HP "Slice" PC concept (image right) which is designed to allow stacking to make different configurations. There are a PC and audio (B&O-based) slice as well as a GPU and an optical disk slice. We asked if there were any plans for a battery slice, but that is not on the agenda at the moment. The system has a number of variations which start from around €700 with an Intel Core i5 processor, although CPUs up to the i7 are available. Connections include DisplayPort and HMDI (which can work simultaneously). It has a USB Type-C 3.1 connector with 60W of power.
HP has also developed a special version of this for meeting rooms and the audio slice includes a noise-cancelling stereo microphone designed up to a range of 5 metres. HP has developed a 'Vesa plate' to allow the slice to be mounted to a display with a Vesa mount.
The Pavillion Wave is a new compact PC that is built around a 360º speaker system, developed with B&O. The design includes a full PC that can support dual UltraHD displays (HDMI + DisplayPort) and there are 3 USB 3.0 ports along with a 3.1 Type-C connector. There are dual microphones for Cortana support and processor options up to a Core i7, along with up to 16GB of DDR4 memory and 2TB of HDD with an optional 128GB of SSD. The graphics are supplied by an optional MD Radeon R9 M470 for 'light' gaming.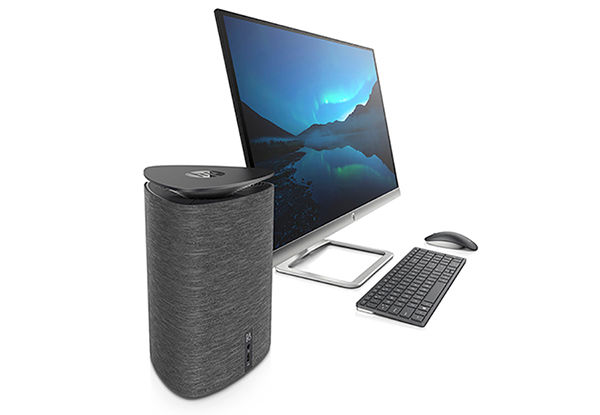 The company was also showing its Continuum support of smartphones using Windows on a full-sized display.