We met up with Lenovo twice at the show – once during the CES Unveiled event before the show started and also at the Aquaknox restaurant in the Venetian that the firm had rented for the duration of the show.
One of the highlights of the CES Unveiled event was the first showing of a new ThinkPad X1 Yoga 2-in-1 hybrid system that includes a 14″ 2560 x 1440 OLED display – the first production notebook that we have seen with this technology. The panel comes from Samsung (which is acknowledged by Lenovo on its website) and looked very good to us, but seemed quite reflective as a glare screen with anti-reflective coating was being used. The glare screen meant that the OLED looked good and will look very attractive in stores. The panel can support 100% of AdobeRGB and also has custom colour controls. The OLED is available as an option (2560 x 1440 or FullHD LCD displays are also available). The poorer power consumption of OLED on bright white screens means that battery life is reduced (we heard both 2 hours and 30 minutes reduction from different staff) and will cost more (we heard $200, but also "to be decided" by different staff).
Also in the X1 range is the ThinkPad X1 Tablet which weighs 2.4lbs including the keyboard and competes with the Microsoft Surface range. It will arrive in February with pricing from $899. The display is a 12″ and it supports an active pen. An unusual feature is that the tablet can be fitted with additional modules that clip in, alongside the keyboard. There is a projection module that is based on DLP technology and supports 720P resolution with 150 lumens and will ship from May at $279. It is rated as supporting images up to 60″.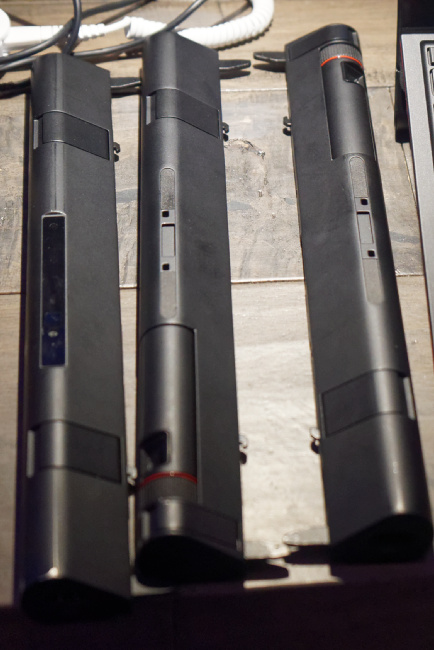 The two right hand modules are projector snap-on accessories. Image:Meko
A "productivity" module adds 5 hours of additional battery life, USB 3.0, an HDMI (full size) port and a OneLink+ dock. There is also a RealSense module for 3D imaging. Lenovo told us that it is seeing a lot of interest in this module for business applications where commercial users want to be able to capture object data.
Lenovo update the ThinkPad X1 Carbon, making it faster, slimmer and lighter than last year's model. The new model is 16.45 millimeters thick, about 8% thinner than its predecessor, and weighs 1.18 kilograms, about 10% lighter.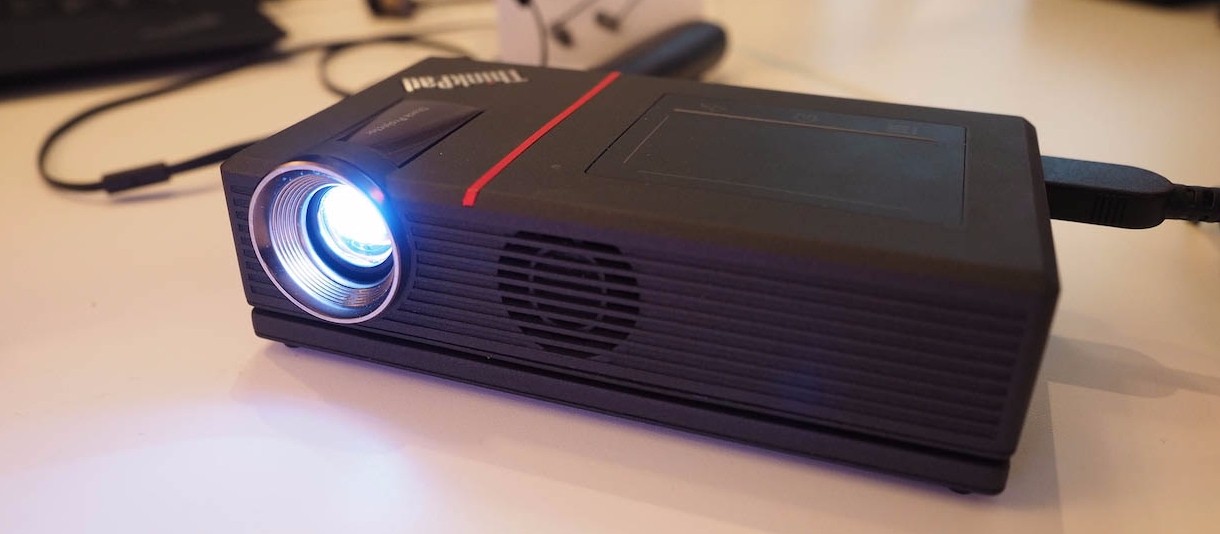 The new Lenovo stack projector can be used in a stack with speakers and batteriesStill in the projection area, Lenovo has added a projection module to its "stack" system that it introduced last year. It supports HDMI input and Miracast wireless and produces, like the X1 module, 720P resolution and 150 lumens of output. It will cost $399 and be available from April. The module can exploit the stack battery pack and other modules in the series such as the speakers. There is also a charging pad for wireless battery charging.