Amazon announced its latest Fire TV Stick with Alexa Voice Remote which is said to be 30% faster than the previous version and costs $39.99 when it ships on October 20th. The device supports 1080P content and uses a quad core processor with 802.11ac MIMO Wi-Fi.
Crestron has announced its next Skype Room System which is designed to around the Microsoft Surface Pro 4 and supports Skype for Business. It has dual HDMI outputs and six USB ports for audio devices, cameras and other accessories. It can be fitted with an occupancy sensor. Pricing is $1,199 and ships in December.
Eyevis of Germany has announced the EYE-LCD-5500-ESN-FX 55″ narrow bezel monitor which has a bezel of less than 2mm and brightness of 700 cd/m² from a direct LED backlight and with FullHD resolution. The unit can be mounted horizontally or vertically and is rated for 24/7 operation.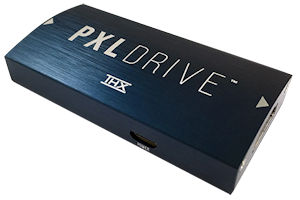 At Cedia, Pixelgen Designs announced the PXLDrive, a small device to help drive HDMI over longer distances up to 15m. The box costs $249 or is available bundled with 10m or 15m cables at $279 or $299. The products, including the cables, are THX certified and the company also had fibre and copper cables.
Xiaomi has released three new Mi TV 3s TVs in China, based on Samsung UltraHD panels with HDR and using an Amlogic T966 quad core SoC. There are 55″ and 65″ models as well as a 'cinema grade' 65″.