Kyocera explained its expanded Procap line of products for industrial and automotive applications, which are now available optically bonded up to 12.1″. The company has also upgraded its wide viewing angle technology from AWV to AWV-II which also allows brightness up to 1,500 cd/m² (the 12.1″ is also available with 400/500 cd/m² or 1000 cd/m² output). Lifetime is now being quoted at 100K hours. On cell touch has now been introduced for the first time in 7.0″ and 12.1″ and first products are becoming available.
There were two new small 'stretch' LCD displays – a 6.6″ with 800 x 92 resolution and a 6.2″ with 640 x 240 and both are intended to be replacements for passive displays. Brightness is 500 cd/m².
Automotive is a big focus for Kyocera which is also working on mirror displays and HUDs. A 10.25″ 1440 x 540 'auto grade' display was on show and has 450 cd/m² of output and 1,000:1 contrast with IPS LCD technology.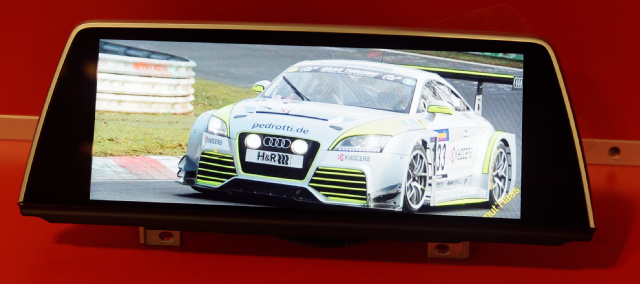 Finally, we had a look at a small transflective display for wearables and other power-conscious applications. It has just 128 x 128 resolution, but because it has 'memory in pixel' technology, power consumption in the reflective state can be measured in microwatts.