Dr John Fan is CEO of Kopin, which makes microdisplays. Fan said that the company is looking strongly at going into wearables. He said that the headset is the most important wearable device, but is the most difficult to make well because of the channels.
There are several categories of headset, one for "information snacking", like Google Glass, while the second is for video showing. An application of this type is to use a headset to enjoy using and flying drones. The third category is immersive headsets, like the Oculus Rift while the fourth is augmented reality, but this is very difficult so is some time away.
Kopin started in 1990 and had a lot of patents, although many of those unfortunately expired, as they were "too early", Fan said. In 2000, the technology was used in the Commanche HMD for helicopter pilots.
Partners that use Kopin in sets include Recon Instruments, Vuzix, the Motorola HC1 and the recently announced Fujitsu headset (Fujitsu Releases Head Mounted Display to Help Enterprises Innovate On-Site Operations).
Kopin has wins in pilot HMDs and the firm supplies Rockwell Collins, Thales and Elbit Systems. As well as the displays themselves, Kopin has a lot of associated technology in packaging, software, optics and ergonomics and even sound optimisation.
The LCDs are made on crystal silicon backplanes with pixel size from 6.75microns. 35 million displays have been made and sold.
There are three different kinds of optics depending on the field of view needed.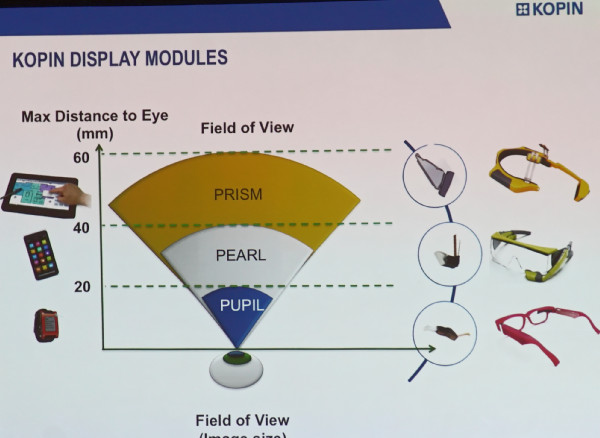 The Kopin Pupil display module uses extremely small optics and can produce high brightness; 2,000 cd/m² from "a few milliamps" of power, Fan said.
Several concept systems have been tried for life style, sports, entertainment and light enterprise application. Even in industrial applications, customers like more "normal looking" designs, that is to say, nearer to standard glasses.
Finally, Kopin makes direct view optical sights for the military and it has also developed a system that includes a precision acquisition and targeting system and can produce over 17,000 nits and 1,000,000:1 dynamic range and can run for >50 hours on a single CR-123 battery, Fan said. The targeting system shows where sights should be aimed to take into account distance and wind speed.