In the latest research report of the consumer intelligence series, Pricewaterhouse Coopers (PWC) took a look at the media consumption habits of kids and teens. The study looked at several aspects of their content preferences, such as how they engage with specific content genres, how much media they consume weekly and on what devices, how much they influence their parents on media consumption decisions, how they learn about new content and their awareness levels of entertainment and media brands and manufacturers.
This survey is of course, very interesting for the content creators as well as network providers as this shows the content and TV preferences of their future customers. With the current trend to cable cutting and the use of mobile devices, it is questionable if the current network business model can survive.
PWC asked 511 kids and teens between the age of 8 and 18 on how and what content they consume on a regular basis. As expected, there were some surprises, but also good news for the networks.
From a consumption perspective, they spend about 15.5 hours a week consuming media, with older kids spending slightly more than younger ones. When asked what type of content they prefer, the answers are split between drama/reality series on cable channels, playing games, short videos and network TV series with seven to eight hours per week.
Source: Pricewaterhouse Coopers
For all age groups streamed TV beats other content types.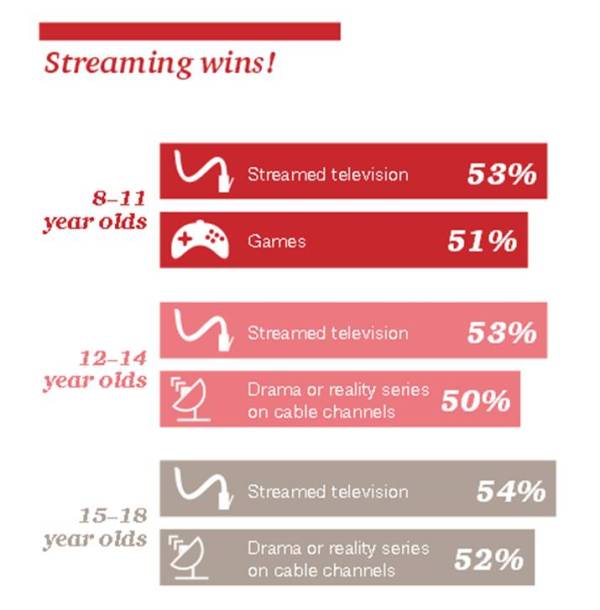 Source: Pricewaterhouse Coopers
Of all content types, streamed TV beats cable TV and games by a good margin.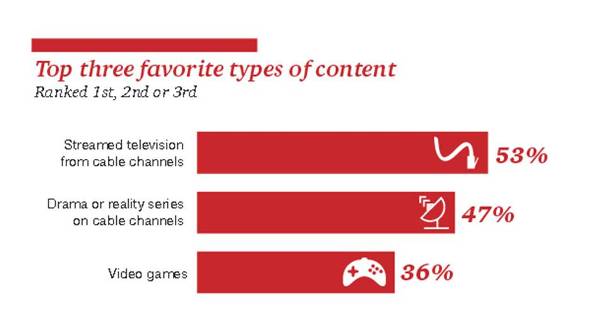 Source: Pricewaterhouse Coopers
When asked what content brands they know and which ones they are interested in, there were some surprising results that may give an indication of future changes. While Disney is still the best known content provider among kids and teens, the interest in this brand is not the highest by any means. In terms of interest YouTube, Netflix and Dream Works beat Disney by a good margin.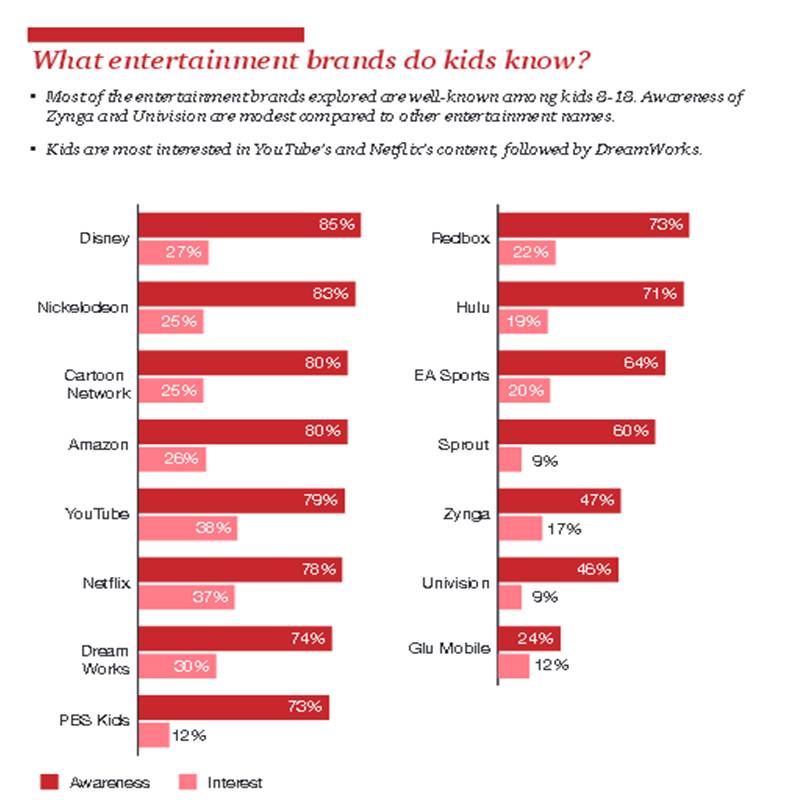 Source: Pricewaterhouse Coopers
There are other results from the reports that show that the coming generation is well accustomed to social networking and use of mobile devices. In particular, the strong adoption of streaming content demonstrates that youngsters have a larger interest in choosing content at any time and on device type they want to use. This trend is already clearly visible in the Millennial generation, and seems to be passed on to the next generation as well.
Analyst Comment
This result is somewhat surprising in that some analysts, including myself, would have expected a stronger shift towards mobile gaming and use of streaming services. Based on this data set, children and teens in the US prefer the streaming solution over cable TV, but at a much lower margin than I would have expected. Also, from my own observations, younger kids seem to engage is multiple content interactions at the same time. Watching TV while playing on a tablet seems to be their way of dealing with the commercial breaks. – NH