I'm fond of saying that 'A display without a person has no purpose'. However, I can get through quite a lot of time at display technology events without anyone talking about perception or vision. So, I was very pleased to talk this week to Irystec, a start-up that has technology to optimise display performance to better match human vision.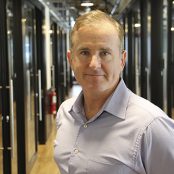 I got the chance to interview Simon Morris, who is CEO of Irystec. Already a veteran of two previous start-ups, one of which was acquired by NXP/Freescale, Morris started as an adviser of the company, but when he saw what they had, he joined the team. The company now has 16 people in the US, India, China and Korea. The board includes Helge Seetzen, who will be known to some Display Daily readers as he was previously with Brightside/Dolby and is President Elect of SID.
Morris only joined at the beginning of the year, and already the company will have a "top ten mobile phone maker' as a customer before the end of the year. That's fast, so what does Irystec do?
Iyrstec's technology is based around the simple premise that although human vision works differently in different conditions and for different people, displays have tended to take a 'sledgehammer' of 'one size fits all'. That means that the interface between the device and the person is not optimised and that often means poorer performance for the viewer or excess power consumption for the display.
The first aspect that Irystec is working on is performance in bright ambient light. The company has developed algorithms that can adjust for ambient conditions, but can also take into account the viewer's age, gender and ethnicity as each of these factors has an influence on how the display is seen. Age, in particular, can be a big factor as both sensitivity to light and the colours perceived change with age.
Although most phones react in some ways to different levels of ambient light, Morris believes that most of the processing done is not very clever and his company can improve performance enough that a phone's brightness can be reduced from 400 cd/m² to 200 cd/m² without affecting the legibility and that can have a big impact on battery life.
The length of time for watching video in dark conditions can be increased by 2x to 4x, according to Morris, and Irystec's software can also reduce the impact of reflections on the display by exploiting the camera on the phone. More on that will be revealed later.
The power savings make the approach very attractive for mobile phone companies who want to meet the needs of users, but also want to be able to differentiate their products, a harder and harder task in the world of Android. The processing of the images takes some power, but there are just 5K lines of code plus tables, so not too much processing power is needed.
VR, of course, is the hot topic of the day, so Irystec has done some work to help optimise content for the dark environment of a VR headset.
Automotive Industry has Challenges
You can also use the same processes to keep the same brightness, but improve legibility and perceived image quality. That's an interesting prospect for those who are less concerned with power than with performance. That group includes automotive application developers who want to get better performance, but usually have plenty of power. That's why the auto industry is Irystec's second target market, although design cycles are that much longer. Auto makers have to be very careful with their displays, needing to deal with tricky issues. For example, opening a sunroof may defeat carefully designed shading and it's also important for the display to not disturb the driver's night vision adaptation.
These developments are the 'low hanging fruit' for the company, with the age-related, ethnicity and gender issues having a less dramatic effect, so work will develop on these topics in 2017. The firm has an evaluation APK available of its ambient light processor and will be in Beta with final code by mid-October with support for Marshmallow. Android N will be supported around the turn of the year.

After those targets, Irystec has technology to help with gamut mapping to exploit the wide gamut available in OLEDs but relatively unused at the moment because of the ease with which false colours and image distortions can be created. Morris is confident that his 'smart gamut expansion' can help with this and that will be the focus in 2018.
Of course, some of the big phone makers have devoted time and attention to these issues and may have their own ways of doing things without infringing Irystec patents. However, smaller ones won't have the resources to do it, and even for the bigger ones, there is a "buy or build" decision.
The one disappointment for me was that, as we did the interview by 'phone, I haven't had the chance to see the technology in action! I'm looking forward to catching up at CES to get 'eyes on'. (BR)