Micro-LED displays are not yet commercialized or in mass production, but already there are discussions about whether this new technology will replace LCD and OLED in future. This is due to its strong potential to be a thinner, lighter, brighter, low power display.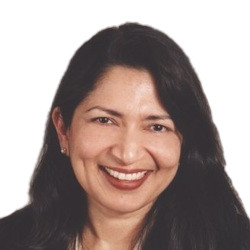 MicroLED – Image:LETI Micro-LEDs consist of arrays of microscopic LEDs each forming a pixel in the display. According to Candice Brown-Elliott, founder and CEO of Nouvoyance and creator of the Pentile Matrix technology, micro-LED does not need a-Si, LTPS, or Oxide transistors, as micro transfer printing enables both the micro-LED and micro-ICs to be integrated, eliminating the need for a TFT backplane.
A micro-LED is itself a light source, so it does not need a backlight and it is the most energy efficient, long life system. It has the potential to be developed at a lower cost using semiconductor fabs to produce LED and get higher yields with lower capex. The technology is still new and difficult to mass-produce but, she said, "Micro-LED is a submarine surprise. Suddenly it will come up". First the technology will come to wearables. Then it will come to smartphones, tablets and even to notebooks.
Micro-LED Not in Mass Production
Micro-LED can bring significant improvements in brightness, color contrast, and energy efficiency compared to LCD and even OLED. It has fast response time and can reach high PPI to allow the development of high-resolution displays. This potential for thinner, lighter, brighter and high resolution display with improved color gamut and longer battery life makes it the ideal display for the mobile and wearable application market. But Micro-LEDs are not yet in mass production and the transfer technology is not fully matured. It may also have yield issues especially for high resolution products.
Invading Wearables in Future
A
Apple watch Series 2 with OLED display (source: Apple.com)ccording to information published in Taiwan, Apple may introduce an Apple Watch with Micro-LED display by the end of 2017. There are many different display technologies currently serving the smart watch market such as e-paper (Pebble), LCD (Sony) and OLED (Apple, Samsung, LG and many others). Even though Samsung and LG have used OLED displays for their smart watch for some time, Apple's entrance greatly helped market growth and OLED display adoption to achieve major market share.
Smart watch displays are small in size but they need high resolution and higher brightness for users to be able to read them outdoors or in high ambient light. Longer battery life is also extremely important for smart watch. Micro-LED will be able to meet these requirements and it is expected to exceed OLED in terms of brightness and power consumption. If Apple does shift to micro-LED from OLED it will have significant impact on the display industry.
Competing in the Smartphone Market in the Next Few Years
Apple bought Luxvue in May 2014, a firm that has been working on Micro-LED since 2009. The company raised $46 million in venture funds before the Apple acquisition. Luxvue filed several patents and Apple has been reportedly working on Micro-LED displays for the wearable market. It is expected to be in mass production by 2018. Apple is expected to use Micro-LED both for smart watch, and smart phones in future. If Apple is successful with micro-LED, what will happen to the growth of OLED display in the smart phone market?
OLED iPhone Expectation Brings Increased Supply
In 2016, all of Apple's iPhones are still using LTPS LCD. LCD is the dominant display technology for smartphones. However, Apple is expected to introduce an OLED-based iPhone in the 2017/2018 time frame. Expectations of an OLED iPhone display have created almost a frenzy in the market with many new suppliers ramping up or planning to start OLED production, especially in China. After years of waiting to compete with LCD, finally OLED is ready to grow, expand and will dominate smart phone mobile display market in next few years.
OLED investment has sky rocketed. Micro-LED display technology for smartphones is expected to be ready for mass production in the next three to five years. That's about the same time that it will take for most of the OLED suppliers to be ramping up to their full production capacities. But the possibility of Micro-LED iPhones will bring a question mark to OLED growth expectations.
LTPS LCD Capacity is Also Growing
In recent years, display suppliers have been increasing LTPS LCD capacity due to its popularity in the high end and mid range smartphone market. Apple's previous success with LTPS LCD iPhones also added to the demand. Many display suppliers are planning to develop fabs with both LTPS and OLED production capabilities. LTPS LCD capacity is expected to ramp up also in next few years (2017/2018) and it will compete fiercely with OLED. Now it has to also compete with micro-LED and that will bring uncertainty about its future market share.
LTPS LCD and OLED are Moving Targets
LCD and OLED technology are both still improving in performance and are reducing their costs. Examples of that can be seen from the new Apple watch that was announced with 1000 cd/m² brightness (up from 450 cd/m² previously) or the iPhone 7 series that has changed to 625 cd/m² brightness, up from 500 cd/m². Power consumption is also improving. The huge ramp up in capacity of many fabs, both for OLED and LTPS, is expected to create over supply and lead to strong price reductions in future.
Barriers for Micro-LED
Can micro-LED potentially match the price and performance of LCD and OLED? In theory, it has the potential to do it. But as display industry history has shown us, theoretical potential takes years to be realized and sometimes never gets there due to many challenges in getting to mass production. Micro LED, with its exceptional potential, faces many challenges such as the need for low cost new design and manufacturing processes, mass transfer related yield issues and supply chain issues. Intense R&D work is going on. Display suppliers, LED suppliers as well as device manufacturers are all working to bring micro-LED potential to reality, but it will take time.
Implications for the display Industry
Micro-LED displays are not yet commercialized or in mass production, but already there are discussions about their competition with LCD and OLED. Even if we see micro-LED only in limited volume in the next few years, it will still have a profound impact on the display industry. Its potential as a candidate to be the next generation display technology will create doubts and uncertainties about LCD and OLED growth rates in the future. It will also force more innovation and cost reductions in LCD and OLED display. Micro-LED success will depend on its ability to scale up for volume production with competitive price performance.
Sweta Dash is the founding president of Dash-Insights, a market research and consulting company specializing in the display industry. For more information, contact [email protected] or visit www.dash-insight.com