Phew… We have had a busy week with an acceleration in news as Q3 market and financial data starts to appear. In addition, Apple updated its MacBook Pro range and Microsoft jumped in to launch a new All-in-one PC clearly aimed at the creatives that Apple has courted for so many years. Both companies showed new input devices, Microsoft first with its Dial rotary controller and Apple with its integrated TouchBar.
These attempts to improve the desktop PC experience are very welcome. Dial controllers are very useful for applications like video editing – I use a Shuttle control when I manage to carve out some time for video – an activity that would be a hobby for me if I had the time. Both the Microsoft and Apple controllers are likely to be useful to videographers or photographers. The nice thing is that the two devices are separate and different. It seems to me that there are few reasons why Microsoft should not develop something like the TouchBar and Apple like the Dial – having both would be even better!
Of course, you might think there is a patent issue on the TouchBar, but the idea of using a display to show configurable keys is not new. We have reported on them and I remember back to the early 1980's when the UK PC company, Apricot, had a similar concept, although it was based on a monochrome passive LCD and was not touch sensitive.
It will be interesting to see if Apple extends the idea to work on detachable keyboards. Will the Logitech's of this world offer compatible products?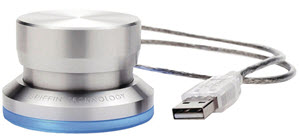 Griffin controller, available on AmazonProducts like the dial controller are already available (for Macs as well as PCs) although the way that the Dial works on the touch surface of the Surface is very cool. There is no question that Microsoft has really pushed the envelope in terms of design creativity in the PC space. I very nearly got tempted into buying a Surface myself, but in the end, my desire to have a Lenovo on-site warranty on my notebook (and the early feedback about the Surface on the Amazon website) became the deciding factor in my last PC upgrade.
Given the start of the appearance of gaze recognition on PCs from Acer and others, (and the purchase by Google of Eyefluence this week) things are definitely looking positive for more changes in the PC experience.
Bob