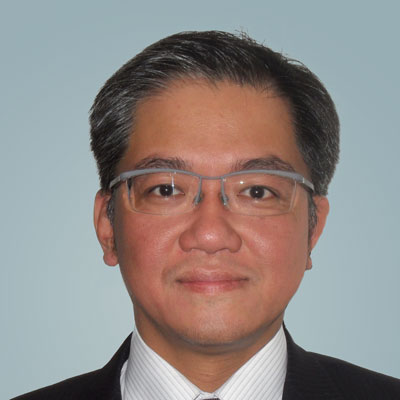 According to a new IHS Markit blog written by research and analysis director David Hsieh, the display industry is currently undergoing the most significant manufacturing and display technology changes since flat-panel display (FPD) production became widespread in the nineties. A key change is the integration of key components, paving the way for advances in display form factors and performance.
For much of the FPD industry's history, amorphous silicon (a‑Si)-based LCD cells using 3.5-micron (µm) line-and-space (L/S) photolithography were means of assembling discrete components such as backlights, driver ICs, circuit boards, connectors and polarisers into completed display modules, which were then sold to panel makers.
The evolution of this manufacturing and business model accelerated around 2010 for a variety of reasons. Among them were the rapid growth of smartphones, the commercialisation of AMOLED displays, the rise in demand for better image quality and intensifying competition among panel makers. In turn, smartphones drove the expansion of the IT and TV display panel industries. Today, a slightly different set of forces in manufacturing technology is at work, advancing and driving change in the FPD market. These include:
Improved photolithography to 1.5 µm L/S
High-efficacy and long-lifetime AMOLED materials
Innovative equipment and processes
High-mobility oxide and low-temperature polysilicon (LTPS) semiconductors
New materials, such as quantum dots (QD) and high-temperature-resistant polyimide
With these new enabling forces, abundant leaps in production technology have become possible, giving rise to remarkable results that now benefit consumers — for instance, incredibly thin, light and borderless full-screen displays; rigid and flexible AMOLEDs tailored for specific applications; resolutions of 500-600 ppi that are now commonplace; and features like DCI-P3 wide colour gamut and very high contrast.
Many more new production technologies and display applications are in development, including those that will extend form factor and performance benefits. Many also relate to foldable displays and will continue the shift from transmissive to emissive AMOLEDs or photo-emissive and electroluminescent QDs. Other advances relate to discrete components such as colour filters, cover lenses, drivers, light sources, polarisers and touch sensors.
Component integration is not new, singular or complete, but is closely linked to important display manufacturing advances. Most notably, these include a reduction in the critical dimension of large-area photolithography to achieve high resolution, as well as semiconductor technology advances in oxide, LTPS TFT, AMOLED and QD.
Component integration is part of the shift in how FPDs are now manufactured and used. Depending on the type of display, related technologies and applications, the amount of integration called for will vary. However, discrete components will likely remain part of the display module. Component integration delivers two primary benefits:
Enhanced form factors, such as narrow borders, reduced thickness and weight, and conformable displays
Improved optical performance such as wider colour gamut, increased brightness and contrast, reduced response time and enhanced viewing angles
The following table illustrates current component-to-panel integration trends, benefits and development status. It also shows components being integrated into LCD and AMOLED panels for mobile, IT and TV applications.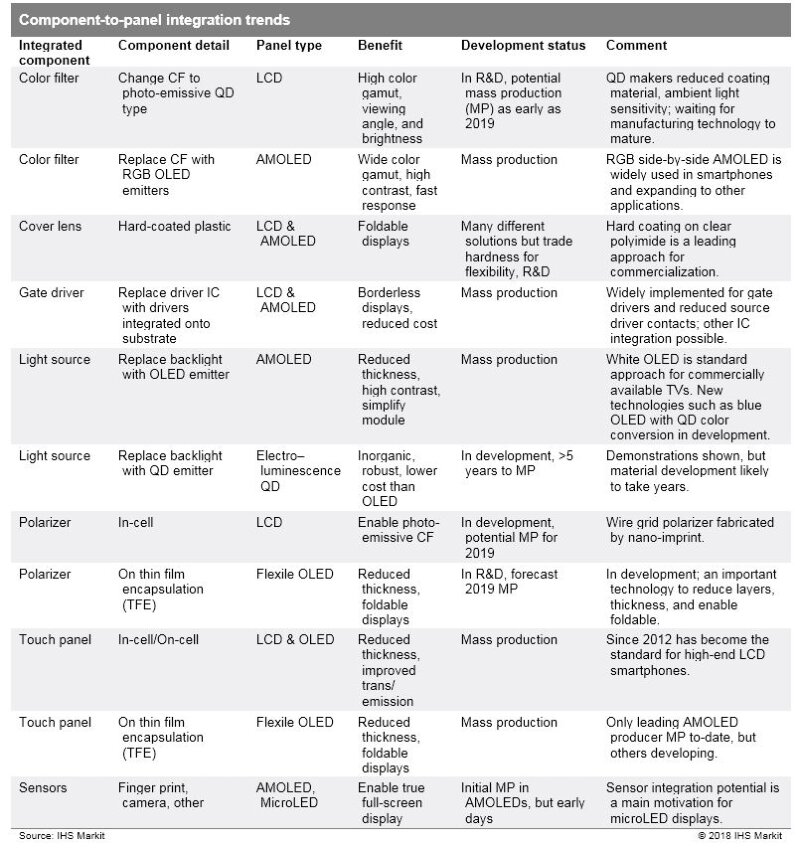 As illustrated, touch sensor and polariser integration can improve transmission and brightness, but most of the benefits in optical performance relate to enhancing the performance of colour filters, through the use of quantum dots or the larger trend of replacing LCD colour filters and backlights with AMOLED (and potentially QD) emitters.
Nonetheless, LCD technology remains a solid and reliable technology, having improved dramatically in the last 20 years. With a considerable cost advantage over OLED, LCD is unlikely to disappear soon.
However, self-emissive display technologies do possess a fundamental optical performance advantage. This advantage will help drive total AMOLED areal panel demand at a 24% CAGR between 2017 and 2024. In comparison, LCD areal demand is forecast to grow at 4% per year on average over the same period.
Driver integration, along with many other design and component innovations, has facilitated borderless, thinner and unconventionally shaped LCD modules. Even so, AMOLED allows and benefits most from component integration. This is true for both image quality and form factor. Many very thin, light and even curved AMOLED-based devices have already been commercialised.
Fewer layers in the display stack and no backlights enable the production of flexible AMOLED. Increasing flexibility and the ability to roll and fold displays are well into development, with first products forecast to reach the market in 2018.
For foldable displays, component integration to reduce panel thickness and layers is critical to minimising bending radius and preventing display failure due to defects and delamination. Thicker displays are harder to fold and more likely to generate creasing defects.
The more layers used in the display stack, the more challenging it is to keep them laminated together when folding. To realise the goal of truly foldable displays, panel makers continue to push component integration, targeting less than 0.5mm total thickness with a 1.0mm bending radius within the next few years.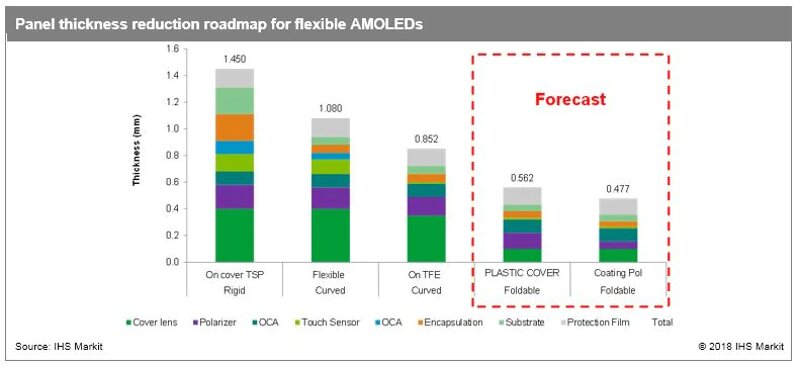 Fully flexible displays can potentially enable new applications such as foldable, wearable, advanced automotive and wallpaper-like FPDs. Such new applications are of great interest to both the display industry and consumers because they can expand the market and multiply the ways people interact with information.
Since integration transfers third-party component production to panel fabrication, it tends to complicate manufacturing processes. In many cases, this will increase capital costs and make building new FPD factories more expensive. Regardless, the decrease in the number of discrete components can reduce total display cost, while maintaining high yield rates.
As integration increases, it shifts more value from components to the panels themselves. This creates an opportunity for panel makers with leading-edge component integration technology and robust manufacturing processes to differentiate products and increase profitability.
The FPD industry is undergoing an unprecedented change that includes a rapid increase in display resolution, the proliferation of semiconductor technologies, a shift from transmissive to emissive displays and from fixed-form, rigid displays to flexible, conformable and foldable displays. Many of these advances are enabled by integrating discrete components into panels to improve optical performance or form factor.
Integration is particularly important for enabling highly flexible and foldable FPDs. In turn, foldable displays are considered one of the most important developments in the industry as they can widen application scope, increase the average size of displays used in mobile applications and create new ways for consumers to interact with information.
Many integration-related technologies are proprietary and difficult to implement. Technical challenges related to integration can increase risk. However, integration offers panel makers and their suppliers a chance to increase competitiveness and differentiate their products.
Analyst Comment
Some years ago, the now retired analyst and economist, David Barnes, said that from a business model point of view, the LCD panel market had such low margins that it looked like a material sales business that required resellers (the panel makers) to need an LCD fab as a requirement of being in the business. However, the changes that David Hsieh has highlighted mean that the percentage of the value of sales that is represented by materials should decline and the business will then look more like a process industry or the semiconductor business. (BR)