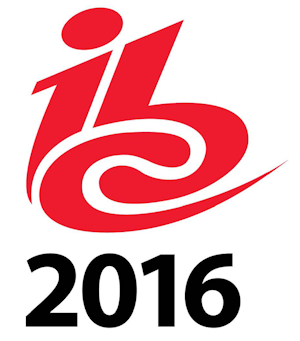 IBC saw attendees of 55,796 said the organisers of the event, with more than 1,800 exhibitors. That's around the same number of visitors as last year and 2014. The organisers put a lot of data about the show online. There were more than 435 speakers in 100 conference sessions and some great movie content and keynotes. Every year, IBC seems to be interesting and the TV industry is always positive, whatever the political and economic situation. IBC, like ISE at the RAI, is a global event as well as a regional event.
UltraHD resolution is no longer news, it is just working its way through the system and has become the de-facto standard for the future of content, although there remains a lot of work to ensure that distribution catches up. HEVC support is pervasive, now, and that helps. Although the NHK demonstrations of 8K are impressive and as the years go by, the components needed are coming into place, there doesn't seem to be much of an appetite on the show floor for Europe to move to that resolution. Frankly, even at the scale of the 'Big Screen Experience', DCI 4K was plenty good enough, so unless there is a very dramatic boost to display sizes, 8K doesn't seem to be a pressing requirement. Clearly, NHK can see that and was showing an 8K OLED that had a diagonal of 130″.
Our focus was largely on HDR and, again, the elements are coming into place for the delivery of HDR and the issues of standardisation and compatibility are being worked through – and there are a lot. We didn't find anybody that thought there was a problem to support both the PQ curve and HLG and both will deliver an experience that consumers will love.
High Frame Rate came up as a topic and, as we saw at IFA, some of the best video quality we saw was in HFR. Further, I thought that the Ang Lee 120Hz presentation (Ang Lee Shows the Future of Cinema Display (Updated) was stunning, although some of those sat around me at the event still don't like anything beyond 24 fps. I suspect that 24fps will be seen like black and white photography in the longer term future – a useful tool in the film maker's toolkit, but not the main delivery format.
360 degree video is being developed by many, who see this as a big opportunity to deliver more compelling content, although whether this is by VR headsets is not clear, yet. Whether this replaces regular 'director's view' content or just exists as an 'add-on' to the experience is not yet clear.
The move to use IP for moving content around during capture and contribution and that wave continues to gather pace. It's simply inevitable, we think.
The big trend in STBs was the talk about Android as a platform. Google moved the special TV-related parts of the Google TV project to become part of the standard Android package. Now, middleware and security companies are lining up to ensure that their products work well on that platform. There seemed to be less discussion of Smart Home initiatives – I suspect that we're in the trough of the hype cycle there. Smart home will, no question, be a big market one day, but getting there is complicated and has been slowed by platform battles.
A theme that we picked up from our attendance at briefings from Ericsson, SES and Sony (but also Neulion and others) was that big companies are increasingly offering "end to end" services to those that want to create and sell content, but don't want to have to deal with the complications of managing the distribution. In particular, I was impressed with the comment from OTT service, Knippr, that it took only nine months to go from choosing their contractor (Ericsson) to starting to sell and supply services. That's fast.
Anyway, we hope you enjoy our report!