A new Android Wear smartwatch made the biggest headlines at the Huawei booth. The new device aptly called "Watch" was presented for the first time. The round faced device is so new, that we could not even find it on the booth! The company claimed that it had the first three prototypes at MWC, two were actually brought to the booth at a later point. There is no word yet on availability or price, but the device tries to blend in as a regular watch rather than as a smartphone strapped to the wrist. It does come with a sapphire cover glass, as most high end watches do, including the Apple Watch in the two higher level editions. The company did have some images with models wearing the device, so at least mock-ups must exist.
The smartwatch comes with a 400 x 400 AMOLED display even though in a round layout. This translates into a pixel density of 286 PPI, the highest so far for any smartwatch, according to Huawei.
Another wearable device shown at MWC was the TalkBand B2, the second generation device from Huawei. The device is more of a fitness band rather than a smartwatch. The device can be worn either on the wrist or as an amulet. It includes a 0.7″ PMOLED touch-enabled display. The fitness band will be available in the coming months for around $300.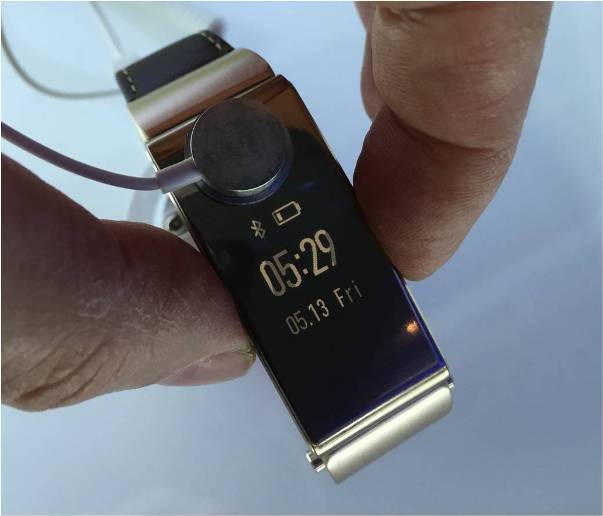 Huawei also showed the Honor 6 Plus for the first time after announcing it in December of 2014. The device comes with a 5.5″ FHD IPS LCD (pixel density of around 401 ppi) from JDI. The company actually uses the Japanese display maker as a marketing feature to differentiate itself from other Chinese smartphone makers. The device comes with a double camera where the two images are actually stitched together, which may lead to some issues with taking images of fast moving objects. Interestingly, the two cameras will not allow the user to take stereoscopic images or video. This may be another sign that the 3D stereoscopic graze is over in the eyes of the CE industry. The device runs Android Wear, but the company did not release any info on availability or pricing.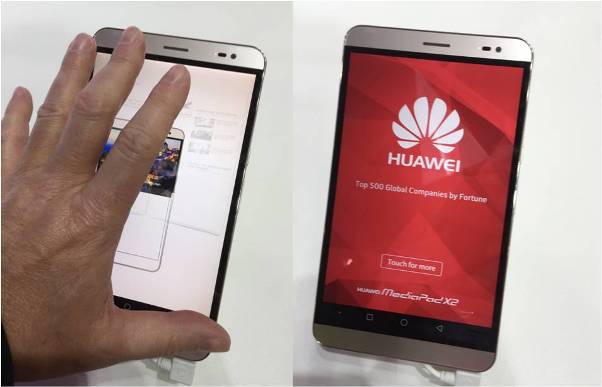 The Mediapad X2 is a very large LTE phablet sporting a 7″ IPS FHD display and an octacore processor. The device is pushing the limit of Phablets into the "tabphone" region. Meaning it looks more like a tablet with phone functionality. The display has a resolution of 1920 x 1200 resulting in a pixel density of 323ppi. It will run Android 5.0 and will be available in mid-2015.