Huawei had an impressive booth and was focusing on its mobile phone and tablet as well as its back end and cloud technology.
The Nova and Nova+ are both new smartphones. We were, apparently, not the first people to suggest that this name was not chosen with the Spanish market in mind (it means "No go"!). The phones are expected to hit the market in October. The Nova uses a 5″ FullHD IPS LCD and is based on a Qualcomm Snapdragon 625 processor. There's 3GB of RAM and 32GB of flash and the 12mp camera can take UltraHD movies at 30fps.
The Nova Plus puts the display side up to 5.5″ and there is a 16 megapixel camera with phase detection autofocus, optical image stabilisation and a dual-LED (dual tone) flash. Both phones have USB Type-C connectors.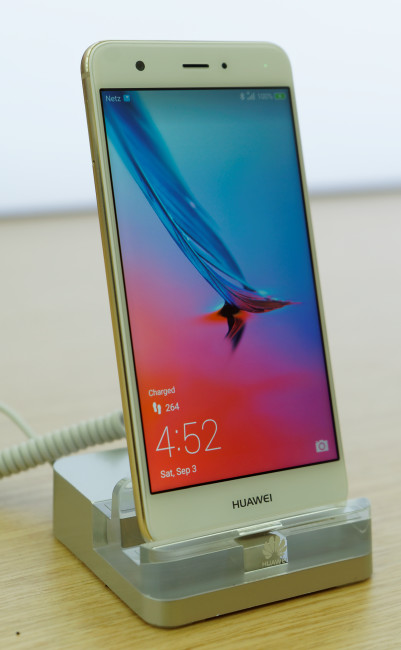 Huawei's Nova Phone. Image:Meko
The MediaPad M3 is a new Wi-Fi (≈€350) or 3G (≈€400) tablet with an 8.4″ IPS display with 2560 x 1600 resolution (359 ppi). It runs Android 6 (Marshmallow) and runs on a Hisilicon Kirin 950 octacore processor and with 32/64GB of flash and 4GB or RAM. The camera is 8mp and video can be recorded at up to 1080P30. The company told us that battery life is very good and that the tablet can play back nine hours of video.
Analyst Comment
General comments were that the Nova phones look good but are bit underpowered compared to the market leaders. (BR)