ZTE had a significant presence at IFA for the first time as it promotes its brand in Germany, where it has been selling its phones since 2012.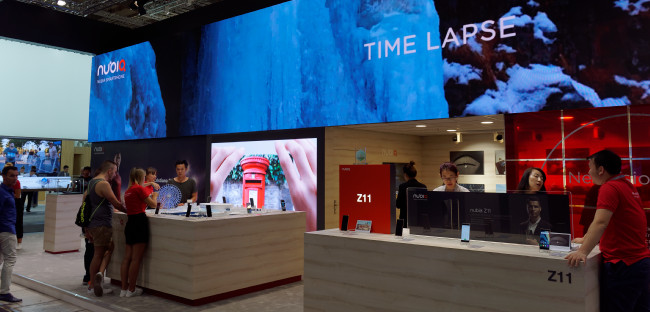 ZTE's IFA Booth was its first big presence. Image:Meko
The main news was the Nubia Z11 (ZTE Preps Mid-Range AMOLED Handset) SnapDragon 820-based phone that was launched in June and has been shipping since July. Although reported as OLED, the Z11 mini (5″ FullHD) was labelled as LCD, while the Z11 (5.5″ FullHD) and Z11 Max (6″ FullHD) were not identified and at press time we had not been able to clarify if the displays are OLED or LCD or whether the technology is region dependent. However, we did track down a reference on the ZTE site to a 'second generation Pixel Eyes' and this is a JDI LCD technology.
ZTE's Nubia Z11 phone has 2.5D glass. Image:Meko
The display has 'Arc 2.0' 2.5D Gorilla glass 3 cover glass that goes to the edges and the camera is said to have 'DSLR-like' properties using a special app and is based on a Sony IMX298 16 megapixel camera with F2.0 aperture and a 0.1s phase detection autofocus system. The camera also has optical image stabilisation. There is a USB Type-C and the phone supports quick charge. Although staff told us that the phone has 6GB of RAM, the company lists it on its website as having 4GB while flash storage is 64GB with a microSD expansion option of up to 200GB.
There is also a Z11 Max that has a 6″ FullHD display.
ZTE was also showing its SPro2 pico projector and the Blade V7 and V7 Light phones which were released earlier this year.