HTC and Lenovo are building stand alone headsets based on the latest Qualcomm reference design according to the RoadtoVR blog. Qualcomm has released more information about the components in the reference design including the Bosch BMX055 IMU for rotational tracking, which includes an accelerometer, gyroscope, and magnetometer. The imager OmniVision OV9282 global shutter image sensor which can capture 1,280 x 800 images at 120Hz, or 180Hz at 640 x 480. OmniVision recommends the OV9282 image sensor as ideal for VR headsets thanks to low latency.
The blog expects the displays used to be QuadHD, 2560 x 1440 AMOLEDs with 90Hz refresh.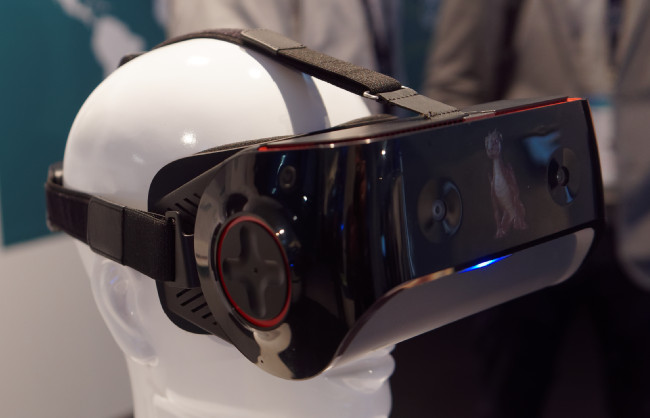 Goertek, which co-developed the Qualcomm reference kit, showed this design at Laval Virtual. Image:Meko
Analyst Comment
At the Leti event this week, Bosch was identified as having key technology in MEMs-based sensors, along with STMicroelectronics. Bosch is making a €1 billion investment in new manufacturing with support from the German government and Europe is regarded as being in the lead in this market.
Qualcomm has been working with VR headset maker, Goertek to develop its reference designs. We met with Goertek at Laval Virtual (Goertek Tries Laval for the First Time) (BR)