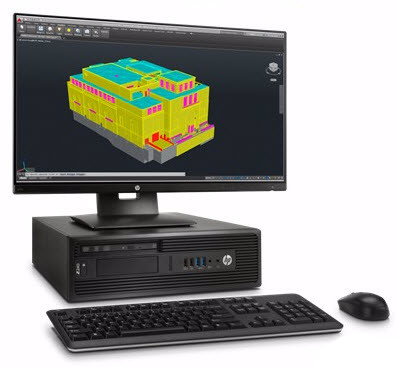 HP held a webinar to introduce two new Z240 workstations, a small form factor (SFF) system and a tower for maximum expansion. HP claims to be the number one brand in the global workstation market as well as enjoying top position in each region and category. HP believes that its position is the result of a focus on performance, innovation and high quality, which delivers high reliability. The business is run out of HP's Fort Collins site, but it's a global business.
HP uses AMD and NVidia graphics as well as integrated Intel GPUs and ensures "key" certifications as well as optimum performance. The emphasis for the new systems is "power and quality that fits the budget".
The company said it worked with key verticals in CAE/CAD/product development, media & entertainment (including digital photography), healthcare, finance, geospatial, government, education and power office workers.
Pricing was set to help customers that in the past bought standard PCs rather than workstations, even for CAD applications. Entry level applications such as digital photography need good pricing, as does education.
The new systems use the latest Intel Xeon and Core i3/i5 and i7 processors. They support up to 64GB of DDR4 memory (for the first time) and have dual Thunderbolt 2 ports. For displays, each of the systems has three digital outputs – dual DisplayPort and DVI-D for the tower and three DisplayPort for the SFF model. (HP told us that it prefers the tower configuration of dual DP+ DVI-D, but space is limited on the SFF unit so it uses three DisplayPort outputs).
Other features include the latest Intel architectures for performance and HP's Z Turbo Drive for better performance. Storage options include M.2 slots. Apparently, the product management team is "really excited" about an external dust filter that can be removed and washed, saving the opening of the PC for annual maintenance. Wiring has been improved and simplified and a "legacy" PCI slot as it was used by less than 2% of customers. An ambient temperature guage allows better fan optimisation.
Pricing starts at $879 and shipping will start in November.