NAB New York was held in the Javits Convention Center on October 16 – 17, 2019. A number of companies had their monitors on display that target the High Dynamic Range (HDR) content creation industry.

Of course, there were many more that targeted the broadcast industry but broadcast monitors, in general, aren't particularly interesting since they typically use generic LCDs as displays. The ones targeting content creation are more interesting. In general, they are high resolution, high contrast, high dynamic range, high brightness or all four.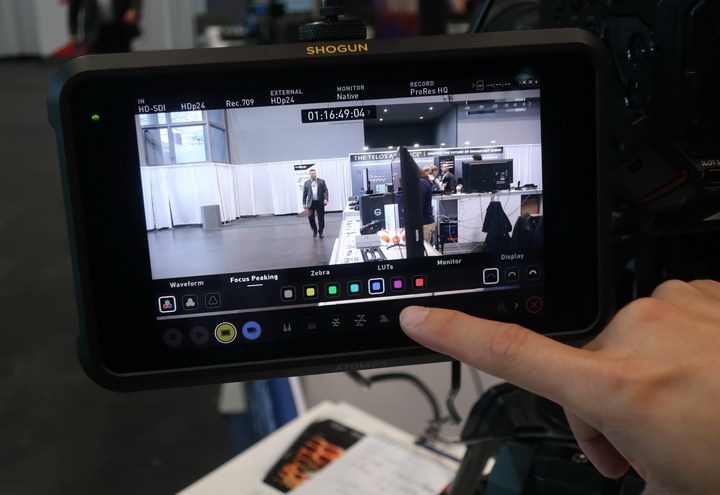 Touch-screen Atomos Shogun 7 Monitor mounted on a Panasonic camera (Credit: M. Brennesholtz)
Atomos makes a line of monitors intended for use on-camera and most serve a dual purpose: they both display the image and record it. At NAB-NY, they were showing two new products, the Shogun 7 and the Neon series. The Shogun 7 is an updated version of their Shogun Inferno monitor. One of the key changes, from a display point of view, is the Shogun 7 has a brightness of 3000 nits (cd/m²) and a contrast of 1,000,000:1 while the Shogun Inferno had a maximum brightness of 1500 nits. This higher brightness allows the image on the Shogun 7 to be more clearly visible in higher ambient light, for example, when it is used as a camera monitor outdoors. Another improvement is the Shogun 7 can playback Dolby Vision content. It also has better connectivity and can switch between four live streams. Both Shogun versions can record up to 4Kp60 or ProRes RAW. The Shogun 7 is $1499 while the Shogun Inferno, which continues to be available, is $999.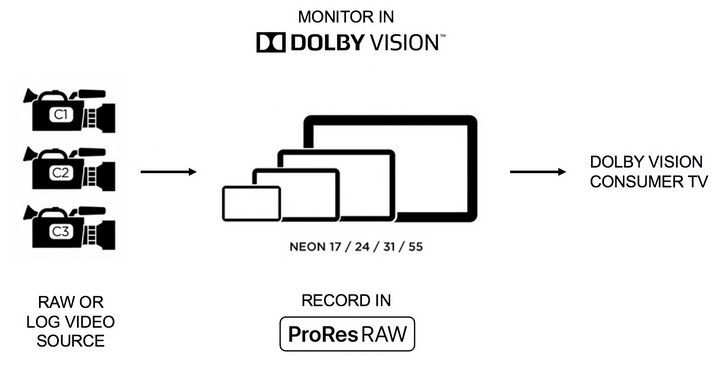 Flowchart showing the on-set monitoring of HDR cameras in Dolby Vision (Credit: Atomos)
The Neon series of monitors includes 17", 24", 31" and 55" versions – clearly not designed for on-camera use. According to the representative at NAB, they all use dual-cell panels and have 1000 nit brightness. (I spoke to Atomos at IBC and saw the Neons, but a) there was no mention of dual cell and b) having dual cell and zones makes no sense, so I think the representative was wrong – Editor). In addition, they have zoned backlights, with the Neon 17 having 128 zones and the larger models having 512 zones. The monitors, when acting as recorders, will record up to 4Kp60 or 12-bit ProRes RAW.
They will also record up to 240Hz frame rate, at lower resolution, i.e., 2K or FHD, and 8K at reduced frame rates. They will record the proprietary formats for Sony, Nikon, Canon, ARRI, Panasonic, JVC, RED and FujiFilm cameras as well as PQ1000 up to PQ10,000 and HLG formats and show all these formats correctly on the display. They all have both HDMI 2.0 and SDI inputs and outputs.
The monitors are specifically designed to show and output Dolby Vision HDR content. In fact, they can accept input from HDR cameras, convert it to Dolby Vision in real time and output it to consumer TVs or other Dolby Vision displays, as shown in the flowchart. This is not the final Dolby Vision output that would be generated by a post-production house from the recorded signal, but it would give the cinematographer and others on the set or in the studio a good idea of what the final consumer content would look like. The RAW or other recorded format would go to a post house first for conversion to standard editing formats, then editing and finally for generation of the final Dolby Vision metadata for distribution.
Multiple Neon-series displays can all be synced together, up to 1000+, according to the company. This ensures that everyone, everywhere, monitoring the camera output will see the same image. The monitors are all controlled by an iOS app using Bluetooth. Prices range from $3999 for the Neon 17 to $16,999 for the Neon 55. They are available for pre-order now and are said by B&H to be "coming soon."
Atomos has also recently introduced the 5.2" HDR Shinobi ($299) and Shinobi SDI ($429) monitors. These are monitors only and will not record the image. While they are both FHD (1920 x 1080), they will display 4K signals. The Shinobi unit has HDMI input and no outputs and is said to be good for still photography and social media content creators using digital still cameras as video cameras. The Shinobi can be mounted on the camera and will provide a bigger and better image than the display built into the camera. The Shinobi SDI has both HDMI and SDI inputs and an SDI output, allowing multiple units to be daisy chained together. Besides still photography and social media content, the Shinobi SDI monitors can be used in professional video, TV and cinema applications as on-camera monitors where the signal is being recorded by a different device. These units are available now.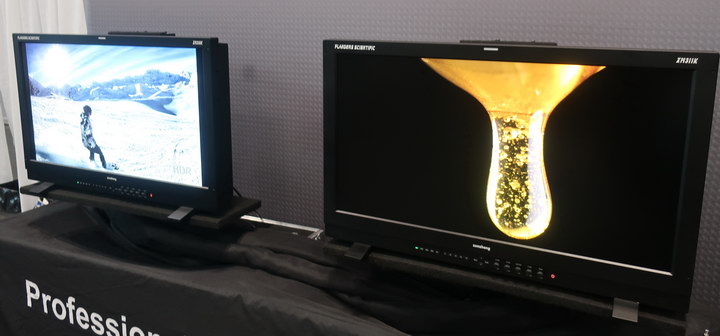 Flanders Scientific 31" Monitors at NAB-NY. Left, the XM310K; right, the XM311K. (Credit: M. Brennesholtz)
Flanders Scientific was showing its two 31" HDR grading monitors at NAB-NY, the XM310K and the XM311K. Neither of these is a particularly new introduction and I wrote about the XM310K before, after it won an award for new products at the NAB show last April. Both are true DCI 4K (4096 x 2160) HDR 31" monitors for color grading and other tasks. The XM310K is a single LCD layer with a segmented backlight with 2048 zones and said to have a 1,000,000:1 contrast ratio. It has 3000 nit output on the L20 test (20% of both the horizontal and vertical size illuminated, or 4% of the total area) and 2000 nits on the L60 test (36% of the area). The full screen maximum brightness is 1000 nits. The XM311K monitor is similar except it uses dual cell technology to achieve a 1,000,000:1 contrast. Since it does not use a segmented backlight, L20, L60 and full screen brightness are all 1,000 nits.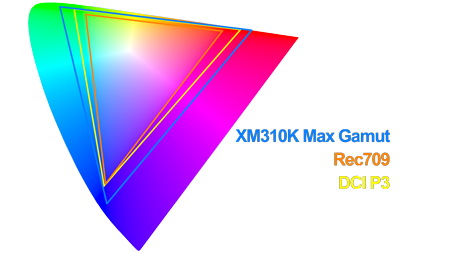 Native color gamut of the XM310K compared to Rec. 709 and DCI-P3 (Credit: Flanders Scientific)
While I'd written and read about both monitors, I'd never seen either one before so seeing them side by side was a treat. Of course, on a brightly lit trade show floor, nobody actually achieves 1,000,000:1 contrast. Still, they both looked very good. They had good highlights, good blacks and good colors. I do wish Flanders had been displaying the same content on both monitors, making it easier to compare them. And, of course, with 4K resolution on 31" panels, resolution was excellent and pixels weren't visible. Both monitors have color gamuts larger than Rec. 709 or DCI-P3. While they support Rec. 2020 inputs, they don't have the full Rec. 2020 color gamut, since that would require laser illumination.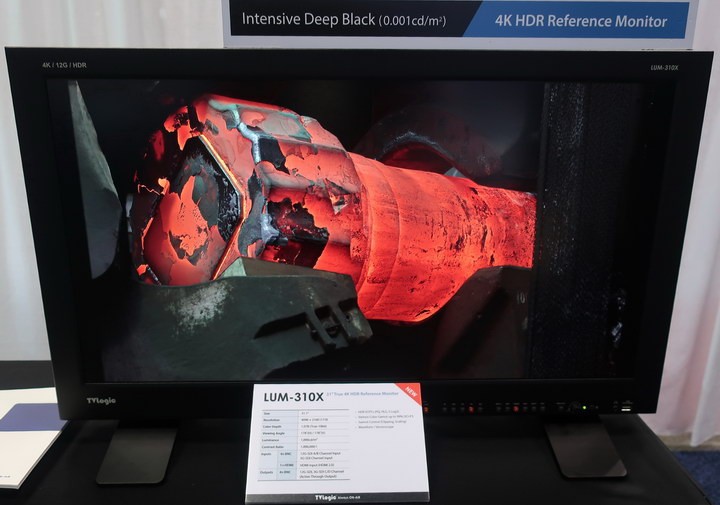 TV Logic's new LUM-310X, a 4K HDR reference monitor (Credit: M. Brennesholtz)
TV Logic was showing several new products, including the LUM-310X reference monitor plus the F-10A, F-7H mk2 and F-5A field monitors. The LUM-310X is a true 4K 31" HDR reference monitor with a dual-cell LCD structure and 1,000,000:1 contrast. Maximum brightness is 1000 nits and the minimum is 0.001 nit. The color gamut is larger than DCI-P3 and the system supports Rec. 2020 colors. The display supports multiple HDR EOTFs, including PQ, HLG and Slog3. This all sounds familiar and I would assume they use the same panel as the Flanders Scientific XM-311K dual cell monitor. (yes, they are both from Panasonic – Editor)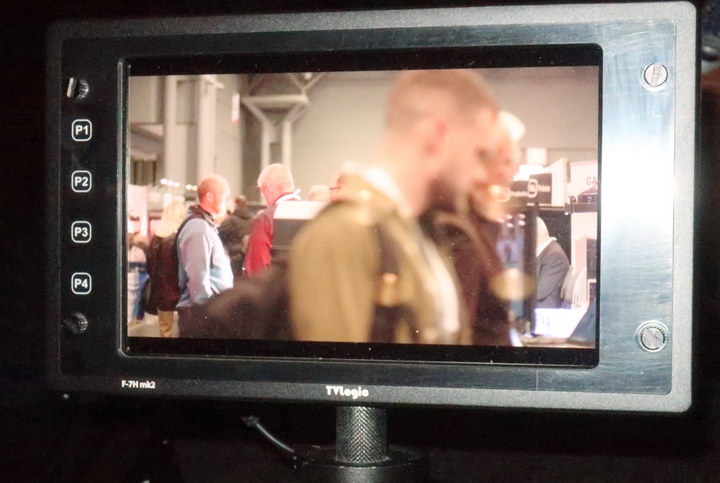 F-7H mk2 field monitor from TV Logic (Credit: M. Brennesholtz)
The three field monitors are not true HDR monitors, instead they have what is called a "HDR Emulation Mode." Presumably this means that the camera output EOTF is modified to place it within the contrast range of the monitor and show the approximately correct relationship between bright and dark portions of the scene. These monitors do not record the signal and whatever storage is used in the system will (should) record the original, unscaled output. All three field monitors have FHD (1920 X 1080) resolution.
Perhaps the most interesting of the three is the F-7H mk2. This is said to be the brightest 7" monitor available, with 3,600 nits maximum brightness and 1,200:1 contrast. The above photo was taken with a flash and it doesn't seem to have seriously deteriorated the contrast of the unit. It also has 3G-SDI and HDMI inputs and outputs and can convert from HDMI to SDI or from SDI to HDMI for the pass-through signal. The F-10A had 300 nits and 1000:1 contrast and the F-5A had 500 nits and also 1000:1 contrast. 300 or 500 nits is fine for indoor use but would not be good for outdoor field use in most cases. None of the three units has Ethernet and firmware update is done by USB memory stick.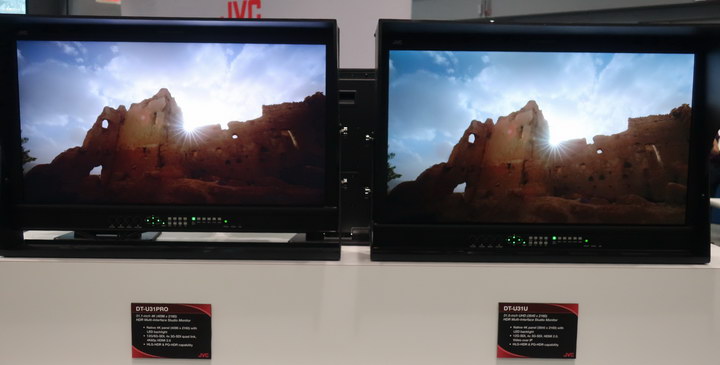 JVC showed its DT-U31PRO and DT-U31U monitors side-by-side (Credit: M. Brennesholtz)
JVCKenwood showed both its DT-U31PRO (350 nit, 1500:1, $9,495) and DT-U31U (300 nit, 3000:1, $5,495) HDR studio monitors in its booth at NAB-NY. All the monitors JVC showed at NAB-NY were single cell systems with about 2000 backlight zones. Perhaps the most surprising thing about these two similar displays is they have different resolutions: the U31PRO is true 4K and the U31U is UHD. It is also surprising that JVC allowed two similar monitors targeting the same market and shown side-by-side to show different colors on the same signal. Oh, well, they both looked good anyway.
They target the monitor market and are not considered suitable for color grading video content. JVC was also showing three members of its new DT-GXX series of monitors, the DT-G27, DT-G24 and the DT-G21 studio monitors. They were not showing the fourth member of the series, the 17" DT-G17. Since the DT-GXX series is just FHD (1920 x 1080), not 4K or UHD, and they are not HDR capable, I won't say anything more about them.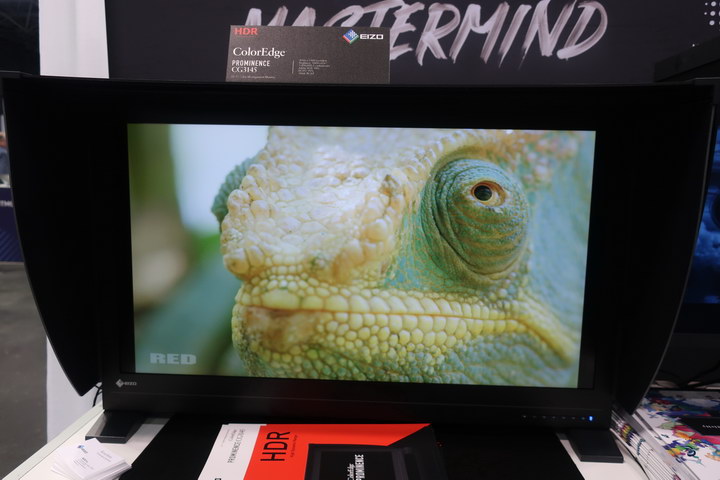 Eizo high-end ColorEdge monitor, the CG3145, targets color grading applications (Credit: M. Brennesholtz)
Eizo was showing two of its ColorEdge monitors, the CG3145, introduced about a year ago and the CG279X, which came out about 3 months ago. The CG3145 is a dual-cell, 1000 nit, 4K, 1,000,000:1 monitor that targets the color-grading market. Sound familiar? (same Panasonic panel – Editor) It was showing 4K content shot on a Red camera, color graded on a CG3145 and was now being shown on one. With the shield to protect the screen from some of the ambient light, the image looked good and you could better appreciate the contrast compared to some of its competitors. The CG279X is a single cell 27" monitor with 2560 x 1440 resolution with 350 nits, 1300:1 contrast and an Adobe RGB color gamut. The unit has a built-in color calibrator. While this can show HDR content with the optional PQ and HLG EOTFs, it is recommended more for on-set use, VFX and compositing. – Matthew Brennesholtz