My last Display Daily was titled "SID's 2019 Display Industry Awards" and covered seven display products that received awards at the recent Display Week. For the first time ever, the National Association of Broadcasters (NAB) also awarded "NAB Show Product of the Year Awards" for things exhibited at the NAB show, which ran from April 6 through 11 in Las Vegas. These awards are intended to recognize "the most significant and promising new products and technologies being exhibited at the Show."

The NAB awards are different from the SID awards in several important ways. First, they are announced during the show on April 10th, not before the show like the SID awards, and are only awarded to new products and technologies at the NAB trade show. Some of the SID awards are for products that have been commercially available for several years and there is no requirement that they be shown at Display Week, although most are. Second, the NAB has a much more shotgun approach to the awards and at the 2019 show gave a total of 120 awards in 16 categories. The NAB award categories were:
AI/Machine Learning (12 awards)
Asset Management, Automation, Playout (5 awards)
Audio Production, Processing and Networking (6 Awards)
Cameras, Camera Support and Accessories (15 Awards)
Cloud Computing and Virtualization (5 Awards)
Display Systems/Digital Signage (6 Awards – more about them later)
Graphics, Editing, VXF, Switchers (9 Awards)
Hardware Infrastructure (20 Awards)
IT Networking/Infrastructure & Security (4 Awards)
Lighting (11 Awards)
Streaming B to B (4 Awards)
Streaming B to C (1 Award)
Radio (4 Awards)
Remote Production (6 Awards)
Storage (7 Awards)
Video Transport (5 Awards)
Presumably, for Display Daily readers, the most interesting category was the Display Systems/Digital Signage category. The six awards in this category were given to:
Broadcast Depot Corp. – SODYO Scanner
DesignLED Technology (HK) CO LTD – Immersive LED Dome
DesignLED Technology (HK) CO LTD – 3D LED Globe Solution
Flanders Scientific, Inc. – XM310K
Sony Electronics – BVM-HX310
Vidovation – Vidovation TV
Broadcast Depot Corp – SODYO Scanner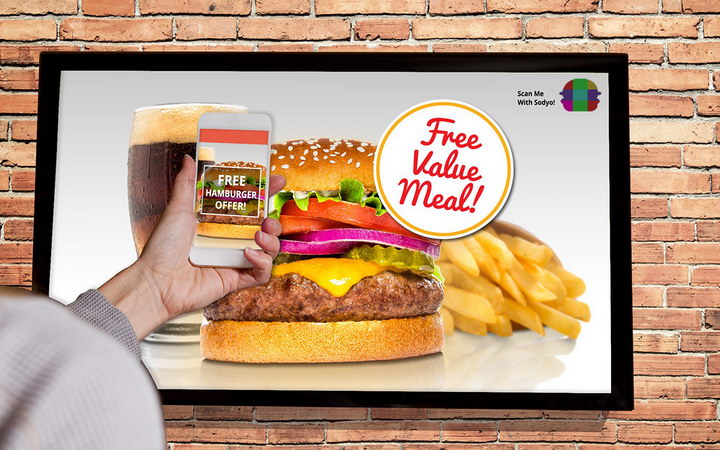 Sodyo scanner technology allows smartphones to connect to products without the use of a QR code. (Redit: Sodyo)
The Sodyo Scanner allows any object, whether displayed on a digital signage screen or a real object in the environment, to be scanned by a smartphone and used as a source point for a link to a website. The Sodyo scanner motto seems to be "If you can see it, you can scan it." QR codes are no longer required. For example, if you scanned a McDonald's golden arches logo, you would be connected to the McDonald's website and, if GPS were enabled on your phone, you could be connected to the McDonald's restaurant you were standing next to and get specials, promotions and other information about the restaurant.
DesignLED Technology
Immersive dome (left) and globe (right) LED displays from DesignLED (Credit: DesignLED Technology (HK) Co Ltd.)
DesignLED Technology (HK) Co Ltd. received two awards in the display category. Both were for spherical direct view LED domes. The first was an immersive system viewable from the inside and the second was a globe viewable from the outside. According to the company, the two can be combined to produce a sphere with displays on both the inside and the outside. Both versions of the spherical display use a 2.5mm pixel pitch, have a peak brightness of 600 cd/m² and are for indoor use only. According to DesignLED, both versions of the display can be used for a variety of applications, including entertainment, theme parks, 3D theaters, airports, sports, education, museums, planetariums, simulation, and broadcast.
Flanders Scientific, Inc. – XM310K 4K HDR Mastering Monitor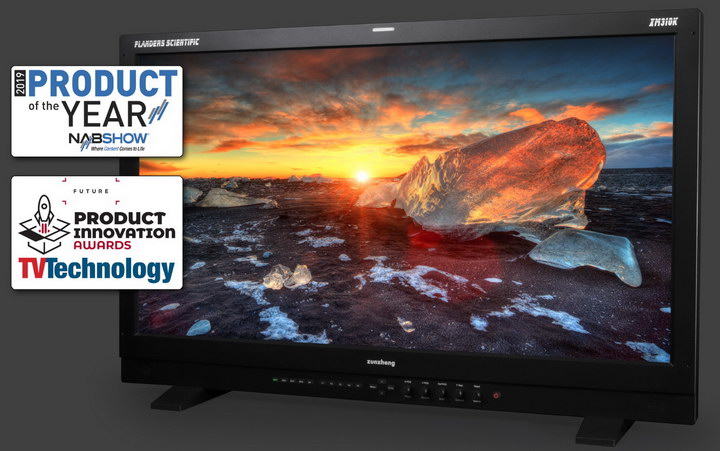 Flanders Scientific 4K HDR mastering monitor (Credit: Flanders Scientific)
The Flanders Scientific XM310K is a 31″ true 4K (4096 x 2160) resolution HDR and SDR reference master monitor equipped with professional 12Gbps SDI inputs. The XM310K qualifies as a Dolby Vision mastering monitor. It uses a ultra-wide gamut zoned backlight (using a dual LCD configuration) array LCD panel, not an OLED panel. A peak luminance of 3000cd/m², support for both PQ and HLG EOTFs, multiple color gamut selections, and a contrast ratio in excess of 1,000,000:1 are said to make the XM310K ideal for a wide variety of demanding HDR workflows. The 3000cd/m² is achieved with a L20 patch size (20% of both width and height of the screen or 4% of the area). With a L60 patch size (36% of the screen area), the monitor will achieve 2000cd/m² and with full screen white, it will achieve 1000cd/m². When used as a FHD (1920 x 1080) mastering monitor, the content is displayed without interpolation by representing every pixel from the incoming source as 4 pixels on the panel. This allows for accurate signal representation on screen by avoiding interpolation methods that might mask or omit image issues. The XM310K can also be used for multi-camera monitoring applications with support for simultaneous viewing of up to 4 genlocked HD feeds, each pixel mapped without interpolation, and can show any feed full screen as needed. The Flanders Scientific XM310K Is shipping now for $45,000.
Sony Electronics – BVM-HX310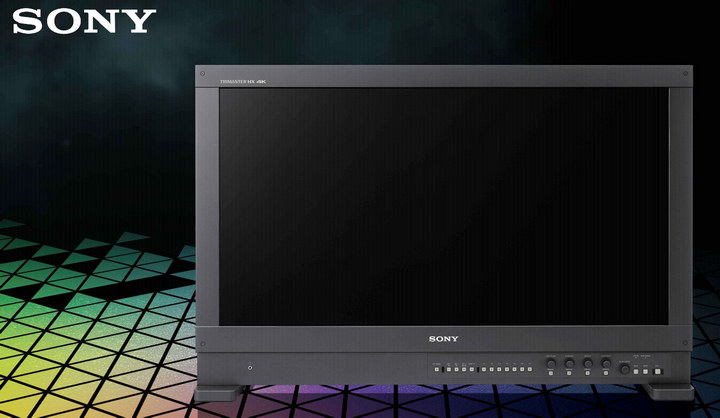 Sony BVM-HX310 4K HDR mastering monitor. (Credit: Sony Electronics)
Sony won an award for its new Trimaster BVM-HX310 31" mastering monitor. In the part number, "H" stands for HDR and "X" for liquid crystal. Unlike previous Trimaster monitors that used OLED panels, this one uses a 4K (4096 x 2160) LCD panel with a dual panel LCD backlight to produce a brightness of 1000cd/m² and a contrast of 1,000,000:1. The specifications for this monitor are very similar to the Flanders Scientific with two notable exceptions. First, the Sony monitor does not quite cover the entire DCI-P3 color gamut used for digital cinema while the Flanders Scientific monitor does. While the Flanders Scientific monitor supports up to 3000cd/m² in a L20 patch, there is no mention of any luminance level above 1000cd/m² in the specifications for the Sony monitor. The Sony BVM-HX310 is shipping now for about $30,000.
VidOvation TV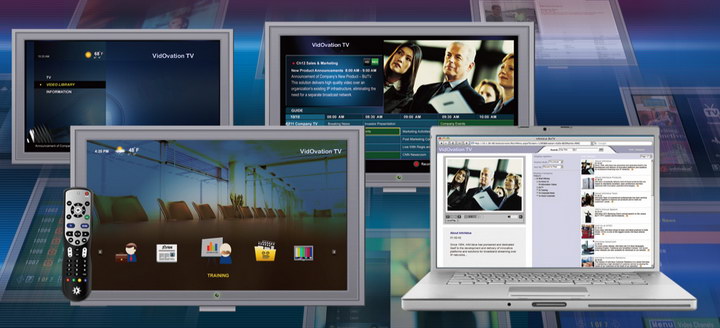 VidOvation TV is a Hospitality IPTV & Digital Signage System with 138 Channels of DirecTV using COM3000 (Credit: VidOvation)
VidOvation TV is a turn-key enterprise IPTV and digital signage system for the hospitality market that now includes full integration of DirecTV content. The integration enables an end-to-end IPTV system that includes DirecTV, digital rights management, video on demand, and digital video recording with streaming to smartphones, tablets, desktop players, displays, smart TVs, and set-top boxes. VidOvation TV integrates with the new DirecTV COM3000 system, supporting up to 138 channels of DirecTV. The DirecTV COM3000 system has been designed specifically for hotels and enterprise installations where there is a need for a single-wire solution for multiple displays. The COM3000 system offers up to 138 tuners in a scalable system that takes up a small space in an equipment rack. It creates a head-end system in which every TV can be tuned to its own channel without interfering with other TVs. VidOvation TV isn't just about DirecTV. It is said to be one of the only systems on the market that supports Verimatrix and Pro:Idiom encryption now required by every cable and satellite operator including, Comcast, DirecTV, Dish Network and more. Pro:idiom is an encryption scheme originally developed by LG for the hotel market and is now incorporated in LG, Samsung, Panasonic, Sharp and Philips hospitality televisions. The VidOvation TV system can distribute virtually any video and television sources from DirecTV, satellite, cable, studio feeds, in-house feeds, media players and third-party digital signage. The VidOvation TV Digital Signage feature provides users with a feature-rich Digital Signage capability and experience including L-bar, multi-zone with live video, emergency alerts and more.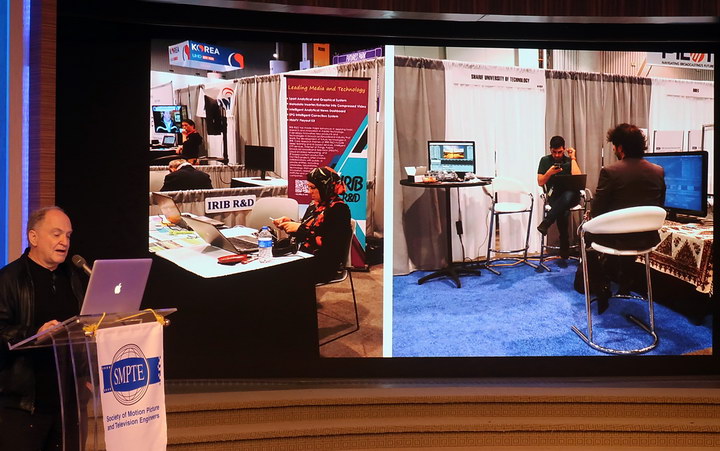 David Leitner discussed the effect of US Visa policies on NAB attendance. (Credit: M. Brennesholtz)
Mark Schubin, who says he has visited every booth at every NAB since 1973, said in his review of this year's NAB for the SMPTE-NY section that this year the NAB show had 91,460 registered attendees, including 24,096 international attendees. This is down slightly from 2018 where there were 93,171 registered (92,912 actual) attendees. 2018 was, in turn, down from the 2017 total of 103,443 registered attendees. The number of companies represented was also down, from 1718 in 2018 to 1632 in 2019. David Leitner, another speaker at the SMPTE-NY NAB Review, said that, as an international trade show, it has been hurt by US visa policies. He says the NAB show has become the de-facto international trade show for not only broadcasters, but for everyone in the content creation, editing and distribution chain. For example, he said the IRIB (Islamic Republic of Iran Broadcasting) R&D group along with the Sharif University of Technology in Tehran, Iran were in attendance, as seen in the photo. While these two groups were there, he wondered how many people from other countries shunned by US presidential politics either were denied visas or never applied for visas in the first place, expecting them to be denied.
BTW, the SMPTE meeting was held at ABC studios in New York on the set of the talk show Live with Kelly and Ryan. The main display in the studio, seen behind David in the image, was a UHD Series model U151R direct view LED videowall from Neoti with a 1.56mm pitch. – Matthew Brennesholtz