In case you missed Display Week in San Jose last week, one stand-out technology empowering displays (and just about any surface, for that matter) was SigmaSense (www.sigmasense.com). This is a start-up based out of Austin, TX that delivers a digital, fully-scalable sensing technology (think skin) that "…dramatically increases immunity to noise, and solves the tuning challenges of traditional touch sensors," according to Chief Technology Officer Dr. Gerald Morrison. We found the group in the iZone start-up incubator display section of the Display Week showfloor.

To get there, SigmaSense uses capacitive imaging that supports concurrent transmit/receive in three specific modes: self-capacitance (single touch), mutual capacitance (inanimate objects) and pen input, each from a unique channel. The result is dramatically enhanced human – machine interface that can be best characterized as object perception.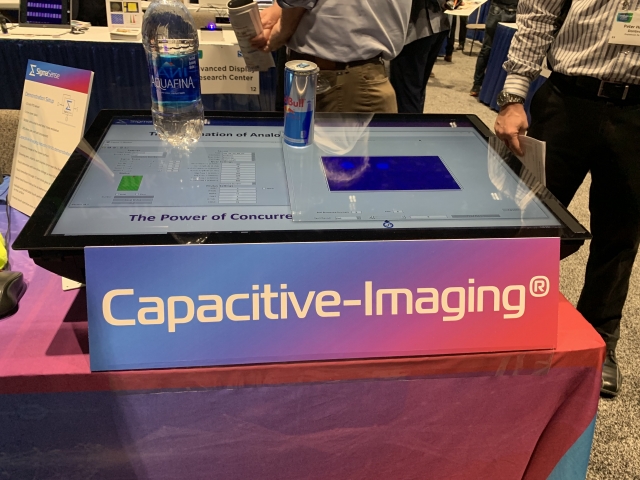 SigmaSense 32-inch demo at DisplayWeek 2019 iZone showing capacitive imaging (skin-like) sensing, Photo: Steven Sechrist
Most impressive was the on-floor demo that included displaying the image (and data) seen when an object was brought in proximity (not yet touching the surface of the ITO treated material). The extended hover capabilities included a remarkable degree of perception for example, detecting the placing of a water bottle on a glass surface sitting atop the display/ sensor array. The system "sensed" not only the glass surface, and water bottle, but showed the image of my hand as it came in proximity to its surface. Best of all, this is being delivered with extremely low power consumption. Dr. Morrison told us the high impedance 32-inch demo system ITO (indium tin oxide) sensor was being driven at just 0.02V, and based on a single bit (1 bit) Sigma Delta A/D.
The technology is also scalable from mobile to large format displays, but that's just tip of the iceberg for this perception sensor. It demonstrates the capacity for adding "skin-like perception" not just to display based devices in the pipeline,but almost any surface, anywhere (think countertops, dashboard surfaces in cars, to, yes, wearables including clothing). The possibilities seem endless, and the technology impressive to say the least.
The technology demo included a 32-inch glass sensor, 3mm cover glass, 20K ohms end to end total trace resistance, and 292 ohms per unit cell (crosspoint). This provides a "streaming image" of the screen surface, and was demonstrated real-time. The SigmaSense demo showed the capacity to detect touch, hovering etc. through a 15mm thick glass surface.
The Innovation Zone (iZone for short) is part of the SID Display Week experience, that adds an entrepreneurial / start-up component to the mostly academic and expo event and this year it certainly delivered. Steven Sechrist
Vivo iQOO Selected NDT as Their Monster Touch Solution
EIZO Expands Its ATC Tower Lineup with 31.5″ 4K Touch Panel Monitor with Multiple Scalable Inputs
EIZO Releases 21.5″ Fully Flat Multitouch Monitor for Factories, Clean Rooms, and Public Access Areas
Touch Enabled Video Wall Provides Front-of-house Solution In Cinema Foyers
InventHelp Inventor Develops Touchscreen Keyboard (BGF-2273)