This is the follow-up to Automotive Displays Part I: The Market is Huge. There were lots of interesting developments at Display Week 2023. I covered the market reasons and some of the overall trends in my article last week. In this article, I'll cover some of the displays that were on show.
For the reasons that I explained in my previous article, automotive is a particularly important market for the firms that do not see their present or future in the long term market for TV and other commodity panels. That includes Innolux and AUO from Taiwan, Tianma from China and LG Display and more recently, Samsung. Samsung made a big acquisition in Harman in 2017 to further its automotive plans.
Last time, I also mentioned the value of the market. In a keynote at Display Week 2023, Tianma of China, pointed out how much value it expected to see in vehicle displays – on a 'per vehicle' basis. This highlighted the dramatic difference between the low end of the vehicle market and the high end from a handful of $$$ to more than $1,500 at the other extreme.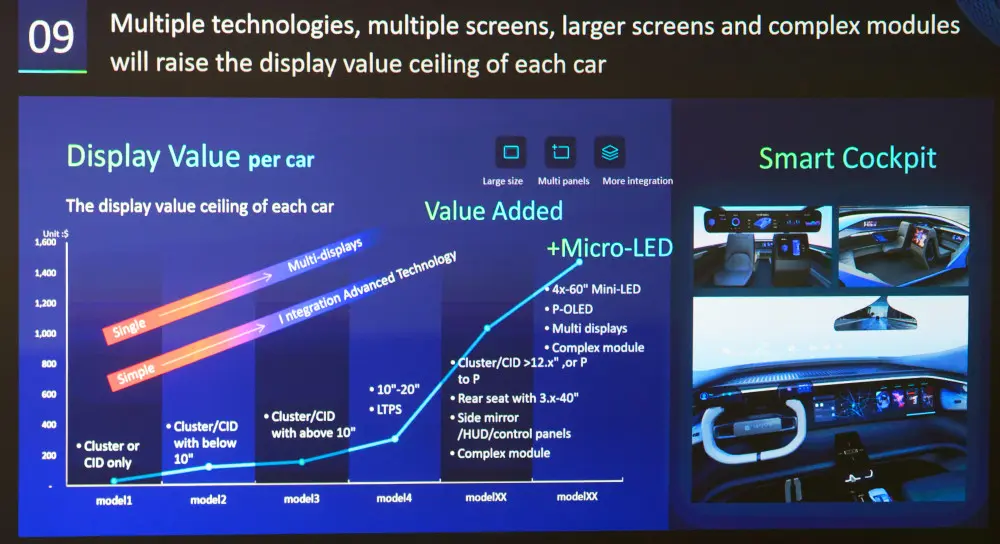 Innolux – First on the Block
The firm uses its CarUX company as its brand for automotive products and in September last year, I reported news that from Taiwan that Innolux was looking to boost the share of its business that goes into the automotive sector from 12% a year ago, up from 7% to as much as 50% in the future. At the same time, CarUX made a deal with Corning to access its ColdForm technology which can be used to build the kind of 'one module, multiple displays' component that vehicle makers like.
We've got quite a few items from the firm, partly because it has 'something for everyone' in automotive as a key target marketWe've got quite a few items from the firm, partly because it has 'something for everyone' in automotive as a key target market but also because it had displays on show in almost every technology area we were looking at.
A combined instrument and Cluster display was the first item. It includes a 12.3″ (2400 x 900) and a 14.9″ 2880 x 960 IPS LCD – each with 1,200 cd/m2 of output and 1,400:1 contrast. The system included touch functions and was said to be the first to integrate curved displays in this way. The radius of curvature was 2750mm.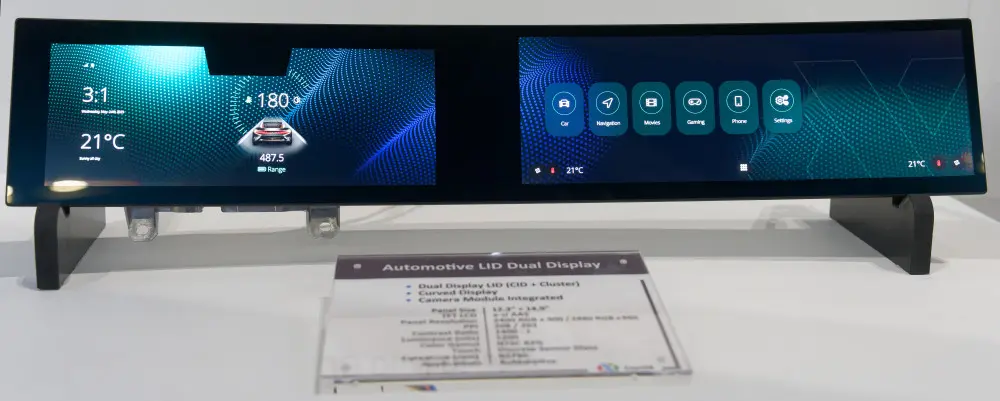 Also on show was a 31.3″ Rear Seat Entertainment (RSE) display that has a very wide aspect ratio (7680 x 2160 – 32 X 9). If Innolux is not the supplier of the BMW 31-inch, 8K "Theater Screen" that was announced back at CES 2022, then we're assuming it must be a second source supplier for it. However, given the likely small volume, it would be surprising if Innolux wasn't the supplier of that option. Personally, I'm sceptical of the value of such a display. It's eye-catching, but I wouldn't want to watch a movie in just the centre of the display, or have the top and bottom cropped.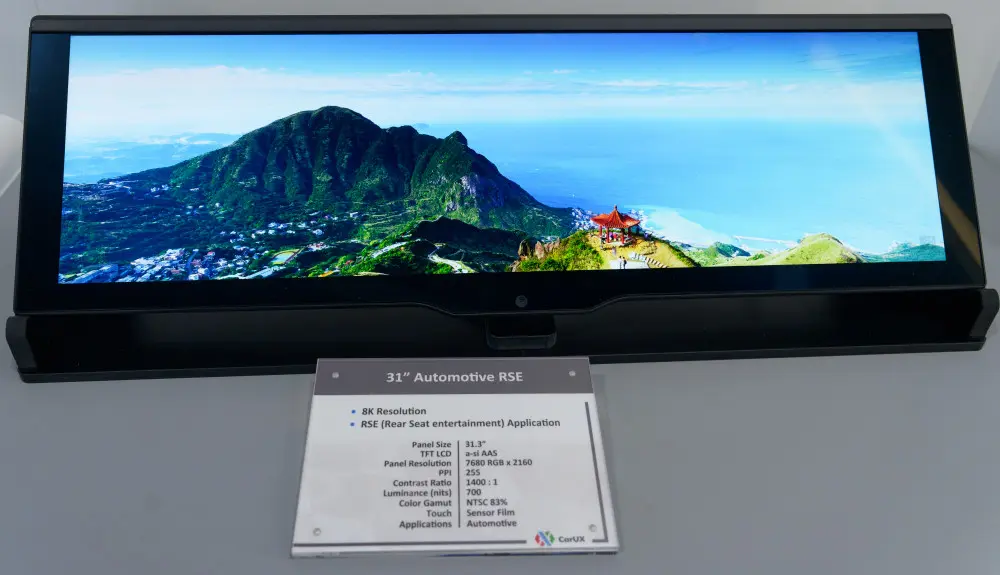 An interesting prototype 34″ display was shown that used a single 8960 x 1320 panel with 850 cd/m2 of output and with a curvature of R1800. The display had a backlight with an active matrix dimming control and the unit is fitted with touch.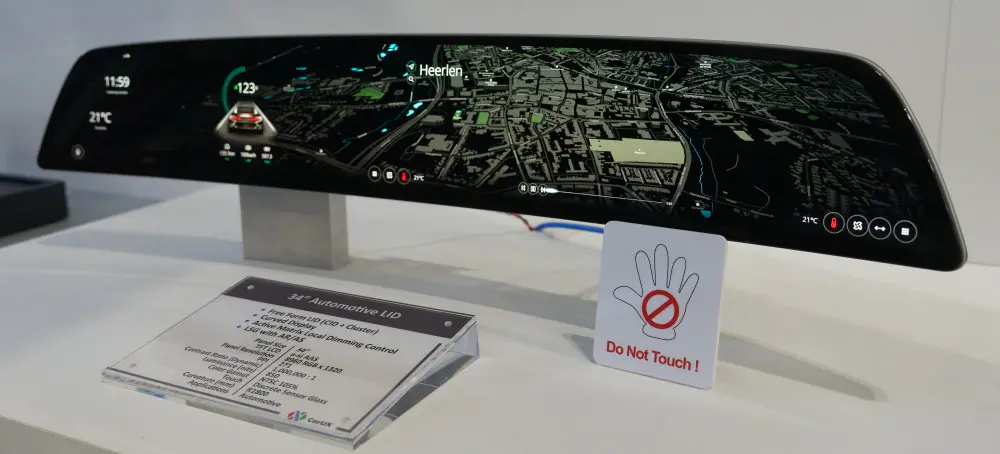 Innolux also had its version of 'Shytech' with a 12.3″ 1920 x 720 touch display with 300 cd/m2 behind a 'Real Wood' surface and the firm said it has a range of Wood effects available.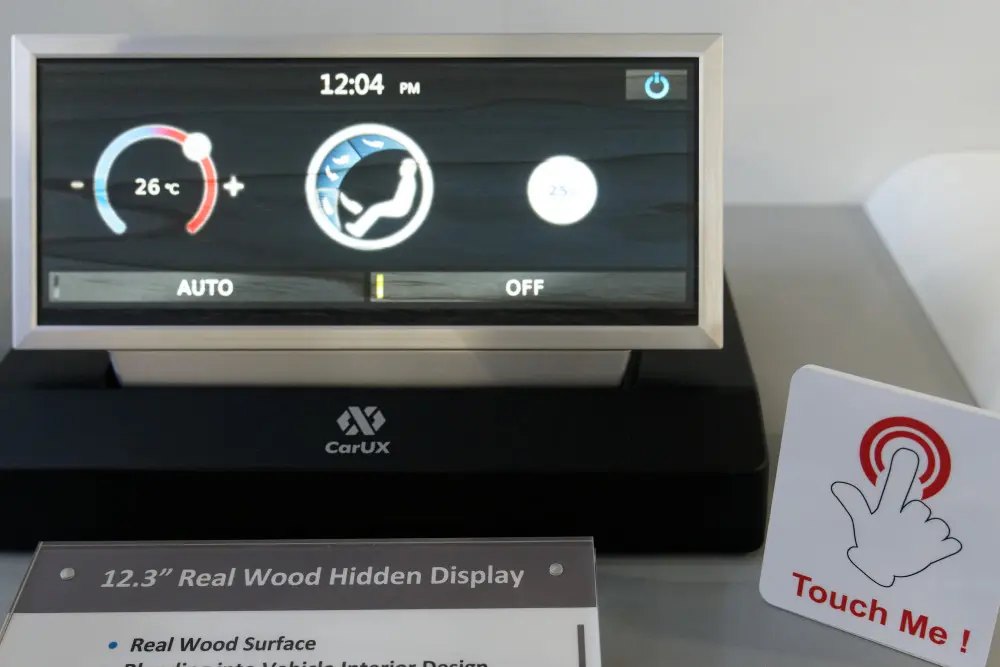 A switchable 12.3″ 1920 x 720 LCD allowed 'deep' privacy on one side of the display. The firm claimed a privacy ratio of L45 deg <0.6% light output. We took a picture to show the low leakage of light at an angle.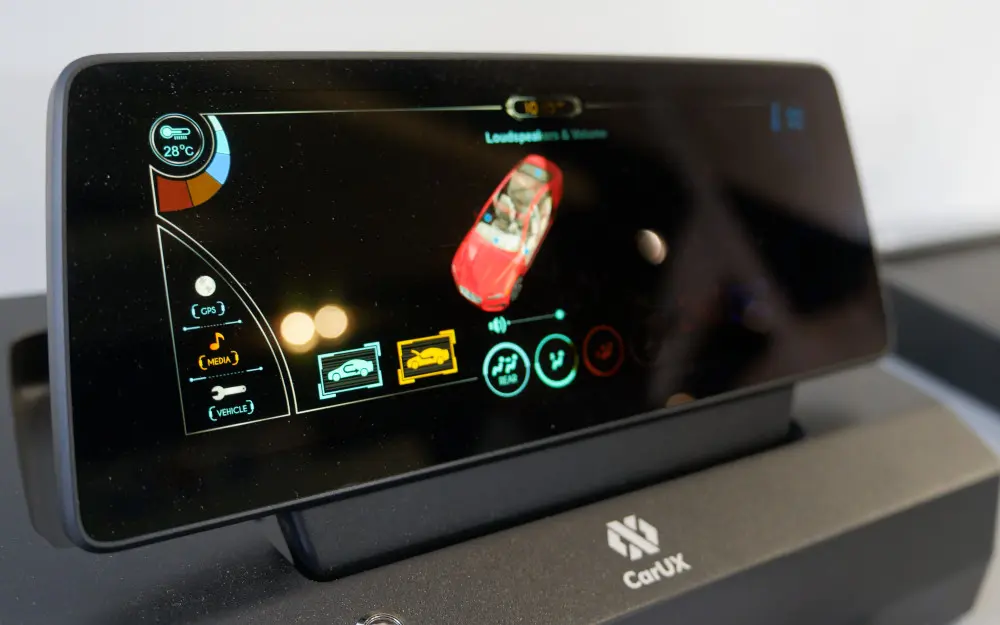 Finally, of course, Innolux had a 9.6″ MicroLED demo display, shown in four different configurations. The resolution was 1920 x 1080 (230ppi) and the backplane was LTPS. Elsewhere on the booth, there was a demo of a MicroLED using blue LEDs and colour conversion.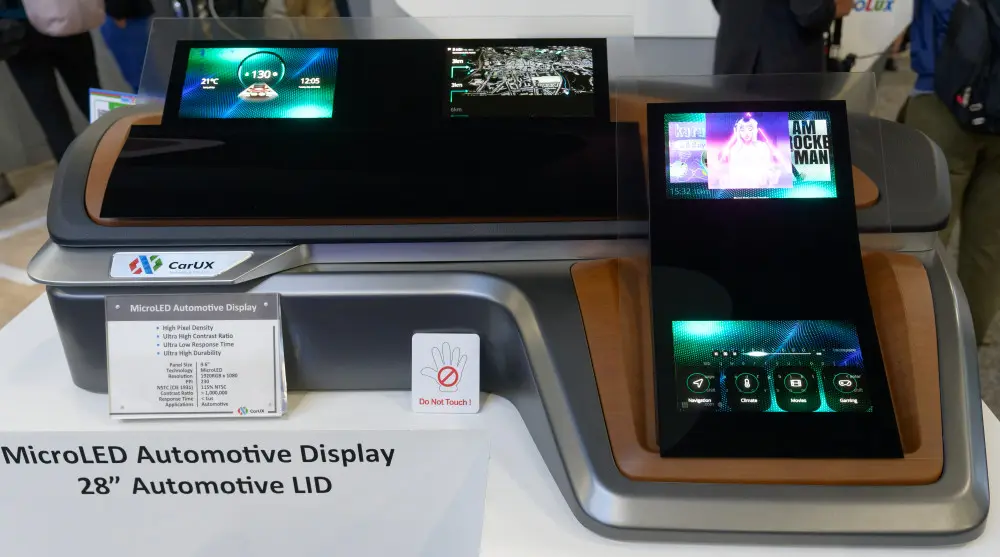 AUO Majors on MicroLED
AUO, having missed the boat on OLED, has been really working hard on MicroLED and this was apparent at the show.
AUO had a 17.3″ 1280 x 720 'real depth' 3D MicroLED display that put a transparent display (greater than or equal) to 69% on top of the base display to give 1,200 cd/m2 of output. This idea has been around a long time. One feature of this kind of configuration is that warnings can be toggled between the back and front surfaces, and human factors research shows that we are especially sensitive to this kind of movement (for good evolutionary reasons!).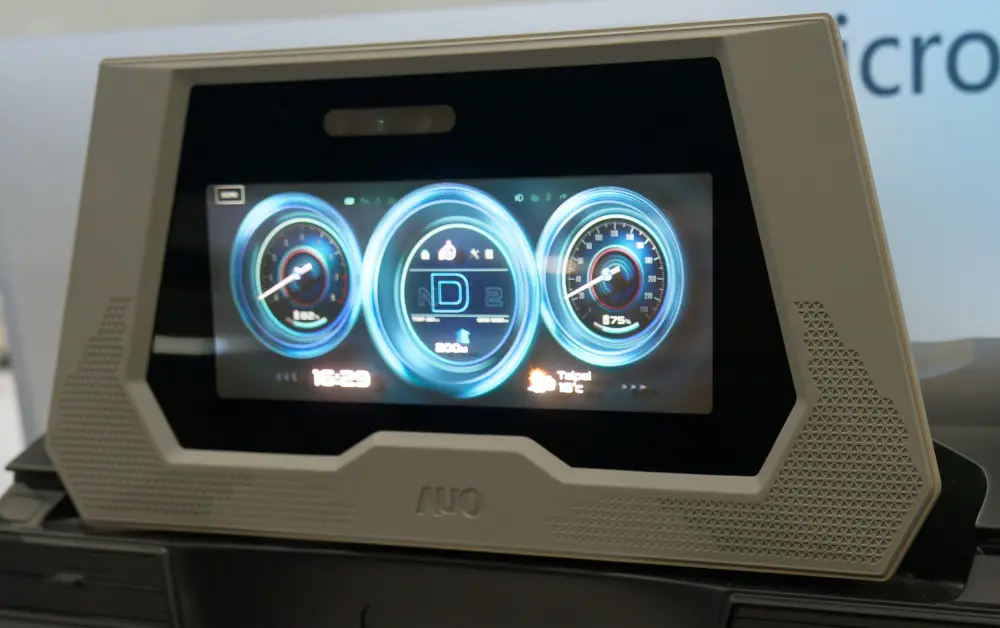 In recent years, AUO has been building its system business, adding value to its core LCD products. As an extension of this it was showing its full 'Automotive Intelligent Cockpit' based on a Qualcomm processor and with a number of displays in a pillar-to-pillar configuration.

Based on its work on smartwatch displays, it had a 1″, 200ppi circular MicroLED display that could be used on a control knob.Luminance was more than 1,000 cd/m2 and the LEDs were said to be smaller than 30 microns. AUO also had a number of transparent MicroLEDs – an area where the sparse matrix of MicroLED is a real advantage. There was a prototype that used transparent MicroLEDs on top of a decorative surface. The display on top is in contrast to the 'Shytech' concept where the display is under the surface.

PlayNitride also had some impressive transparent MicroLEDs, and although it wasn't highlighting automotive as a specific application, others were for similar concepts.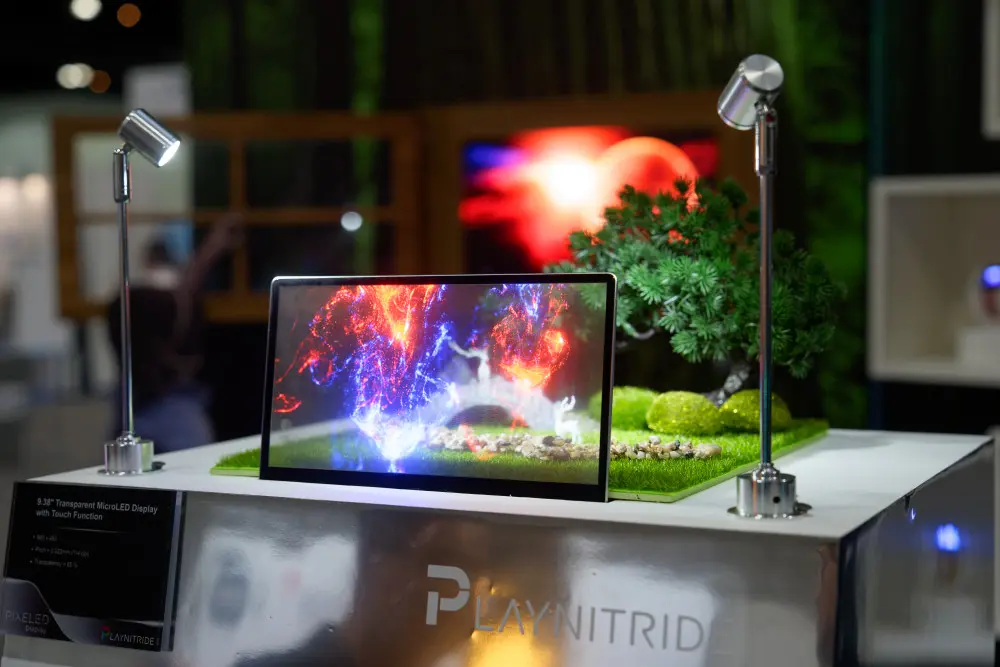 In controls, LG Display was getting a lot of attention for a stretchable (20% in each direction) MicroLED display that was being shown in an automotive-style control configuration. The display was stretched over the control and it's easy to imagine premium vehicle designers really liking this kind of look. LG presented a paper on the techology at the show.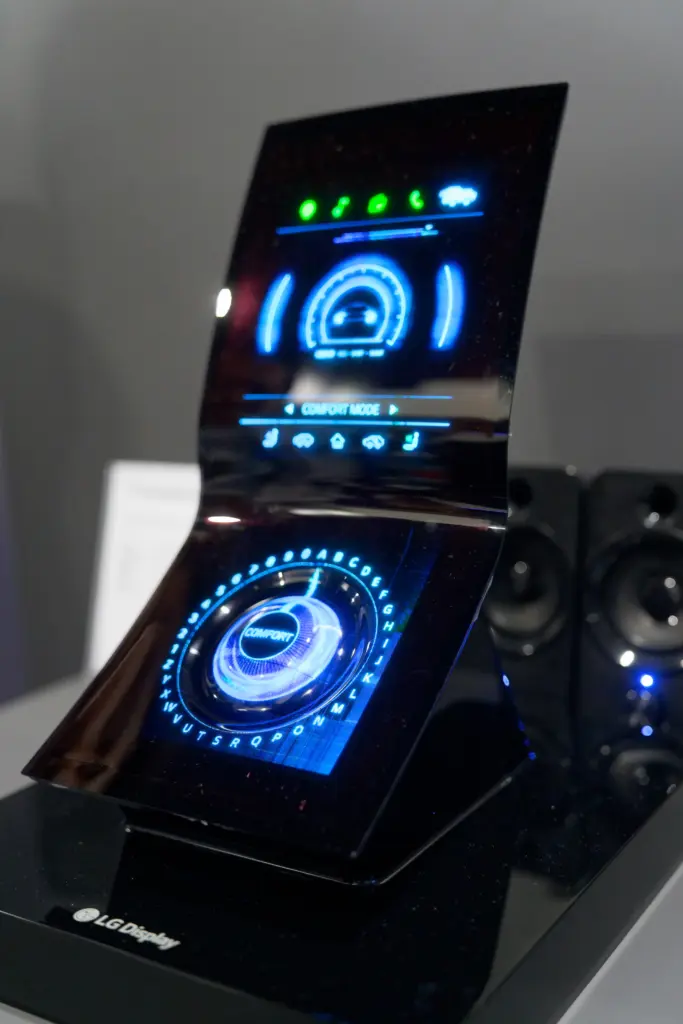 BOE was showing a 27″ MiniLED curved display with 4032 x 756 resolution, 1,200 cd/m2 of output and curved to R2000. It looked good.

BOE was also highlighting a 15″ Centre Stack Display that uses its rollable OLED technology. The radius of the 2560 x 1600 unit was R10 and the rollagble distance was 50mm – converting the 15″ (16:9) shape to 13.6″ with a 24:9 aspect. The idea is that the display could be used for instruments, then rolled up to show entertainment.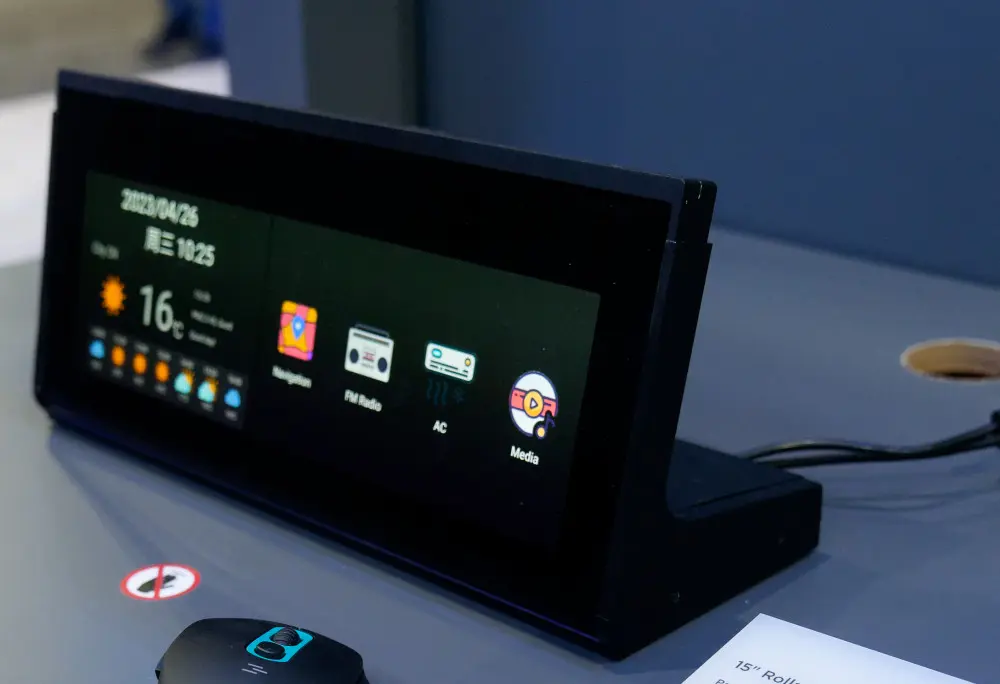 Tianma is, like Innolux, a well-established supplier to the automotive business and had its Acrus dual panel LCD technology at Display Week.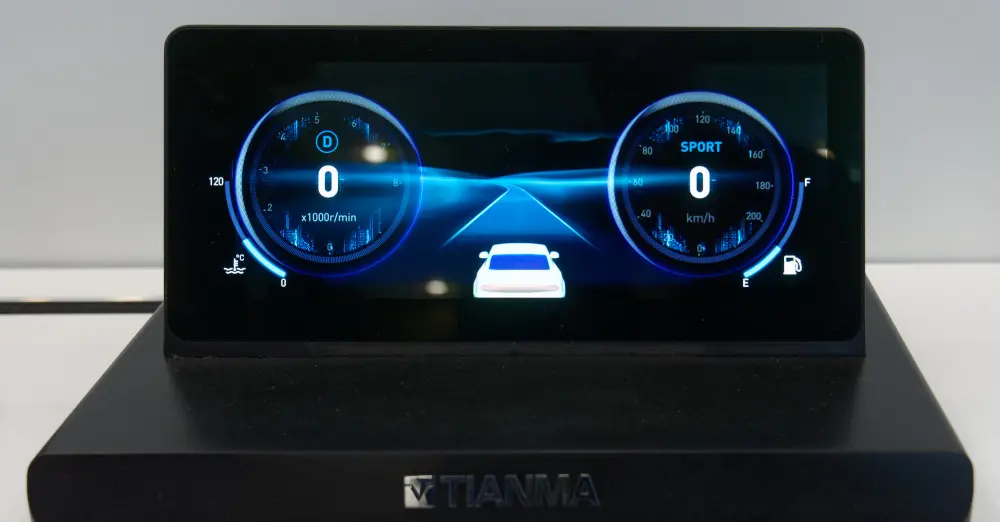 Tianma was also showing a range of transparent and decorative surface solutions. The first photo shows a combination of a 10.1″ rectangular display with a 3.4″ round display.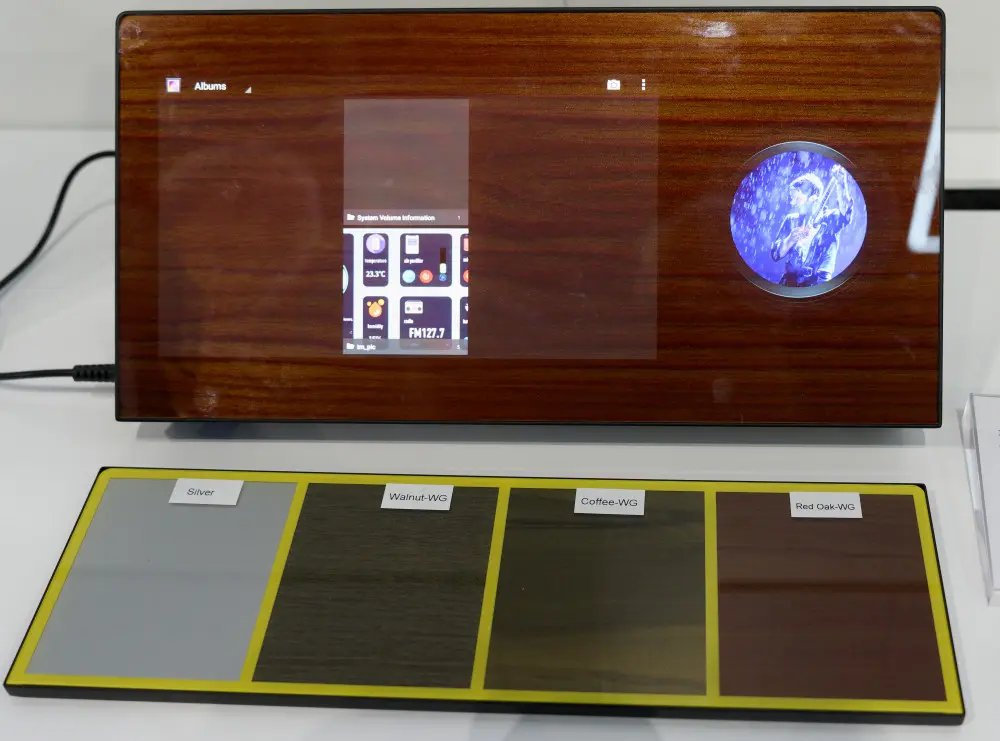 Tianma's 12.3″ 1920 x 720 demonstration MiniLED LCD used chip-on-glass (COG) technology to drive the LEDs in 2.400 zones to give high contrast will little visible 'haloing'. Luminance is 1,000 cd/m2 and static contrast is 1,500:1 from the IPS panel. The panel is said to have an operating temperature range of -40 deg C to +85 deg C. At one time, makers of EL displays often said that LCD could never get to the wide range of its technology, but as usual, it doesn't pay to bet against the engineers!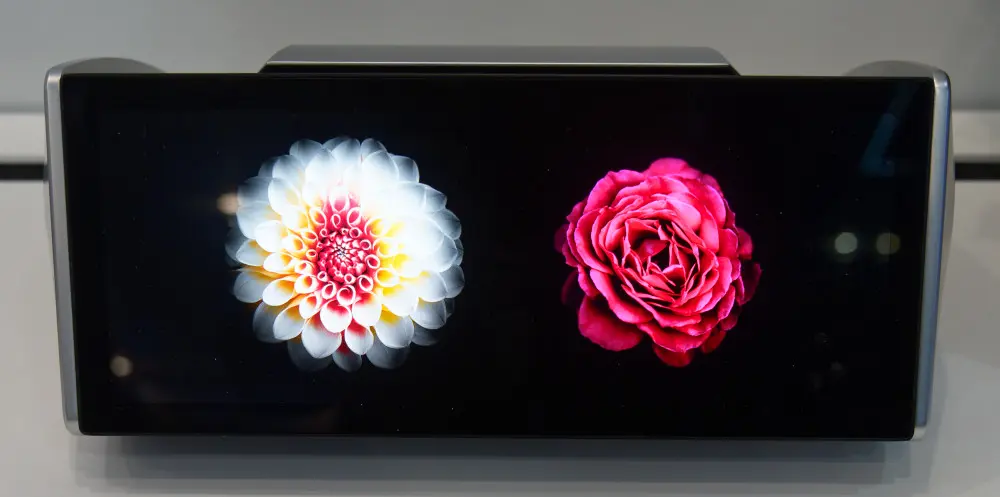 A 'T'-shaped display was shown by Tianma that exploited the firm's strong technology in LTPS IPS LCDs – it is a market leader in LTPS LCD for smartphones, although that segment is under a lot of pressure.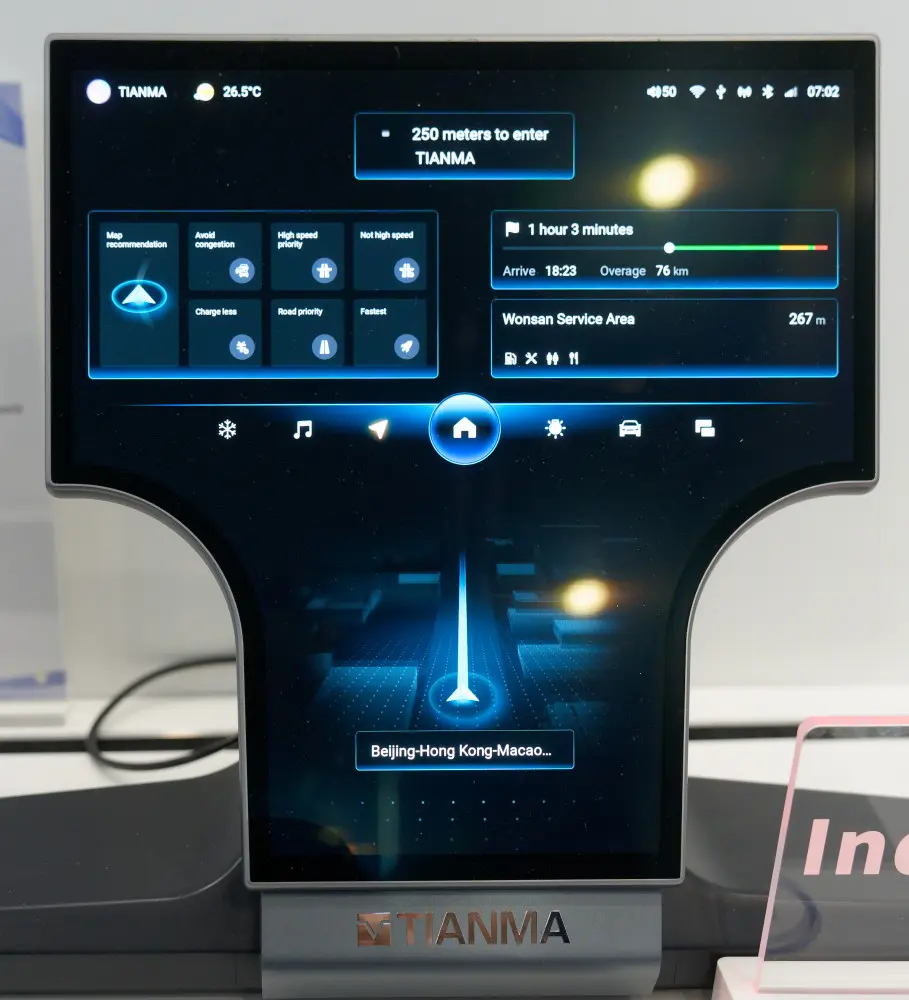 Samsung was showing a number of automotive-specific displays including a completely round display. (Sadly my photo blurred the specifications – Samsung seems to design its labelling to foil those taking photos!)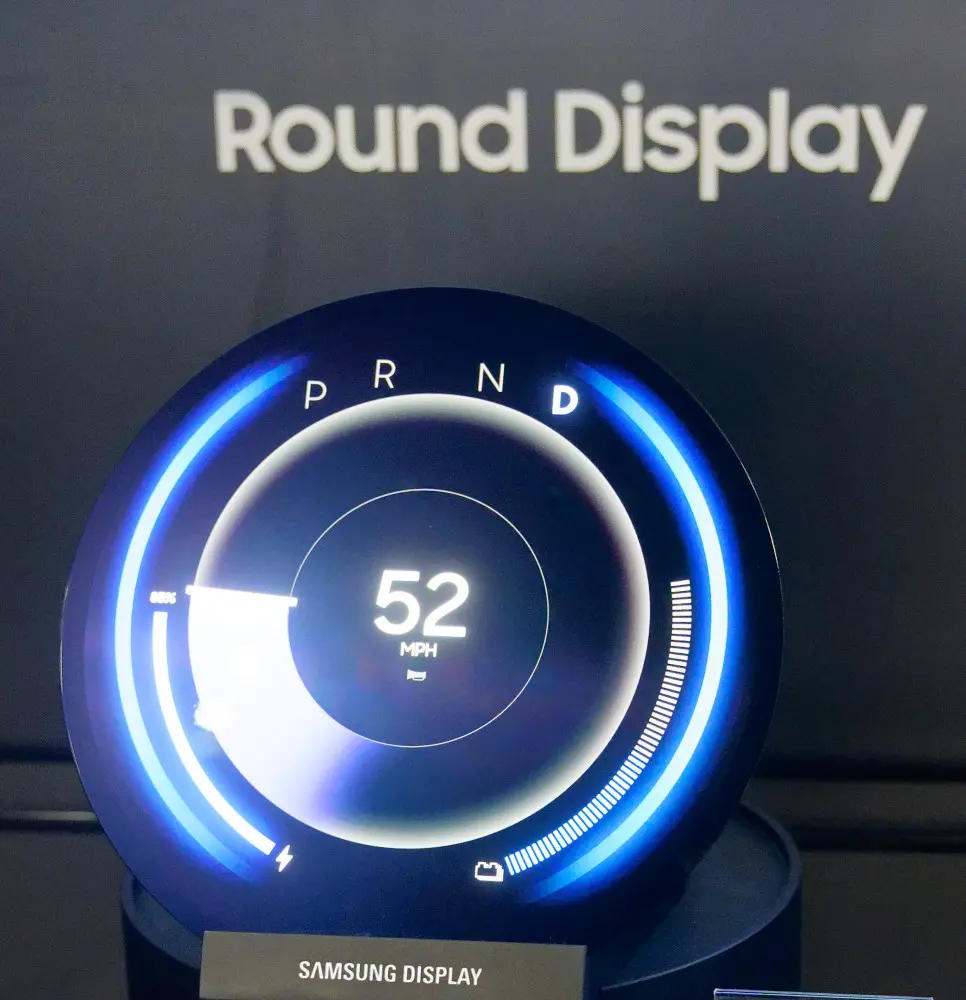 There was also a large 'seamless' pillar-to-pillar display.

Chinese OLED specialist, Visionox, was highlighting its new VIP process for patterning and also had a number of OLED ideas for automotive applications. These exploited the very flexible substrates available.

The firm also demonstrated a rollable 12.3″ display with a curve radius of 5mm and allowing 7 turns around the roller with a reliability of 100K rolls. Visionox expects automotive as well as IT and TV applications.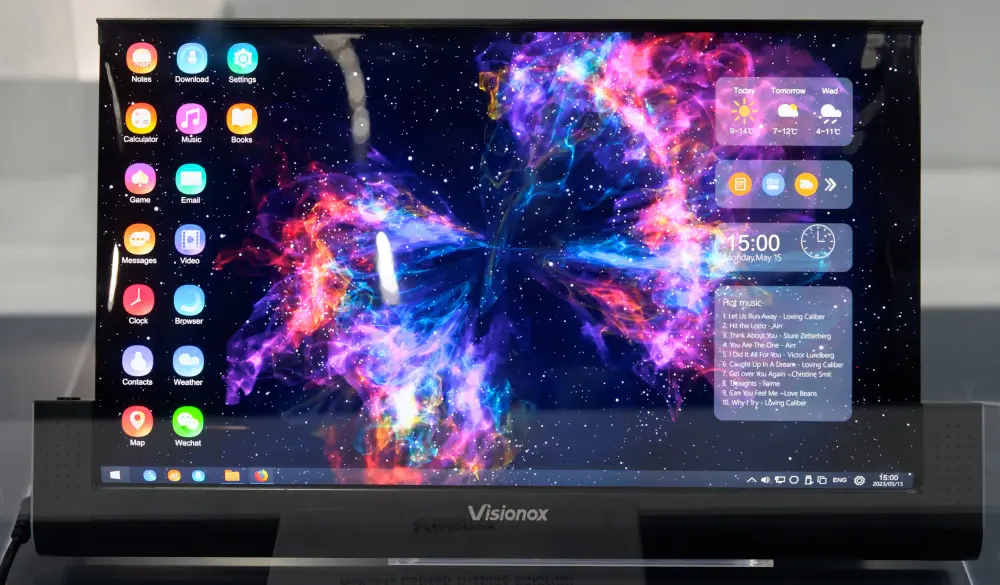 All in all, I can understand why the automotive engineer I bumped into at LAX on the way to the exhibition was really looking forward to seeing what was possible. The level of creative engineering that the display industry is offering to the auto makers is fantastic. Let's hope that they auto makers value that effort and are prepared to pay for the great technology. Sadly, that's not a given!
Bob Raikes is semi-retired from the display industry, but still edits the 8K Association newsletter and contributes to Display Daily. He attended Display Week 2023 for Display Daily and others.