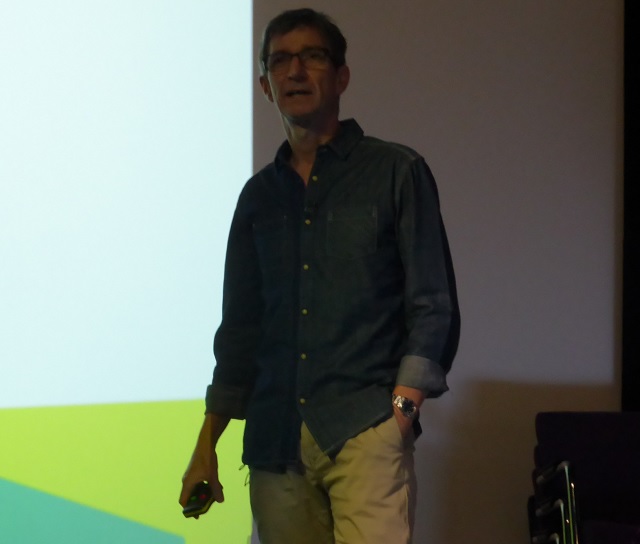 Mark Harrison is MD of Digital Production Partnerships. He has covered CES as a journalist for many years, and shared his observations about the trends that have come, gone and are rising at the show.
CES is undoubtedly the largest technology trade show in the world – twice the size of NAB. Attendance has now been capped, because at two convention centres, three hotels and 4,000+ exhibitors, it is simply impossible to see everything. This size has given a lot of freedom to niche developers. Harrison said that every year, he looks at the oddball products and wonders, "Why am I here?" One example he gave was a dildo that vibrates when the user reads something "smutty" on their Kindle!
However, around the second or third day of the show, "you realise the trends that you're seeing." He showed a slide where he had picked out the significant technologies at every show from 2010 to 2016, which showed that nothing really does go away! 3D was at its biggest in 2011 and has fallen off massively since then, but it still has a presence.
Significant Technologies at CES 2010-2016
2010
2011
2012
2013
2014
2015
2016
3D
3D
3D
3D
3D
3D
3D
Tablet/2nd Screen
Tablet/2nd Screen
Tablet/2nd Screen
Tablet/2nd Screen
Tablet/2nd Screen
Tablet/2nd Screen
Tablet/2nd Screen
IPTV
IPTV
IPTV
IPTV
IPTV
IPTV
IPTV
4k/UHD
4k/UHD
4k/UHD
4k/UHD
4k/UHD
Android v Apple
Android v Apple
Android v Apple
Android v Apple
Android v Apple
Android v Apple
Android v Apple
Video Cameras
Video Cameras
Video Cameras
Video Cameras
Video Cameras
Video Cameras
Video Cameras
Smart Car
Smart Car
Smart Car
Smart Car
Smart Car
Smart Car
Smart Car
Ultrabook
Ultrabook
Ultrabook
Ultrabook
Ultrabook
Smartphone
Smartphone
Smartphone
Smartphone
Smartphone
3D Printing
3D Printing
3D Printing
3D Printing
3D Printing
Windows 8
Windows 8
IoT
IoT
IoT
IoT
IoT
Wireless Audio
Wireless Audio
Wireless Audio
Wireless Audio
Smart Watches
Smart Watches
Smart Watches
Immersive (VR)
Immersive (VR)
Immersive (VR)
Smart Home
Smart Home
Smart Home
Robots
Robots
Robots
Drones
Drones
Harrison also quipped that you cannot judge significant technologies purely on square footage, "otherwise the zenith of human achievement would be the smartphone case."
The themes seen at CES tend to relate to each other. Tablets took off in 2010, and there were more than 100 tablets launched at CES 2011. However, those companies were treating tablets like a PC with a touchscreen – they hadn't realised that it was really all about the cloud. It took until 2013 for the rise of apps to begin. The TV then had to adjust itself to the app world. Android TV was the standout technology, and it felt like a big development, bringing TV and apps together. Vendors gave it up in 2014, however, in favour of the IoT. They were trying to own a a relationship with the consumer through connected devices, and were afraid that they had already ceded too much control to Apple and Google.
TV was "oddly muted" at CES 2014, but burst back in 2015 with UltraHD, wide colour gamut and HDR. The key this time was that it wasn't just demonstration footage: vendors were showing actual programming. TV vendors were keen to form new relationships with streaming companies. Come 2016, it was as if broadcasters didn't exist: Amazon, Netflix and YouTube were everywhere.
If the above demonstrates anything, it is that nothing at CES stays 'hot' for long. Harrison showed a technology heat map, where he had scored the impact of various technologies at the show from 1-9. Only one, the second screen, managed to score a nine two years running. Most products follow a four year hype cycle. After that they don't necessarily fail: they may have passed into everyday use and become mainstream (UltraHD TV), but they no longer have an impact at CES. This tells us that the show is actually a "very very poor" predictor of new technologies – instead, it is a showcase for emerging technologies.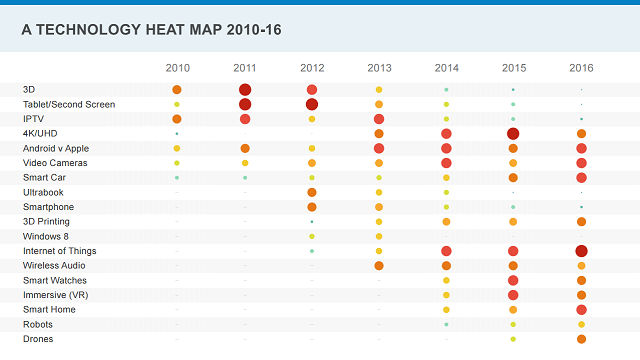 Click to enlargeIf the industry truly wants to understand what is coming next, said Harrison, then they shouldn't go to CES, NAB, IBC, etc. They need to be at developer conferences.
Voice control and immersive audio are on Harrison's list of significant technologies for next year. One significant product that is missed, though, is the smartphone. He justified this by saying that people don't really care about smartphone hardware any more. Instead they are interested in it as a controller for the IoT.
A closing question asked, "When does a technology become mainstream enough the content creators say, 'Yeah, we can work with that'?" Harrison said that his company had tested this with UltraHD, and believes that it will go mainstream in Q4'17. If that is correct, it will be about three years after the first big noise was made about it at CES. 3D, although it is mainly relevant in cinema today, had a similar three-year gap between 2011 when it was massive and 2014 when it was dead in TV.