The cost to manufacture the Google Pixel phone closely matches that of its intended rivals—a logical and expected move, according to IHS Markit, especially since it's aimed at the buyers of high end smartphone models from Apple and Samsung.
All told, the bill of materials (BOM) cost for the new Google Pixel XL 5.5-inch phone with 32 gigabytes (GB) of NAND flash memory comes to $278, according to a preliminary teardown estimate from IHS Markit.
After including $7.75 in basic manufacturing costs, the total cost to manufacture the Google Pixel XL rises to $285.75. With an unsubsidized price of $769, the direct manufacturing cost-to-sales-price ratio is in line with those of direct competitors in the smartphone market, such as the Apple iPhone 7 Plus and the Samsung Galaxy S7 Edge. The Google Pixel is also available as a 5.0-inch model.
"Total BOM costs for the Google Pixel XL are, not surprisingly, in line with those of other competitors, because the supply base and specs are very similar from phone to phone" said Andrew Rassweiler, senior director of cost benchmarking services for IHS Markit.
Hardware design "triples down" on Android
"First, the Pixel is a big departure from the Nexus line of smartphones in that Google has now taken over all aspects of the hardware design and software integration," Lam said said Wayne Lam, principal analyst of smartphone electronics. "Second, this vertical integration of hardware and software is a product strategy taken straight out of Apple's playbook. And third, not only is Google through the Pixel directly competing with Apple, but also rivalling its own Android ecosystem partners in introducing new premium hardware to compete with the likes of Samsung, Huawei and LG."
A premium on design
Both the Pixel and Pixel XL feature an aluminium enclosure with AMOLED displays, which also are used for Google's Daydream virtual reality platform. Moreover, IHS said, Google spared no expense in packing the Pixel designs with cutting-edge hardware configurations. Both Pixel models also come with 4 GB of LPDDR4 RAM and Qualcomm's latest Snapdragon 821 CAT-12 LTE modem design, supporting up to three-carrier aggregation and maximum theoretical download speeds of 600 megabits per second (Mbps). With the Pixel, Google is also signalling a design trend toward a complete Qualcomm system-on-chip (SoC) and radio frequency (RF) design; the Galaxy Note 7 featured the last such RF360 design.
Best-in-class camera
Another outstanding feature of the Pixel is the high-end mobile photography capabilities of its 12-megapixel camera, with a large 1.55-micrometers (μm) imaging pixel size. While the primary camera does not have optical image stabilization (OIS) in the module, an electronic OIS is provided through the sensor fusion that takes out video shake via software. In fact, the Pixel's camera is optimized to take advantage of the available hardware so that it compares favorably to the best camera phones available today from Apple and Samsung.
Notable battery life, but lack of water resistance
Google's Pixel and Pixel XL sport battery ratings of 2,770 and 3,450 milliamp hours (mAh), respectively, for a very capable 13 to 14 hours of use time over 4G Long Term Evolution (LTE) internet. The Pixel also leverages Qualcomm's QuickCharge 3.0 technology, embedded in the Snapdragon chipset, providing seven hours of use with just 15 minutes of charging. But similar to versions of the Nexus, Google's previous phone offering, the Pixel does not include wireless charging functionality. More surprisingly, however, Google neglected to include a water-resistant enclosure design on the Pixel. In contrast, the Apple iPhone 7 and Samsung Galaxy S7 both have IP67 or higher ratings to protect those phones against both dust and liquids.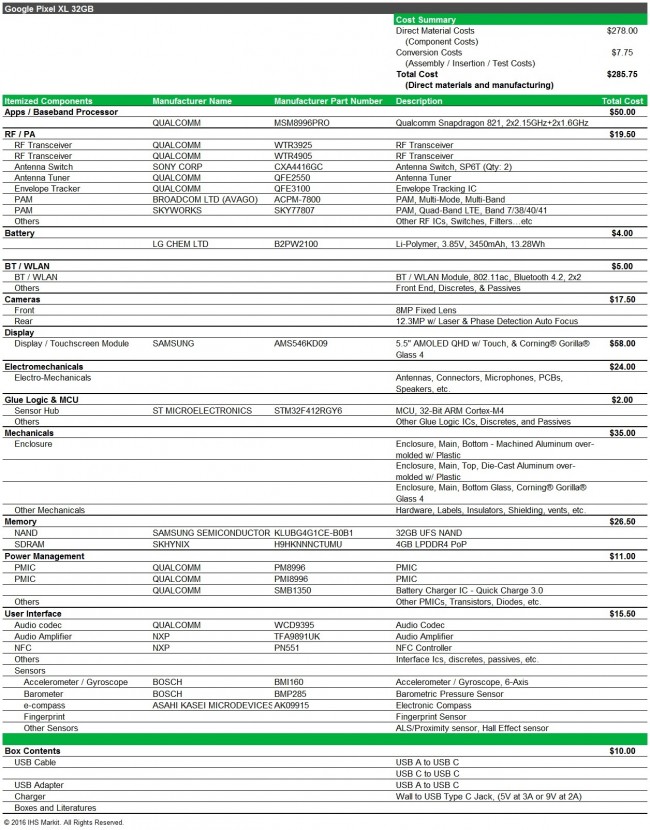 IHS Pixel teardown – Click for higher resolution