Google announced two new smartphone models as well as a VR system. The phones are called the Pixel and Pixel XL and will be sold only under the Google brand and not via a hardware partner, unlike previous models. The key differentiation between the models is in the display size and resolution. The Pixel has a 5″ FullHD AMOLED display while the XL increases the size and resolution to 5.5″ and 2560 x 1440 (441 and 543ppi). There is no news yet on gamut or brightness.
The phones are based on a Snapdragon 821 chipset with 4GB RAM and 32GB or 128GB of memory. The main camera is a 12 megapixel unit (the selfie camera supports 8 megapixels) and pricing has been set at $640 and $749. The connection is via USB Type C. The back of the phone includes a partial panel of Gorilla Glass 4. Battery life has been reported as 13 or 14 hours of web browsing on Wi-Fi, and can get back to seven hours of usage power in just 15 minutes.
The new phones have Android 7.1 and feature a long press to invoke an extra menu on icons (the phone doesn't have pressure sensitivity like the iPhone). There is a new Google Assistant that can be used by pressing the home button or the "OK Google" command. The new assistant is more sophisticated than previous versions. Owners of the phones will be granted unlimited cloud storage for photos and videos. The camera scored 89 on the DXOMark, a very high score and some say that the combination of unlimited cloud plus a good camera could be the key feature to attract consumers.
The new phones will be in store in October in the US and other markets.
Google Pixel and XL. Image:Google – Click for higher resolution
What a day for a new VR Headset!
The Daydream View is a smartphone-based headset for VR that is unusual in having a fabric finish, rather than plastic, and the company worked with clothing designers to ensure it is comfortable and it is said to be 30% lighter than a plastic version. It is claimed to have extra fast and accurate head tracking. There are no connections, it operates wirelessly and Google has also developed a simple controller, but one that is said to be very accurate. The controller can be stored in the headset to avoid it being lost. Although the new Pixel phones are already compatible with Daydream View, many more phones will be certified later. Two more colours (white and red) will be added to the slate version that will be available at launch when it will cost $79 in the US.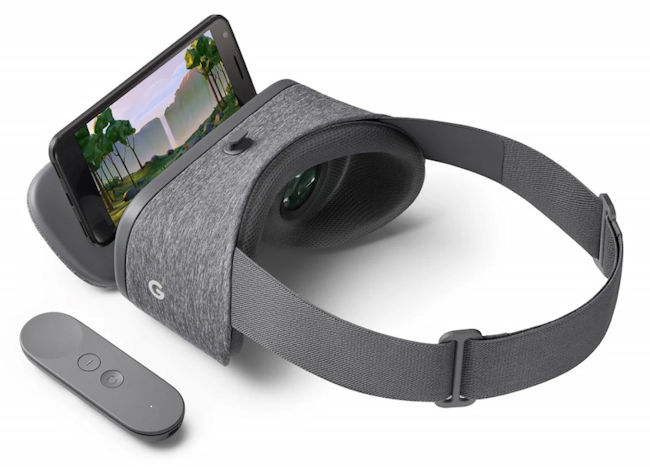 Analyst Comment
The specification of the Google Pixel smartphone is not particularly innovative although very competent and we were surprised to see that pricing is around the same level as Apple and Samsung, although Google announce a number of network and retail partners at the launch. Analysts have pointed out that selling purely under its own name may irritate OEMs that use Android. However, the same analysts point out, competitors have little choice now that Windows is so weak in smartphones.
Google also announced a dongle with support for HDR and UltraHD and a competitor for Amazon Echo. (BR)