New data from Counterpoint's PC tracker service reveals that global PC shipments faced a significant 15% YoY decline in Q2'23, following a massive 28% YoY drop in Q1'23. However, the market saw a positive sign with an 8% QoQ growth in Q2'23, marking the first increase since Q1'22. This development suggests a relative stabilization of the shipment downturn since Q1'22, indicating the early stages of recovery in the PC market. Nonetheless, experts predict a mild recovery for H2'23, as solid growth drivers remain absent.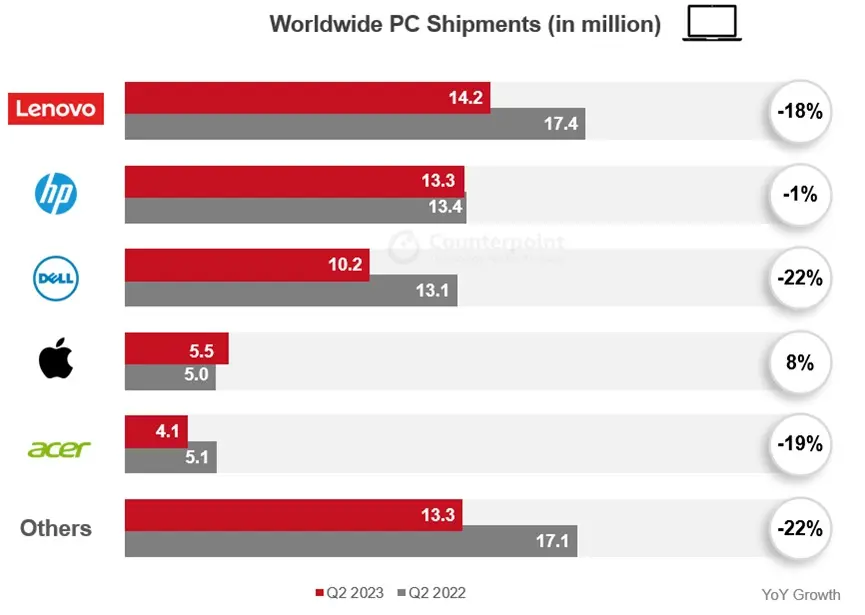 Lenovo, retaining its top position with the most shipments in Q2'23, experienced an 18% YoY decline due to soft demand in some markets. However, the company witnessed double-digit sequential growth, signaling a return to normalizing demand and healthier inventory levels. HP, with a market share of 22%, achieved its highest market share since Q2'21. The company's resilient shipment numbers were attributed to early inventory corrections and incremental Chromebook orders. Dell, although reporting sequential shipment growth, also suffered a double-digit YoY decline, primarily due to overall demand weakness. Apple, in contrast, observed a high single-digit shipment growth YoY, which was partly influenced by the relatively low numbers in Q2'22 and new product launches.
The global PC market is showing early signs of improvement, with Q2's QoQ rebound. However, some turbulence is anticipated in H2'23 before a more substantial recovery. End demand is projected to outpace OEM shipments (sell-in), which should lead to increased re-order demand. Additionally, back-to-school momentum and potential launches of AI-enabled and Arm-based laptops are expected to further boost sales numbers. As a result, the PC market is moving towards a new post-COVID-19 normal.
Analysts anticipate the QoQ rebound in Q2'23 to continue for the remainder of the year. Although a double-digit YoY shipment decline is predicted for the full year of 2023, the market is projected to return to pre-COVID-19 levels in H2'23. The PC inventory is expected to reach a healthy level by 2024 after a couple more quarters of adjustments. Key growth drivers like replacement demand, AI-enabled models, and Chromebook renewals are expected to play a significant role in the recovery, along with a close monitoring of enterprise expenditure plans.