The Fraunhofer Institute for Electronics, Electron Beam and Plasma Technology FEP announced in a press release the development of an OLED micro display with frame rates of 120Hz. The device is aimed at VR headsets to decrease motion sickness and headaches. Together with LIMBAK they developed a complete headset prototype based on this new display.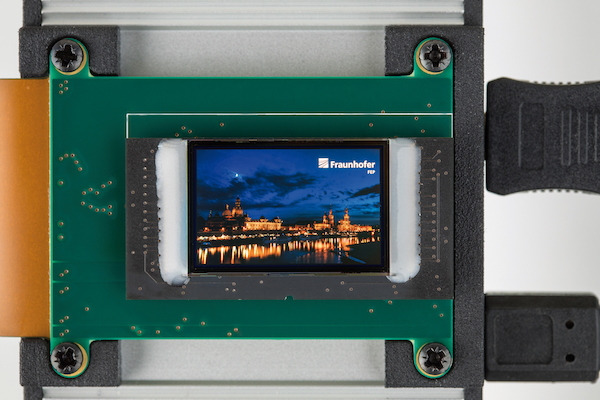 Fraunhofer, OLED Micro Display for VR Headset
The OLED on silicon display has a resolution of 1920 x 1200 (WUXGA) pixels and a frame rate of 120Hz. At a size of one inch this gives the display a pixel density of 2,300 ppi . Compare this to the 2,700 ppi eMagin announced earlier this year. The panel provides a contrast ratio of more than 100,000 : 1 with a very low power consumption. They do, however, not specify what the actual power consumption or achievable brightness is. Since these are development units, there is no way of knowing what mass production displays would be capable of.
To make this even more interesting Fraunhofer puts two display in front of every eye, courtesy of ultra compact optics developed by partner LIMBAK. This gives the headset a total resolution of 4800 x 1920 according to Fraunhofer. This can be interpreted as 2400 x 1920 pixels per eye assuming that the display are next to each other in portrait rather than landscape orientation. This can also be seen in the image of the assembled optics from LIMBAK.
Fraunhofer VR Headset Optics
According to Fraunhofer this optical set up results in a field of view of view of more than 100 degrees. In addition the ultra compact optics allows for a display to eye distance of only 37mm allowing for a sleeker design of the headset.
To drive the display at such high frame rates, Fraunhofer has extended the parallel interface of the display. In addition, the display can be configured either as hold or impulse type. In impulse mode the display eliminates flicker and motion artifacts with a special rolling emission mode. The display chip also stores lookup tables for each channel to allow for gamma correction.
If this is of interest to you and you happen to be at the awe Europe 2018 in Munich, Germany (October, 18 – 19), you can see the prototype at booth #322.
Analyst Comment
While I will not be at the AWE Europe, I would like to see this headset in action. The press release hits all the right buttons to make this a very impressive headset indeed. However, we should not forget that Fraunhofer is a development entity and it takes some time before we see such development turn into consumer products. In addition, while 100 degrees FoV is pretty good it still is a far cry from creating a headset that matches our eyes limits. As a consequence we still look at any VR content through a window. While they say the FoV is greater than 100 degrees, the Oculus has a FoV of 100 degrees. This leaves the question of what "greater" means. (NH)