Professional monitor maker, Flanders Scientific, has added five new models to its line. This includes a new 24.5" OLED monitor (DM250) that offers the third generation color fidelity engine and real time LUT manipulation capabilities. The OLED panels is 10-bit but processing is done in a 12-bit engine. It can also display 16 different scopes and meters. There is no HDR support, however
Also included is a second Screen Output connection that allows users to output what you see on screen to downstream devices. This includes useful features like anamorphic de-squeeze, markers, time code and active LUTs. These outputs are in addition to the standard loop-throughs, allowing simultaneous output of clean and manipulated images.
The DM250 features a new Zero-Delay Processing Mode, which is great for on set, studio and post applications that require completely delay-free monitoring. It is also equipped with "Cross Conversion" capability that allows you to take Display Port / HDMI / DVI signals and convert them to SDI for output.
The DM250 (photo) will ship in May at an MSRP of $7,995.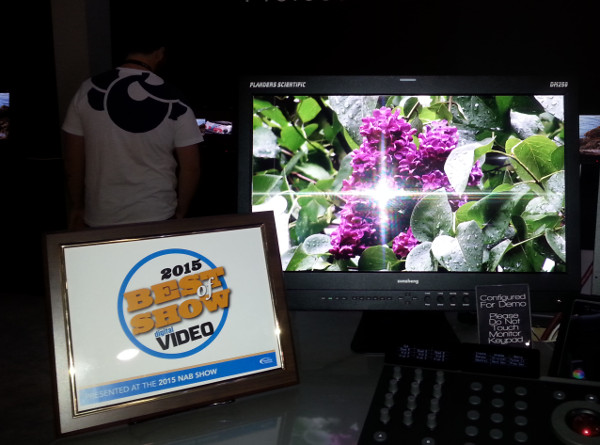 The company also introduced a new value line of monitors called the AM series. There are three LCD (21.5", 42" and 55") and one OLED monitor (24.5") in this series. These remove some of the advanced features but still retain professional inputs and calibration for use in broadcast editorial applications.
The AM210 is a 21. 5″ LCD with 1920 x 1080 resolution for $1,995
The AM250 is a 24.5″ OLED with 1920 x 1080 resolution, 10 bit panel, Rec709, EBU, SMPTE-C, DCI P3, & user color space selections for $5,495
The AM420 is a 42″ LCD with 1920 x 1080 resolution, 10 bit panel, "sleek" profile, claimed low power consumption and 1300:1 contrast for $4,495.
The AM550 is a 55″ LCD with 1920 x 1080 resolution, 1300:1 contrast and 10 bit panel for $6,495