In early May we visited the annual Digital Television Group (DTG) Summit in London, which brings together stakeholders to discuss the UK TV industry. Now in its 10th year, the event was once again held at 90 York Place: home of the Guardian and Observer newspapers.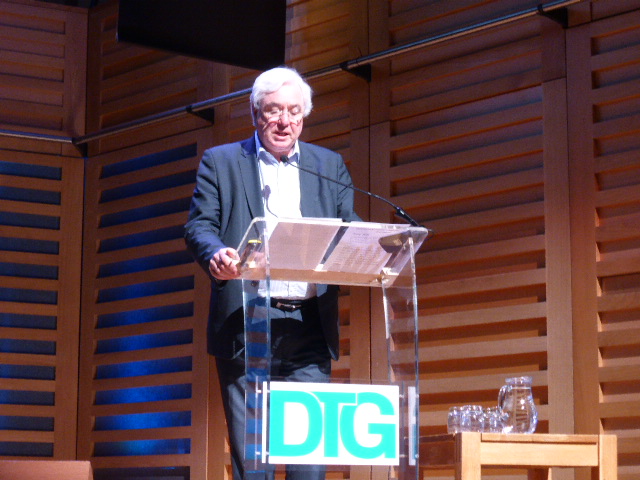 DTG chairman David Docherty welcome attendees to the conference, the theme of which was 'Re-engineering today's TV for tomorrow's consumer.' He talked briefly about the work that has been done in UK TV with HbbTV (now being adopted over the UK-specific MHEG standard) and VR, before introducing the chair for the day: Dermot Murnaghan. Murnaghan was replacing long-time host Steve Hewlett at the last minute (he wasn't even named in the speaker materials!), as Hewlett was busy in his full-time job as a journalist.
Murnaghan briefly introduced himself and then handed over to Richard Lindsay-Davies, long-standing CEO of the DTG, who talked about 'The Tipping Point of TV'.
Presenters at this year's DTG Summit seemed to have taken lessons on how to keep an audience's attention – it was perhaps the most laugh-filled edition we have ever been to! Videos, too, were used often, and Lindsay-Davies began with the opening credits of The Big Bang Theory. This was to illustrate the point that everything in the world ("Even John Whittingdale") came from the same place. The video was also playing backwards, to show that systems tend to move from disorder towards order. Unless you're working in the broadcast industry!
Humans like order, and we currently have a structured market with interoperable TV systems. However, if we don't look after it, it will swiftly move towards disorder.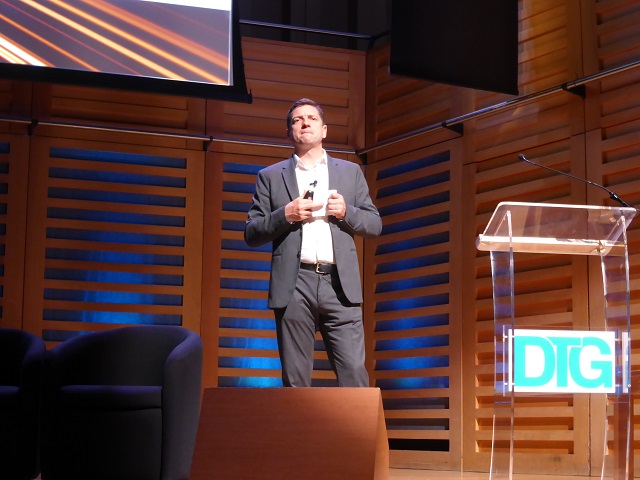 TVs today are being updated much more quickly than at any point in the past. The first black and white sets lasted for 50 – 60 years, and colour TVs lasted until analogue switchoff with only minor revisions. Today, the upgrade cycle has been lowered to eight years or less. Is this good enough, asked Lindsay-Davies, and will it sustain us into the future? Especially as TV moves towards IP-only (pioneered by the BBC with BBC 3).
If we do not blend the product- and service life that consumers are used to today with the sets of tomorrow, we risk losing all of the benefits of the modern market. The broadcast industry must achieve critical mass to do this. When the DTG was created in 1995, it was deliberately done as a large group to achieve that mass. Collaboration like this is even more important today as new and non-traditional players join the market, like Vodafone and Google.
"The answer," said Lindsay-Davies, "will come from inside this room – not outside it."