W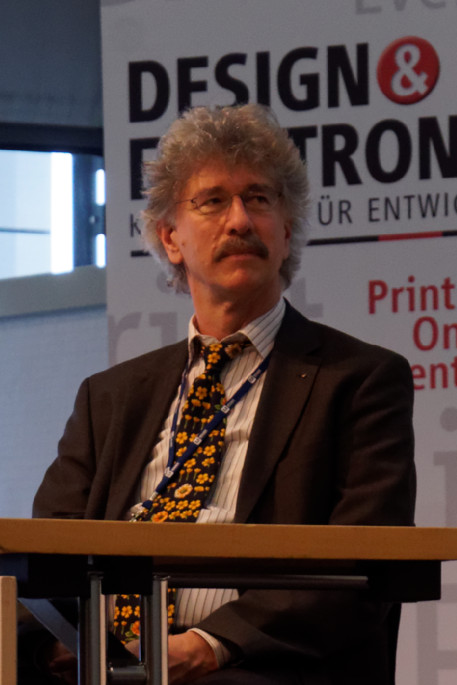 Prof Blankenbach at ED 2015e went along to the annual Electronic Display conference in Nuremberg run by Prof. Karlheinz Blankenbach alongside the Embedded World Exhibition.
Prof Blankenbach started by saying that the conference, which has been going a number of years, has reached a record number of delegates.
Raikes Sets the Tone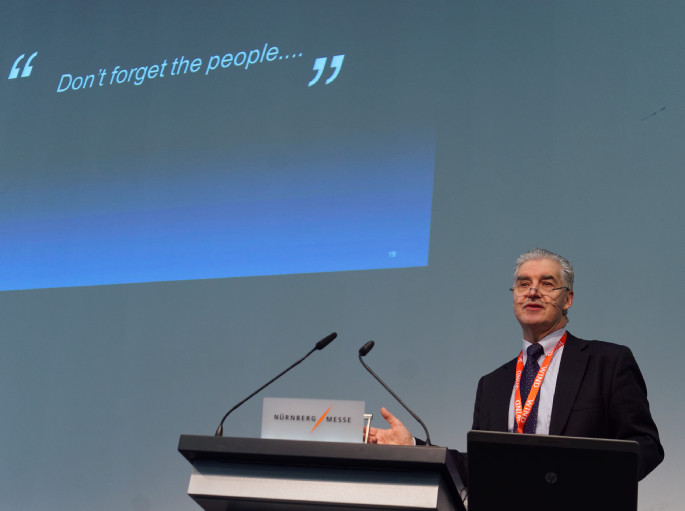 Raikes said "Don't forget the people"
The keynote speaker was our own Bob Raikes who started by saying that "a display that has no person has no purpose". The purpose of the display is to communicate information from a system to a person and that means dealing with human perception systems. Displays get better and better over time to better meet this need for "visual bandwidth".
The flat panel industry has ridden three big waves of innovation, from notebooks, through monitors and to TVs. Then Apple came along to fill the space for displays between feature phones and notebooks, first with iPhones, then with iPads and phablets. Now there is a big drive for wearables, which can be seen as the opportunity for displays smaller than phones.
LCD has been the winning technology because it has been able to scale from microdisplays to more than 100″. PDP was a competitor, but could never make small pixels, so it got squeezed out. OLED has looked like a reasonable competitor, but making large OLEDs has proved as difficult as it seemed when Samsung said some years ago that it was going to build large OLED TVs. The "LCD Monster" that Raikes described in his first talk at ED in 2008 remains the dominant technology, and will do for years to come. LCD has killed, or is close to killing many other technologies.The "LCD monster" has killed or nearly killed many other display technologies
There will be a push to more pixels, faster pixels and better pixels, driven by the LCD industry, the Pay TV business and Hollywood. However, there will continue to be financial challenges for panel makers.
Going back to his starting point, Raikes said that it's clear that the company that has made the most out of display-related products is Apple, which has been so successful because it has really changed the user experience – not just the display, but the interaction as well as software and content.