Display Supply Chain Consultants (DSCC) has released the 3rd version of its annual foldable report. The 2020 report, found at https://bit.ly/3c2QHZE, combines and updates its 2018 report which was more technical with its 2019 report which was more market focused. This report combined the best of both approaches.
According to DSCC CEO Ross Young, "Although the market for foldable displays under-performed in 2019, there has been a tremendous amount of activity and progress. We see 26 new foldable devices in development and expected to launch in the next 24 months with recent progress in robustness and scratch resistance likely to reduce consumer concerns and accelerate demand."
The 2020 Foldable Display Technology and Market Report includes the following deliverables:
Examines the status, strategy, film stacks and shipment data for all current devices. It identifies the suppliers, film thicknesses and types of films used in each device.
Provides the foldable roadmap for each brand.

It identifies 26 different foldable products on the market today or in development for release between 2020 and 2022.
Reveals detailed specifications for upcoming foldable devices such as panel size, resolution, panel supplier, aspect ratio, DPI, type of fold, cover window solution, intro timing, etc. All the major specifications for the Galaxy Fold 2 are included.

Examines the key technologies being worked on to advance foldable devices which includes:

Ultra-thin Glass – It explains SCHOTT's solution and commercial strategy as well as Dowoo Insys' unique process for handling, treating and cutting UTG as well as a price forecast for UTG.
CPI and Hard Coats – the latest hardness and scratch resistance results are revealed showing some significant improvements coming for scratch resistance performance on upcoming foldable devices.
Thin Film Encapsulation(TFE) – reveals recent developments to improve performance and enhance flexibility.
Polarizers vs. Color on Encapsulation (COE) – will patterned color filters replace polarizers for foldables? What is the roadmap and will reflectivity performance be good enough for high-end models?
External vs. Integrated Touch – how much integrated touch capacity is coming, and will it dominate all flexible OLED applications?
Under Panel Cameras – are they coming for foldable displays? What are the challenges and how is it being implemented?

A capacity forecast is then provided which reveals flexible OLED fab schedules and unyielded and yielded capacity by panel supplier. Capacity is expressed in 6.6" equivalents and area. Capacity and demand are then compared.
A detailed bill of materials is then provided and forecasted for the following panels:

6.67" 2636 x 1080 with UTG;
7.29" 2152 x 1536 with CPI;
17.3" 2560 x 1920 with CPI and add-on touch;
17.3" 2560 x 1920 with CPI and Y-OCTA touch;

A detailed forecast is then provided for all foldable display shipments and revenues. The following forecasts are provided:

Foldable smartphone shipments/revenues by brand by size by resolution and aspect ratio from 2018-2025.
Foldable smartphone panel shipments/revenues by panel supplier by brand by size, resolution, aspect ratio and DPI from 2018-2025.
Foldable smartphone panel prices by panel supplier by brand by size and resolution.
Foldable smartphone street prices by brand by size.
Foldable smartphone unit share and revenue share by panel supplier and brand by size and price band.
Foldable smartphone units and revenues by price band by brand.
Foldable tablets and notebooks by size and resolution and panel revenues.

The future of smartphones beyond today's current foldable devices.
The report is ideal for companies in the smartphone, notebook PC and tablet supply chain, from brands to component suppliers.
The report sees significant growth for foldables on:
Lower panel prices as fab depreciation ends, supply increases, yields improve and competition increases;
Lower device prices as assembly yields improve, lower panel prices, lower component prices and increased competition;
Improved product reliability, robustness and scratch resistance as hinge design, product design and hard coat scratch resistance performance improves with meaningful improvements expected in new products introduced in 2H'20.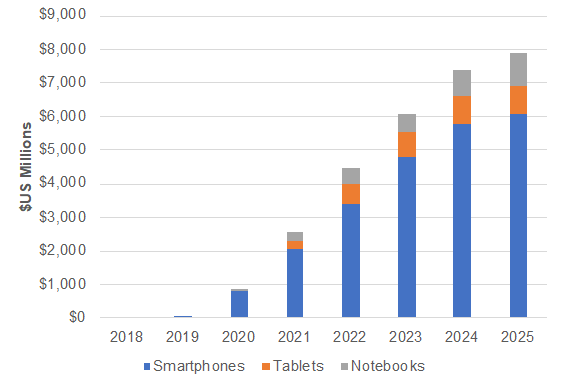 The forecasts show:
Foldable phone revenues rising at a 110% CAGR to $70B in 2025;
Foldable display revenues rising at a 113% CAGR to $7.9B.
Foldable panel shipments rising at a 132% CAGR to 77M units.
A copy of the table of contents is shown below. Contact [email protected] for purchasing information.