The next session was on connectivity and our own Bob Raikes was the moderator.
The first speaker was Pete Putman, a display and TV industry specialist whose affiliation at the event was with Kramer and his talk was called 'Cutting the Cord' and covered wireless display connectivity.
Putman said he has been interested radio since he built his first crystal radio set. He looked back at early radios and we've come a long way, but there are still things to be resolved. For example, UltraHD is a challenge video over radio. The first thing on the 'want list' is to deliver video to the display with no compresson or just light compression.
Ideally, the video will travel alone but the reality in the network world is that it has to coexist with data. Microwave needs to be used to keep small aerials. Channel activity detection should be used to allow intelligent channel selection and has to have a relatively limited range, so that multiple users can be online at the same time. It needs to be plug and play as well. And, of course, you need security.
High bandwidth needs high frequency and two bands are being used for video at 5GHz and 60GHz. 5GHz is used for Wi-Fi in 802.11a/n/c and can go through walls. 60 GHz won't go through the walls and reflects off objects. It uses small antennas and the transmitter can be relatively low power.
Putman went through the FCC channels in the 5GHz band and the protocols being used.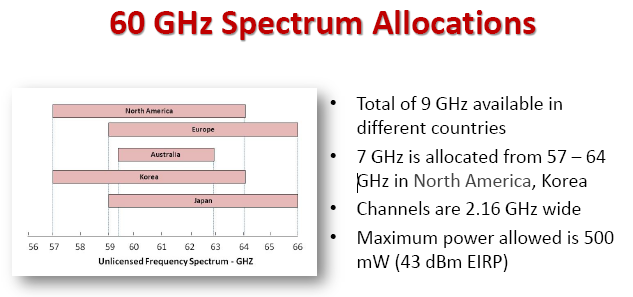 60GHz has support for a wide range of frequencies but the ranges chosen are different in different regions around the world.
One way to do it would be to use 802.11 is its n or ac mode. It's a shared data system, as it uses TCP/IP which doesn't care how long the data takes to arrive, which is not so helpful for video. Wi-fi Direct can be used to connect devices, but its best for bursts of data such as files. 802.11ac uses 5GHz alllows some bonding of channels if channels are free and there is less congestion than in 2.5GHz
802.11ad includes WiGig and the data rates start to get good enough for displays. Lattice showed some 802.11ad chips at CES and Qualcomm is now making chips with WiGig for tri-band modems. Putman showed a video that he took at CES to show streaming of 4K from a phone to a TV. He also mentioned Peraso which has a USB dongle for WiGig. (We have been reporting on Peraso since CES 2015)
Amimon is also active in wireless display, although it is now focusing on 5GHz video for drones. It has its own proprietary technology and it uses a compression system which tends to lose colour before using luminance. It can deliver 1080p/60 and with latency of less than 1 millisecond. The company also has systems for high bit rate cameras.
SiBeam (which was acquired by Silicon Image, which was in turn bought by Lattice) is active in 60GHz. The group has developed multiple aerials on a chip using beam steering. Multiple channels can co-exist. DVDO (owned by Lattice) still makes systems using this technology. As we reported from CES, Lattice has developed a very short range connection system called Snap. You can use it to create a dock for a GoPro (which can remain entirely sealed in a waterproof container, but still transfer its data).
Putman then summarised all the systems he had discussed.