Displays and particularly flexible displays were front and center at Printed Electronics 2015 (Santa Clara, CA, November 17-20) with presentations from relative newcomer Royole Corporation and Kateeva. Bill Liu, CEO Royole Corporation, delivered a presentation titled "Exploring the Future of Information Display: Royole's Technologies in Flexible and Wearable Electronics".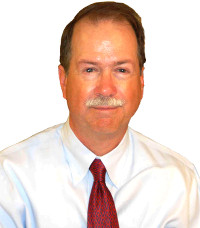 This was my first opportunity to hear Royole introduce its business and product plans. In the run up to Printed Electronics 2015, I had written about Royole for Display Daily. Bill Liu's presentation provided a bit more information concerning the company and its plans.
Royole has operations in Fremont, CA, USA, as well as in Hong Kong and Shenzhen, China. Liu pointed out that the company has been operating relatively quietly for the past three years and was founded by himself from Stanford University, as well as other colleagues from National Tsing Hua University Taiwan and other research institutes. Liu said the firm has raised $190 million from investors, and admitted that they are considered a "unicorn" firm since their startup is currently valued by some at greater than $1 billion. Given how little we have heard about Royole since its start, this makes the company one of the biggest recent display startups that you may never have heard of.
Royole's products span flexible displays, flexible touch panels and head mounted displays based on their technologies. The Royole-X Smart Mobile Theater product has been covered recently by Display Daily in press release and product news articles (Royole Makes Bold Claims About Home Theatre Device Note – Subscription Required). The Royole-X product incorporates a 3300ppi AMOLED display and offers integrated high performance noise cancelling headphones. If Royole has gotten the display, optics, electronics and ergonomics of this HMD right, the Royole-X may realize the "high fidelity" head mounted display that I have always expected to be the primary if not the nearly exclusive large volume application of near to eye microdisplays.
Concerning the 3300ppi flexible AMOLED display, Liu revealed little new. He showed a few videos (see for example) of the display in operation while it was flapping in the breeze to illustrate the extreme flexibility of the display. Liu mentioned the very flexible TFT array of the display but did not comment on the material technology used for the TFTs (for example, crystalline silicon, amorphous silicon, etc.). While I learned only a little bit more about Royole at Printed Electronics 2015, we should all stay tuned to see how this start-up fares.
Conor Madiagan, President and Co-Founder Kateeva, delivered a presentation titled "Inkjet Technology for RGB OLED Mass-Production". Madigan's talk was a good update of the presentation he gave at Printed Electronics 2014. He noted that the Kateeva Yieldjet system is now installed and in use at three locations and next year he expects 15 installation locations in total. These installations total 25-30 printers spanning lab printers as well as pilot production and full production printers. Based on his 2014 and 2015 Printed Electronics presentations, it seems that the bulk if not all of the Kateeva printers in the field are being used for printing and patterning thin film encapsulation materials for OLED displays. This year Madigan suggested that Kateeva would add printing of RGB active OLED materials to their market focus.
To summarize Kateeva's current market status, Madigan stated, "In Mass Production: Thin Film Encapsulation (TFE) for Curved/Flexible (displays)", and "Next MP (mass production) Product: RGB Pixel Printing for TV." Kateeva's Madigan for his part included the slide below in his presentation.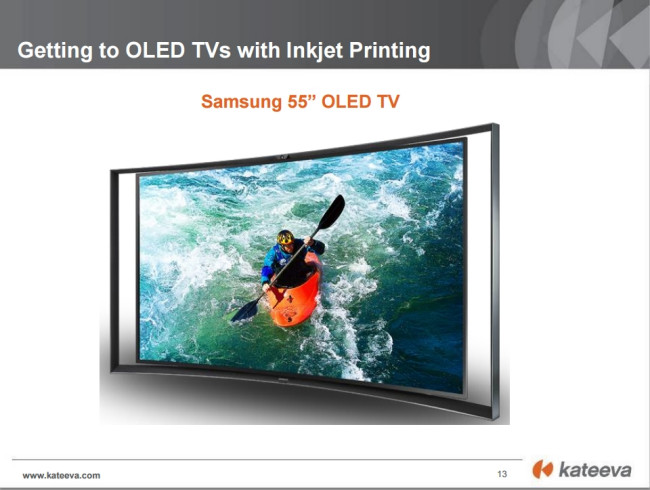 Source: Kateeva
Though suggestive, no announcement was made during the presentation concerning specific customer applications of Kateeva's Yieldjet equipment. The slide below illustrates the use of Kateeva's inkjet printing technology for patterning RGB pixels of large OLED televisions.
Source: Kateeva
Madigan then went on the state the following. "White with color filter is still seen as too expensive, even though the display performance is excellent. Many companies are aggressively pursuing inkjet RGB as the ideal technology for mass production. Materials are improving rapidly and are now seen as approaching MP quality. In June 2015, Kateeva announced a partnership with DuPont Displays to apply DuPont's solution materials to the IJP (ink jet printing) process, adding to Kateeva's earlier partnership with Sumitomo."
It is apparent that Kateeva is now expressly targeting the RGB pixel printing equipment market for OLED displays. In concluding his presentation, Madigan noted that their work on RGB pixel patterning is progressing and that good T95 pixel lifetime is the key factor to prove lifetime. He claimed that mura was no longer a problem for inkjet printed RGB pixel displays. He noted that a floating glass platen is necessary to yield optimum substrate temperature uniformity. He then went on to include that Kateeva will announce their RGB pixel printing platform "soon." – Phil Wright