Barco Residential has teamed up with Display Development at Cedia 2015 to begin to offer the ultimate home cinema experience – a cinema-grade RGB laser projector in your home. Prices start at $350K and include the RGB laser, server, scaler and chiller. One of the first customers is movie producer Jerry Bruckheimer, best known for Top Gun, the Pirates of the Caribbean and National Treasure franchises, and numerous award-winning television series. Bruckheimer is also working with Barco to develop movies in the new Escape format.
Powering the solution is a modified Barco 4K22 cinema projector. Modified in cooperation with Display Development, the projector, now called Thor, features higher contrast than the cinema platform. This brings the light output down from 20,000 to 18,000 lumens. It comes with a fully Integrated Media Bock (IMB) to allow playback of DCI-compliant DCP films from Hollywood. This is also a 6p solution so it can play 3D content as well. The lasers are internal to the projector with only the chiller external to it. 18K lumens not enough? You can add laser modules to get up to 56K lumens.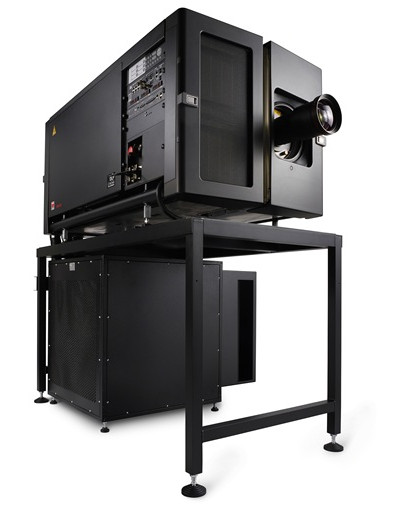 Display Development began a number of years ago as home theater consultants, but then started to work with projectiondesign on specialized home theater projectors. After Barco bought projectiondesign, the relationship continued. Display Development provides the entire home theater solution, including installation if necessary, with the projector branded as Barco Residential.
Display Development works with a number of high-end home theater consultants as well as architects. They try to inspire creativity in the design of the home cinema by offering unique materials, designs and technologies that the architect can use in novel ways.
At CEDIA, Barco Residential partnered with Bel Air Cinema (BAC) to introduce day and date DCI quality Hollywood content and event cinema programming in Barco Residential Cinema at Home systems. This was evident in the range of new Hollywood content that was shown. This included DCP versions of Eric Clapton Live at the Royal Albert Hall, Mad Max and clips from the new Star Wars film.
In a special after hours screening arranged by Peter Cineramax, we were blown away by the power of the visual and audio solutions coupled to some powerful and gut wrenching content that included watching Jeff Beck perform, San Francisco get wiped out by a tidal wave, Brad Pitt trying to live thru a tank battle, wild Mad Max chase scenes as well as soothing underwater footage. Some of this was in 3D and made a great impression.
Barco Residential also showed a vision of the home office of the future for well-heeled individuals that includes large, custom designed high-resolution screens with access to multiple content sources and integration with professional video conferencing tools such as Cisco or Polycom or wireless connection via the Barco ClickShare presentation system.