At the recent Sapphire Marketing road show, I had a chance to talk to Michael Bridwell, Vice President of Marketing and Digital Entertainment at Digital Projection. Digital Projection was showing three laser projectors at the road show, the E-Vision Laser 8500, E-Vision Laser 6500 and the Insight Laser 4K. Key specifications on these projectors are given in the table.
Model
Insight Laser 4K
E-Vision Laser 8500*
E-Vision Laser 6500*
Technology
3 x 1.38″ DarkChip DLP
1 x 0.67" DarkChip DLP
1 x 0.67" DarkChip DLP
Resolution
4K (4096 x 2160)
WUXGA (1920 x 1200)
WUXGA (1920 x 1200)
Lumens
12,000
8,500
6,500
Lamp Lifetime
20,000 hours
20,000 hours†
20,000 hours†
Contrast
2000:1
4000:1 (with dynamic black)
TBD
3D
Full 4K 3D display (Q3)
HDMI 1.4 3D formats
HDMI 1.4 3D formats
Lenses
4 available lenses with motorized shift, zoom and focus.
7 available lenses with motorized and programmable shift, zoom and focus.
5 available lenses, with manual shift, zoom and focus
Weight
67 kg (148 lb.)
27 kg (60 lb.)
25 kg (55.1 lb.)

* E-Vision Laser 8500 & 6500 specifications marked "Preliminary"

† According to Michael Bridwell. Lifetime spec not included in the preliminary specification.
Bridwell said the Insight 4K was available in three different versions, with lamp, laser/phosphor and LED illumination. These versions produced 25,000 lumens, 12,000 lumens and 3,000 lumens respectively. The lamp-based version of the projector uses 4 UHP lamps. The LED version is said to produce 93% of the Rec. 2020 color space. He described the color space of the laser/phosphor projectors as "almost DCI." (for more on the colour performance, see Chris's article Digital Projection Wows CEDIA with Insight 4K Projectors)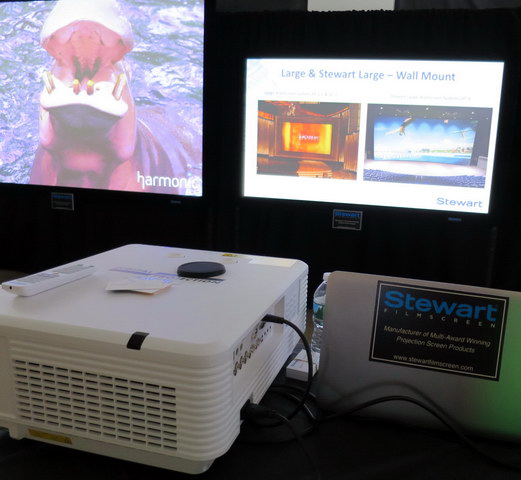 Digital Projection E-Vision Laser 6500 and image. Image on left was produced by the adjacent E-Vision Laser 8500
The Insight 4K Laser uses a bank of 100 lasers, according to Bridwell. Because of this large array of lasers, the built-in redundancy means the degradation or failure of a single laser does not affect the output color or lumens. When asked about the laser/phosphor lifetime failure mode, he indicated it was due to the gradual decline in the output of the lasers. If the phosphor wheel fails, it is a simple field replacement but replacing the laser module is done in the factory.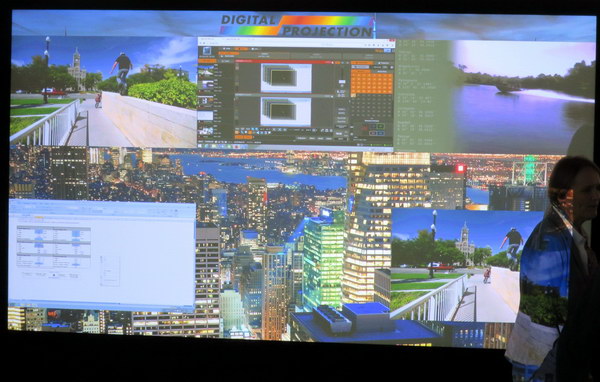 Image produced by the Digital Projection Insight Laser 4K
All three projected images looked good at the Sapphire roadshow. As would be expected, the lower output projectors suffered more of a reduction of color and contrast from the relatively high ambient light than the 12,000 lumen Insight Laser 4K. While the E-Vision 8500 & 6500 were showing conventional PowerPoint content, the 4K projector was showing multiple screens of data, using the full 4K resolution of the projector to best advantage. –Matthew Brennesholtz