Taking place in the Grand Hyatt Hotel again, Digital Focus is a press event that is – technically – not affiliated with IFA. Unlike Showstoppers, companies do not need to have space on the show floor to take space here, so it tends to be an ideal location for smaller companies with lower budgets. However, there are always a few familiar names.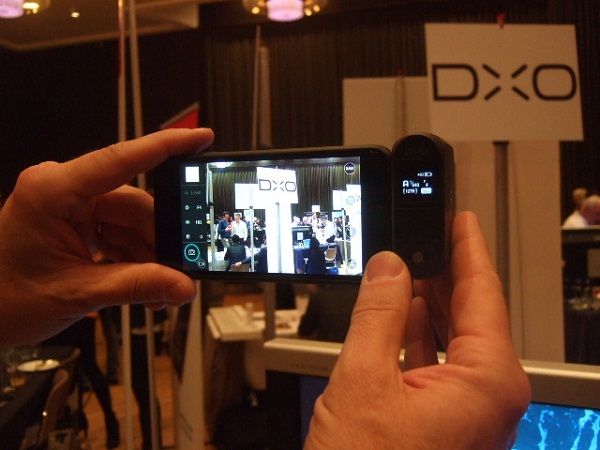 The DXO One is a camera attachment for an iPhone or iPad – but not just any attachment. This one costs €500 and will capture professional-quality images – specifically, it is intended for portrait and very low light shots. The camera features a 1″ 20.2MP sensor with a maximum aperture of f/1.8. Shutter speed can be between 1/8000 of a second and 15 seconds. Photos are automatically passed through DXO's image processing software, and a free copy of DXO FilmPack is included with the camera. For a limited time, buyers will also receive the Elite Edition of DXO Optics Pro – a bundle worth $300.
MHL was present, but showing the same products as it had at Showstoppers the day before.
Thalmic Labs is a Florida-based company that was demonstrating 'Myo': an armband enabling gesture-control for specific applications. The band requires contact with a wearer's skin, and will read electrical signals generated by muscle movements. For example, tapping fingers together was shown to switch slides in a Powerpoint presentation, while making a fist and rotating it left zoomed in (not possible in normal Powerpoint). Rotating the fist right displayed a virtual pointer. The band can also be used for gaming, as a mouse replacement, or for non-PC work; the DJ Martin van Buren uses two to control lights in his sets. Myo is just being launched in Europe, and will cost £150 ($230).
A thermal imaging camera for Android and iOS phones was being demonstrated by Seek Thermal. The camera simply attaches to a phone's micro-USB or Lightning connector, and will detect temperatures between -40º and 330º. Consumer applications include security, finding lost pets and detecting faulty plugs, missing insulation or wall studs in the home. Two models are available: wide- (36º) or narrow-angle (20º), which have a range of 300m or 600m, respectively. Resolution on the camera is an impressive 206 x 136 (impressive, that is, when you consider that most consumer IR cameras are 80 x 60! – TA).
Superspeed USB was showing off its USB Power Delivery specification, over USB-C. Power was being delivered from a wall socket to a Chromebook; from here, the Chromebook was sending power to both an iPad (via USB-A to USB-C) and a Macbook.
Prices are ex VAT, where applicable.
Analyst Comment
Thalmic Labs' Myo band is an interesting idea with, in our opinion, poor implementation. We can't envisage many people in an office environment willing to use it over, say, a remote control. However, there could be applications for gaming and other content. (TA)