Vestel is one of the world's largest display makers, but most people visiting IFA will have never heard the name. This is because the majority of TVs and public displays made by the company are sold to OEMs, who then re-brand the units. Vestel is not at IFA for the consumers, but for its dealers and OEMs.
Regardless, we did manage to have a meeting with the company, and saw various prototypes and upcoming models – not all of them displays. For example, Vestel is investing in R&D for the automotive market, showing a prototype connected charger for electric vehicles at IFA. It is part of the 'smart car' vision, the idea being that a driver will have alerts sent to a phone, telling him or her how much energy is stored in the car, the range and driving/charging time to make scheduled appointments.
In terms of very large displays, Vestel was showing three, although only one is confirmed to be entering production: an 85″ UltraHD TV. Timing will depend on demand (part of what Vestel hoped to learn at the show), but Q2'16 is not an unreasonable assumption for time frame. The other products were 98″ and 110″ UltraHD concept models.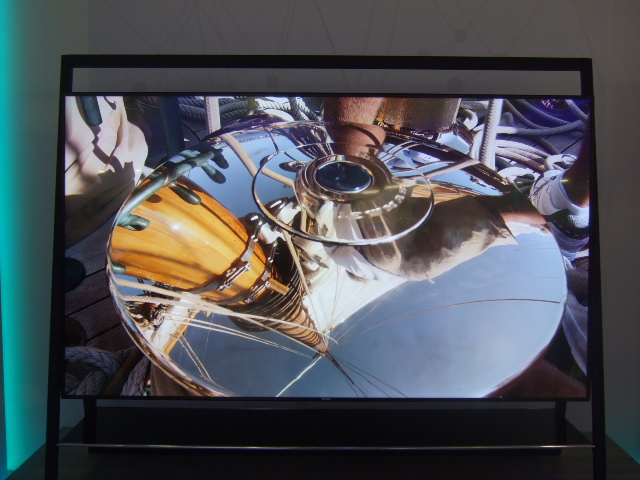 Another large set, nearby, was a 98″ professional display, mounted in portrait mode. Available now, the product is able to be operated 24/7. It has UltraHD resolution, 350 cd/m² of brightness, a Core i5 processor, a 256GB SSD and 8GB of RAM. An 8k prototype screen, of the same size, was also garnering a lot of attention from end-users.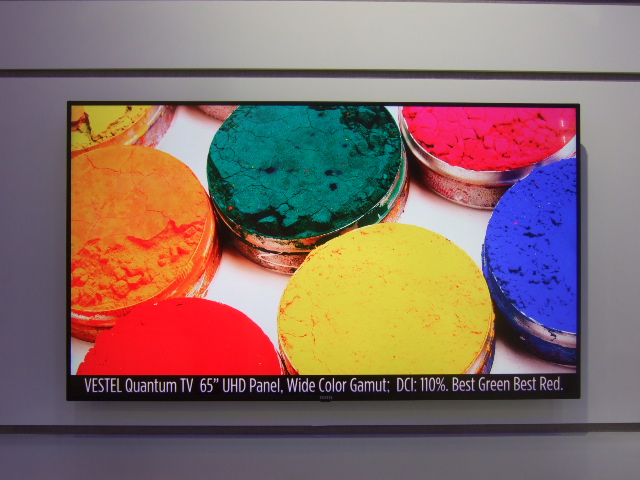 Across the stand from the large displays was Vestel's quantum dot TV prototype; again, it was present to gather feedback. We heard that the TV was covering 110% of the DCI-P3 gamut, and it looked extremely over-saturated – to the point at which details were lost. Someone needs to talk to Vestel's product managers!
The desire for thin bezels continues to haunt display makers, who are struggling to accommodate some features because of it. In Vestel's case, it has become more difficult to attach speakers to a TV. Because of this the company has begun a new partnership with DTS, to build surround sound speakers in to its sets. The only time frame is 'soon', though.
In the TV area, Vestel was still showing the curved 55″ OLED prototypes from last year, although they had been joined by a 65″ model. There is still no expected launch time. Curved LCD sets, with UltraHD resolution, were also present in the same sizes, plus a 78″ model. These will be available to order 'soon'.
Ultra-narrow bezel (UNB) public displays stretched floor-to-ceiling at one end of the stand. Available now, they have 1920 x 1080 resolution and 5.9m (top/bottom) and 10.5mm (left/right) bezels, in the 40″, 43″, 48″ and 49″ displays. A 55″ unit was also on show, with 7mm/10.5mm bezels.
In an area focusing on backlighting, Vestel was showing a local dimming demonstration – a first for the company – and a Dolby Vision prototype set.
In the middle of the stand were Vestel's smartphones. All three new models are intended for the Turkish market and are collectively known as the Venus V3. There are premium mid-range 5.5″ and 5″ models and a more affordable 5″ handset. They all have 4G connectivity.
Vestel has used Qualcomm processors in all three phones: the Snapdragon 615 in the mid-range models (64-bit, octa-core 1.5GHz) and a Snapdragon 212 (quad-core 1.3GHz) in the lower-cost unit.
The premium phones feature 1920 x 1080 resolution, 32GB of storage, 2GB of RAM and a 2,100mAh removable battery. The rear camera is a 13MP unit, with a two-tone flash and a back side-illuminated sensor, for low light shots. Vestel built the lower-end phone with 1280 x 720 resolution, 16GB of storage and 1GB of RAM. The battery is fixed and the unit has an 8MP rear camera.
The new smartphones will go on sale in Turkey at the end of October. They will be offered to OEM customers (for international launches) in early 2016.