Vivitek, a leading provider of visual presentation and collaboration solutions, presents the DU8395Z, its new large venue laser projector. Ideal for unusual projection requirements, such as mapping, it has picture-in-picture functions and is set to stun with its brilliant image quality and durability. The device offers a constant light output of 15,000 lumens.
Creative freedom
To meet all installation requirements, Vivitek's DU8395Z can be supported with eight different motorised lenses with Lens Positioning Memory (LPS). This enables the position of the lens to be easily adjusted by electrical control, regardless of where the projector is located. Therefore, the units can display image sizes ranging from 40" to 500" without image distortion, and can be easily calibrated using H/V keystone correction (four corners). Further flexibility is provided by the 360° installation, thanks to which the projectors can be installed without limiting the projection angle. This also enables projection in portrait format, which provides even more creative freedom. An HDBaseT connector enables long cable runs to be installed. With a single cable of up to 100m, image, sound and control signals can be transmitted without loss of quality. In addition, the projector has a 3G-SDI connector, which allows a camera to be used as an image source.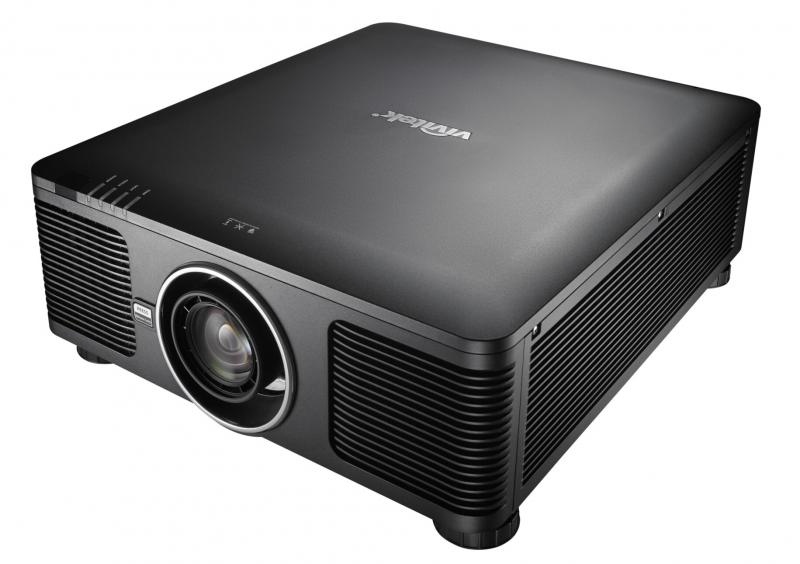 Smart setup aid
The new Vivitek Distance Calculator is a web-based setup tool. It lets users select the projector model and the lens used, then enter the room size and estimated image brightness as well as the image and projector position. From this data, the software generates four dynamic and interactive graphics: a side, front, top and 3D view. If the projector position entered at the start does not fit, users can simply move it within the graphics using the cursor, and the app automatically adopts the new distances. Once everything is set up as desired, you can generate a PDF from it, which provides ideal on-site installation support. The Vivitek Distance Calculator supports popular browsers including Chrome, Firefox and MS Edge as well as Apple Safari.
Next generation colour technology
The Vivitek DU8395Z impresses with rich, vivid and precise colours that ensure particularly high-contrast images – and at a maximum resolution of WUXGA @ 60 Hz. This is delivered by the latest DLP® and BrilliantColor™ technology. Precise adjustments can be made via a phosphor wheel as well as a colour wheel, while the laser projector ensures extremely detailed images with its dynamic contrast ratio of 3,000,000:1. For the final touch, it also features Smart CCA Calibration and a user colour manager that covers up to 97.5% of the Rec.709 colour gamut.
Remote control made easy
For easy control over the network, the Vivitek DU8395Z is equipped with Vivitek's in-house control software PJ-Control. This enables remote control of display options, settings, scheduling and other display functions. It is also possible to manage several projectors in the network at the same time and to group them. In order to do this simply, Vivitek developed an intuitive user interface to make it as easy as possible for users. The device is also Crestron® RoomView certified, offering network monitoring and management software, which enables devices to be controlled and monitored centrally.
Always on the safe side
Of course, Vivitek has also considered the safety of the device. The laser projector features "Over Temperature" protection for safe operation. In addition, to keep it in place, it is equipped with a keyboard lock, password protection and a robust Kensington® security lock.
Eco-friendly and durable
The Vivitek DU8395Z offers a number of settings designed to save power. These range from a No Signal Power Off mode to a Low Power mode and a Sleep Timer. Furthermore, the devices are very robust and durable thanks to Natural Air, Liquid as well as a TEC cooling system, anti-dust compliance (IP6X) and the sealed optical engine. Another advantage is that the laser projector automatically detects the brightness index and adjusts accordingly, ensuring consistent brightness for up to 30,000 hours of operation.
Price and availability
The Vivitek DU8395Z will be available for £15,930 MSRP ex VAT.
About Vivitek
Vivitek, a brand of Delta, offers an extensive line of visual display and presentation products. Vivitek's line of digital projection and display products incorporates the latest innovations and technologies to meet the market demands for education, business, home theater and large venue.
About Delta
Delta, founded in 1971, is a global provider of switching power supplies and thermal management products with a thriving portfolio of smart energy-saving systems and solutions in the fields of industrial automation, building automation, telecom power, data center infrastructure, EV charging, renewable energy, energy storage and display, to nurture the development of smart manufacturing and sustainable cities. As a world-class corporate citizen guided by its mission statement, "To provide innovative, clean and energy-efficient solutions for a better tomorrow," Delta leverages its core competence in high-efficiency power electronics and its CSR-embedded business model to address key environmental issues, such as climate change. Delta serves customers through its sales offices, R&D centers and manufacturing facilities spread over close to 200 locations across 5 continents.