Dell showed its S2719DC which combines a glass LGP, DisplayHDR 600 and USB docking into a single monitor at the Showstoppers event, but the company also had a good presentation of its monitor range, and some display specialists, at IFA. (Just a Few Displays at Showstoppers)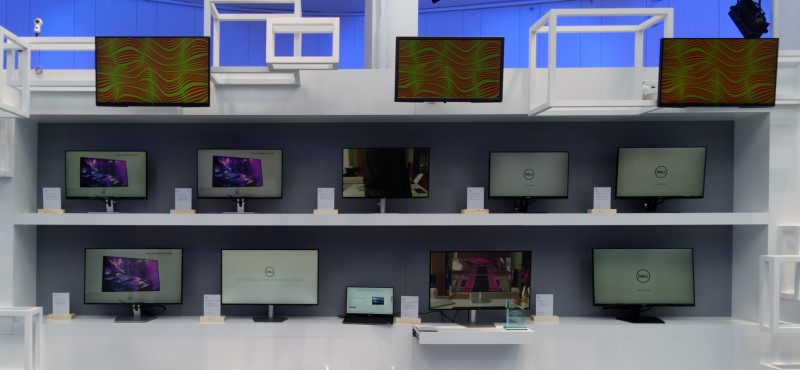 The new E series is at the bottom, right. Image:Meko
As well as that new model, Dell has a new SE series of entry-level business displays that will be very competitive. The three FullHD monitors, the SE2219H (21.5″ – €120), the SE2419H (23.8″ – €140) and SE2719H (27″ – €180) all have IPS panels and low haze displays with narrow bezels and a 'full black design'. Dell told us that it is working hard to get all of its PSUs to be internal rather than using 'bricks'. The SE series continue to have VGA and HDMI inputs.
Dell has a lot of monitors in its range that use a standardised height-adjustable stand and it has been able to use that stand to support even some of its consumer displays. Moving to height adjustment does mean that the back of the monitor has to be strengthened, but the cost increase becomes relatively small because of the volume of its stands. Historically, Meko (LDM & MDM's publisher) has found that height adjustment, at least in the commercial segment, was one of the few features where the marginal price was higher than the marginal cost, so it's a relatively profitable feature.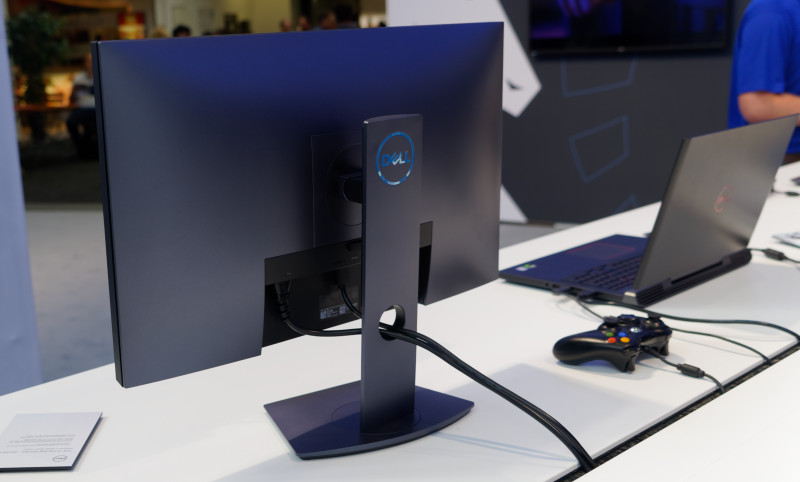 Dell uses its height adjustable stands even on gaming monitors. Image:Meko
Dell also had new notebooks at IFA, having launched new gaming desktops at Gamescon. The Inspiron 7000 family has new 2-in-1 models that are available in 13″, 15″ and 17″ sizes and the two smallest sizes have three narrow border designs, thanks to a new 2.7mm miniaturised webcam. The two larger sizes have an optional Nvidia GeForce MX150 graphics system and optional FullHD and UHD displays with active pen support. The units are based on Intel 8th Generation U Series processors.
There are also two new Inspiron 5000 2-in-1s 14″ class notebooks with USB Type-C power and graphics support and optional Nvidia GeForce MX130 graphics.
A new category for Dell is the 'premium Chromebook', the Dell Chromebook 14 2-in-1, which uses a 14″ IPS FullHD display and dual USB TYpe-C ports with a backlit keyboard.
The XPS 13 flagship PC has been updated to include the latest Intel 8th Gen processors which are claimed to have a 15 hour battery life and with optional InfinityEdge touch displays at UltraHD or, in the case of the XPS 13 2-in-1 at 3200 x 1800. There are updates to the Vostro 5000 range to support the new Intel processors.