Lenovo was showing its own brand, Medion and Motorola products on its booth. It has also started to develop smart home products.
We started by looking at the X1 Extreme which is a 15.6″ Full HD/300 cd/m2/sRGB or UltraHD/400 cd/m2/AdobeRGB/Dolby Vision notebook. Up to now, the X1 range has been in the 14″ class. The Extreme has Intel UHD 630 graphics or by a Nvidia GeForce 1050Ti GPU. The notebook supports 8th Gen Intel Core processors with or without vPro and up to 64GB of RAM and up to 2TB of storage. Battery life is claimed at 15 hours.
Weight is 1.7kg for FullHD and 1.8Kg for the touch UltraHD display. Connectors include dual Thunderbolt 3 ports and dual USB 3.1 as well as HDMI 2.0. Docking is supported through the Thunderbolt dock.
Shipping starts in mid-September at prices from $1,690 plus tax.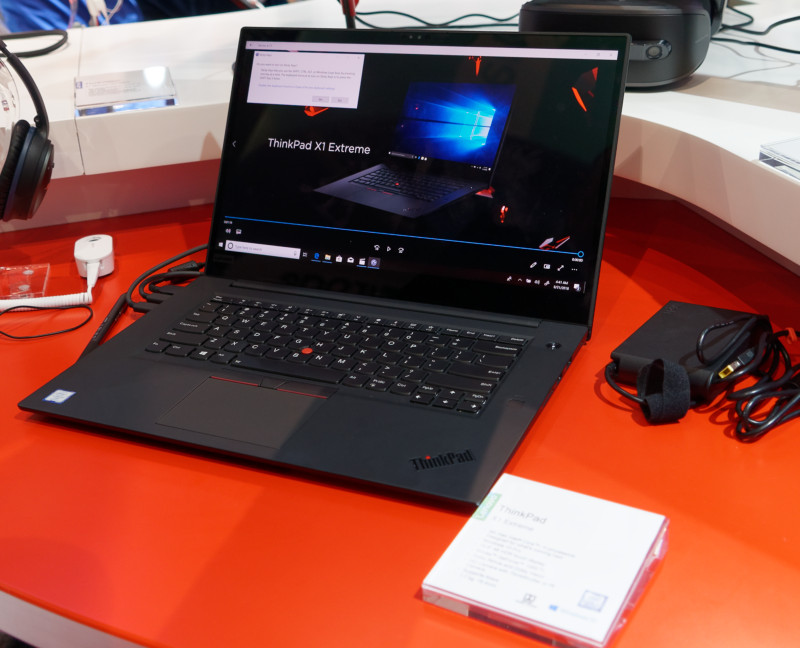 The X1 Extreme was demonstrated driving dual external displays. Image:MekoLenovo has re-designed its Yoga C930 – "it's not just an update", we were told. It still has a 360 deg design with laptop, tent, tablet and stand modes. Lenovo said that 2-in-1s often look like great notebooks, but look like broken notebooks when used as tablets. There is a 'garaged pen' that is automatically recharged and there are integrated far-field microphones for Alexa and Cortana support. The display is a 13.9″ unit with FullHD and with an option for UltraHD resolution and support in both for Dolby Vision. The camera is fitted with a shutter and there are dual Thunderbolt 3 ports. The C930 sells from €1,499 including tax ($1,465 plus tax).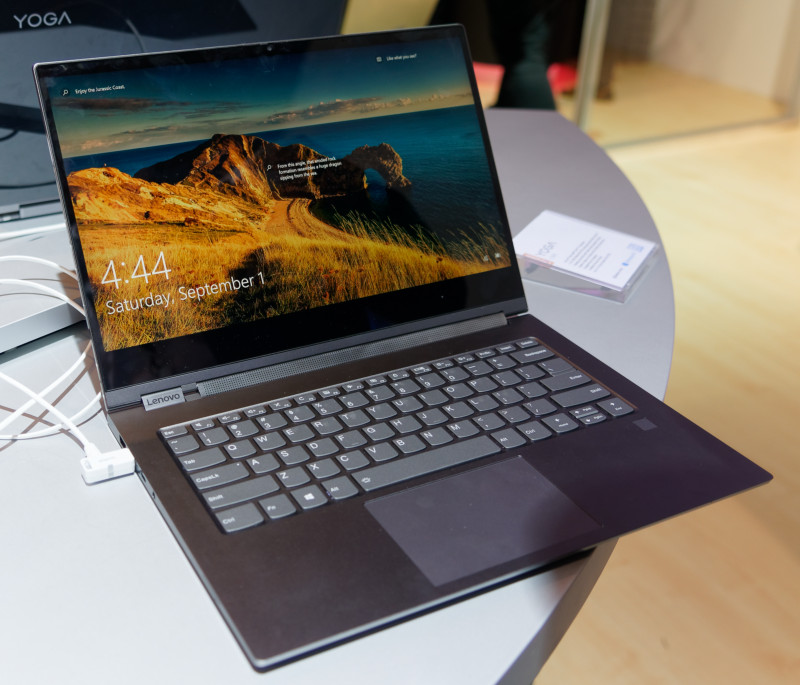 The Yoga C930 is designed so that the speaker is always in the right place however it is configured. Image:MekoA very innovative product was the new Yoga Book C930. This has an E Ink display where the keyboard would be, rather than the pressure sensor in last year's Yoga Book. The display can act as a keyboard with haptic feedback (and configured for 30 languages) and the Yoga Book can be used as an eBook using the E Ink display. The display can also be used as a secondary display in Windows and with pen support. We asked whether custom keyboards could be defined, but it seems that only the Lenovo-developed options are available.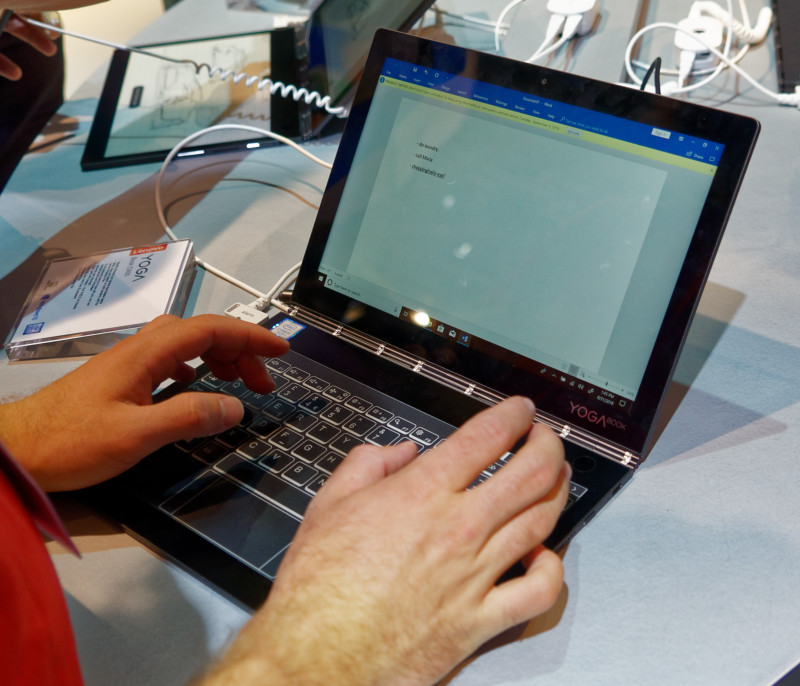 The Yoga Book C930 uses an E Ink display as a keyboard. Image:MekoAfter looking at these, we had a quick look at the Motorola One, the first smartphone that is claimed to be developed fully for the Android One entry level platform. The display is an IPS LCD with a 5.9″ diagonal and 720 x 1440 resolution (18:9/409ppi). The phone uses a Snapdragon 625 with 4GB of RAM and 64GB of storage. The cameras are a 13 megapixel main camera with a 2 megapixel depth camera and the selfie camera is an 8MP version. Pricing will be a competitive €299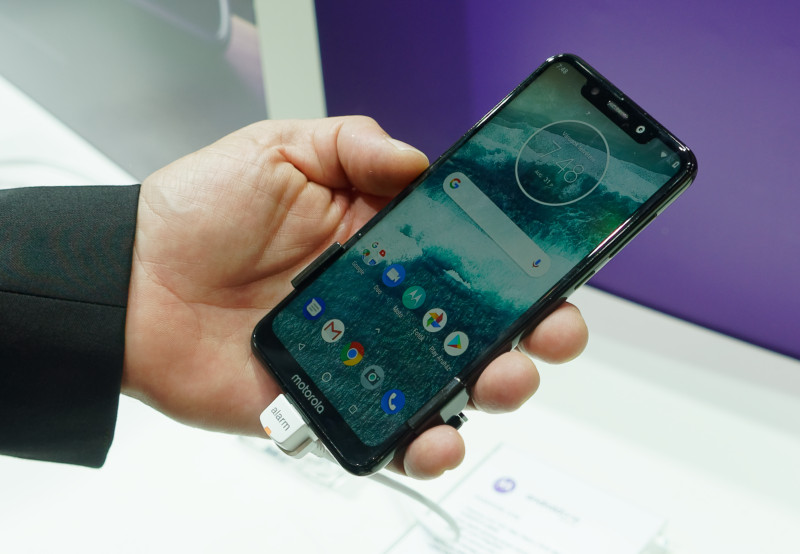 The Motorola One is the first phone developed from scratch for Android One. Image:MekoThe only monitor we looked at was the L27M-28 which is a new FullHD unit with a three-side frameless design and optomised around USB-C. The IPS panel has 250 cd/m2 of output, with contrast of 1,000:! and 72% of NTSC colour support. FreeeSync is supported and there is an 'extreme' mode that gets response times to 4ms (grey to grey), while typical response times are 6ms/14ms.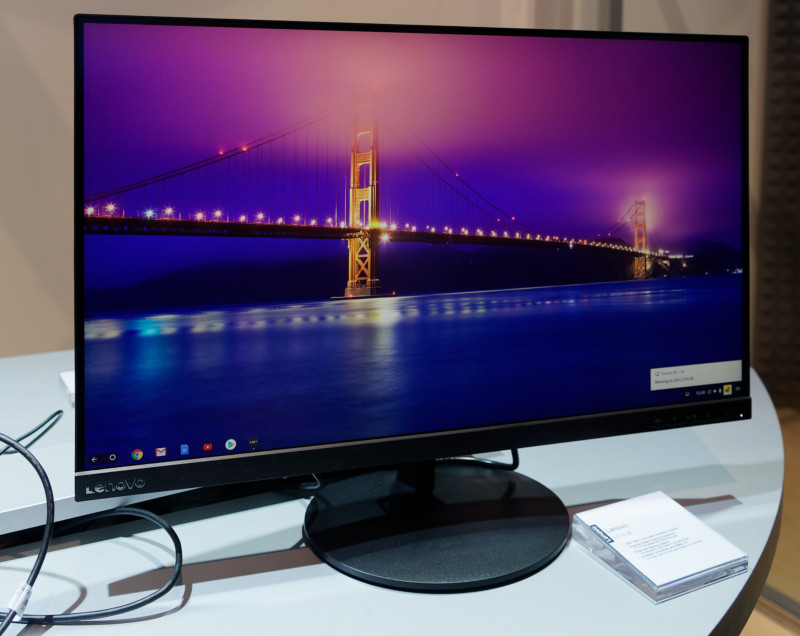 This new monitor supports FreeSync. Image:Meko