Conrac is the brand that Data Modul (an Arrow company) uses for its public displays and the company is a significant player in the airport display market. At PTE, it showed new 'stretched' displays with 37″, 42″ and 86″ diagonals and with 500 cd/m² or 700 cd/m² of output. The displays can be supplied with light protection of IP20 or a higher level of ruggedness at IP54 as there are no fans or filters. The displays can be supplied with regular, slim cases or with more of a 'box' design. Conrac is happy to offer a range of customisation for bezels and cases, including wood or special colours to match the requests of clients. The units have integrated android functionality but are also addressable by IP address and have OPS slots so that PCs can be integrated.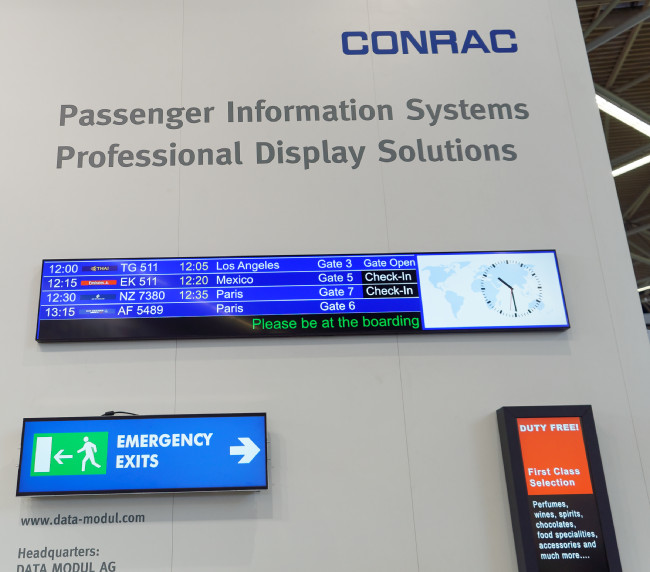 Conrac has new stretch displays. Image:Meko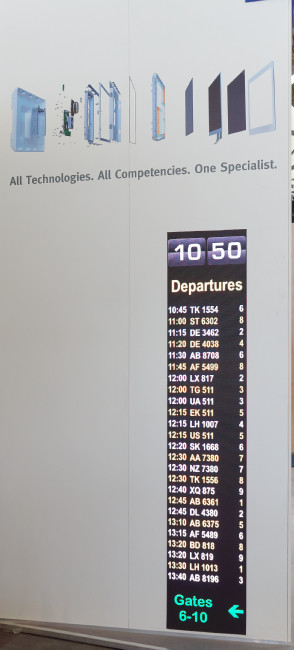 The other news from Conrac is that it has joined in with all the other companies that are offering LED displays. The company has seen a significant demand for the kind of flexibility in shape of LED displays and has taken on a senior specialist with experience in that area. The standard offerings will be in 2.5mm/5mm and 10mm although Conrac expects most of the demand will be for 2.5mm as this is still usable at relatively close distances. The company will offer ruggedisation to IP65.
Key to the opportunities for Conrac, it believes, is its ability to offer complete solutions that include its software and CMS to airports. It has many years of development and experience and that is appealing for airports, which are very conservative.