RealWear, the world's leading provider of assisted reality solutions for frontline industrial workers, announced that Anadolu Isuzu, a joint venture with Anadolu Group, Isuzu Motors Co., Ltd. and Itochu Co based in Istanbul, Turkey, has successfully increased its overall productivity by deploying VSight's remote collaboration software on RealWear's assisted reality devices for its technicians.
The ruggedised wearable solution — the RealWear HMT-1 – enables Anadolu Isuzu's technicians to resolve mechanical issues significantly faster by connecting them with centre experts. In Anadolu Isuzu's Academy Technology Center there are two facilities – a Technical Support Room and Pro-active Online Studio. Anadolu Isuzu's Technical Support Team has deployed the HMT-1 to give fast, accurate and quality service to its customer's vehicles within its distributor and services network. In addition, the innovative technology is used in online hand-on training, enabling the wearer of the device to show part details, assembly, disassembly and adjustment procedures to attendees in the Online Studio. Additionally, Anadolu Isuzu is using the system in remote supplier quality control processes. The devices have already driven a number of benefits for the business, including speeding up repairs – such as a door adjustment or Engine Control Unit (ECU) programming, significantly reducing travel, reducing the company's overall carbon footprint, and improving logistics efficiencies for thousands of customers.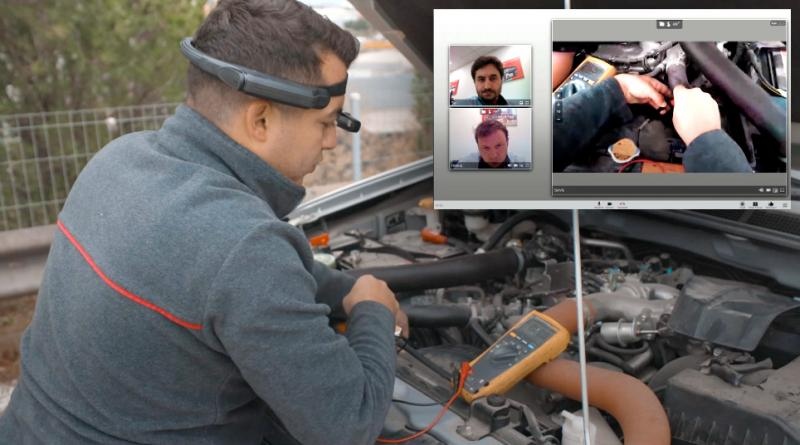 RealWear Assisted Reality Devices Help Keep Supply Chain Moving in Turkey
As a key part of Anadolu Isuzu's post-sales service, the company deploys vehicle technicians to service and maintain its fleet of commercial vehicles, many of which are part of the global supply chain. Prior to deploying the devices, to conduct a truck or bus repair on a stranded bus or truck, Anadolu Isuzu would often send one or more technicians specialising in various disciplines to the location of the stranded vehicle. If technicians were then unable to successfully resolve the issue, which occurred with some frequency, additional technicians would travel to the location to work on the issue. As many of Anadolu Isuzu's customers are commercial vehicle users conducting high priority business, the process resulted in customer dissatisfaction and lost revenue.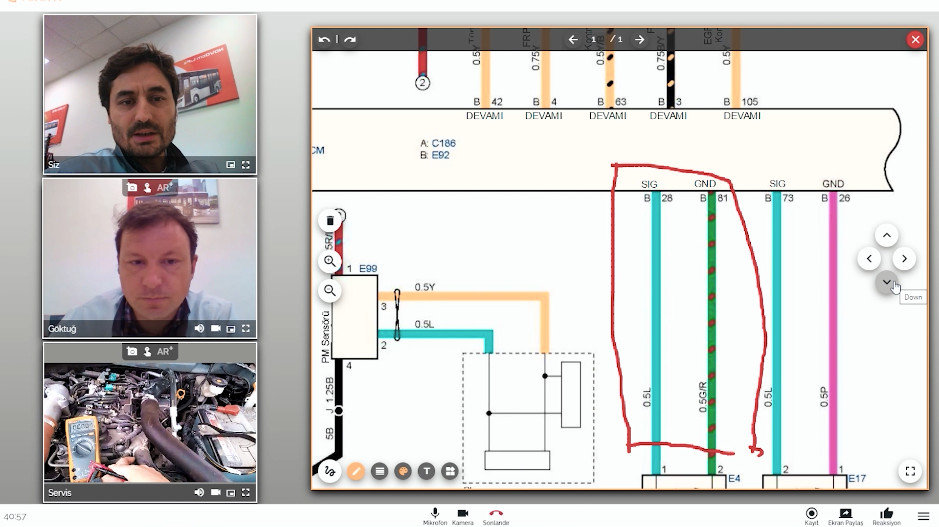 Given the high stakes of a single stranded vehicle, company leaders said it was imperative that it was able to find a better way to get a vehicle fixed right the first time.
"Our travel needs prior to the deployment were prolonging our operation and repayment time. This was a negative situation in terms of competition and customer satisfaction," commented Hakan Ozenc, After Sales Services Director, Anadolu Isuzu. "Furthermore, due to the travel restrictions that were imposed in Europe in response to the pandemic, RealWear's technology quickly became vital for us, and we revised our previous way of working. RealWear's HMT-1 running VSight has been highly effective in our after sales operations and importantly technicians can use both hands with the system, which is vital from an operability and safety standpoint."
Anadolu Isuzu worked with RealWear's partner, VSight, who made the recommendation of the RealWear HMT-1 to the company, who then selected VSight Remote for the Android software, enabling the technicians to use the front-facing cameras to transmit images or video of the vehicle's problem for a remote diagnosis.
Pandemic Accelerates RealWear Deployment
Anadolu Isuzu began its deployment of RealWear in early 2020, spurred on by the pandemic and the subsequent restrictions that came into place. Today, RealWear's assisted reality devices are being used across 25 of its domestic services and nine foreign distributors across nine European countries.
Thanks to the HMT-1's hands-free nature, technicians can work comfortably, with two hands, while eliminating distractions and preventing work accidents. Since the deployment, Anadolu Isuzu has intervened in 366 malfunctions in 78 different locations over the course of a year. As there has been a significant reduction in travel, there has been a huge gain both financially and environmentally. At the same time, there is no need for warranty parts to be shipped to its warehouse. By having the ability to examine parts on site via RealWear's device, Anadolu Isuzu has accelerated its decision-making process and reduced its shipping costs. Consequently, it has gained a lot in safety, efficiency, productivity, cost and time.
"There are numerous advantages with this hardware and software, and we are able to solve mechanical problems very quickly," added Ozenc. "Additionally, operational costs are much lower, and we are receiving a great deal of customer satisfaction. We chose RealWear against other competitor solutions on the market for its quality, durability, and ease of use. This technology has also prevented repair-related accidents, with none recorded last year since the implementation."
"Anadolu Isuzu is a pioneer within the automotive space in the usage of assisted reality technology," said Jon Arnold, Vice President of EMEA at RealWear. "We're excited to see that the deployment aligns perfectly with the company's greater digital transformation goals, and we look forward to meeting the customer's goal of expanding across 92 service centers," said Jon Arnold, Vice President of EMEA, RealWear Inc.
In the future, Anadolu Isuzu has broad expansion plans of the device and will look to ensure that RealWear assisted reality devices are widespread in all of its 92 service centers in Turkey, and amongst its 35 foreign distributors.
About RealWear
RealWear® is the world's leading provider of assisted reality wearable solutions that engage, empower, and elevate the modern frontline industrial worker to perform work tasks more safely, and with increased efficiency and precision. RealWear gives these workers real-time access to information and expertise, while keeping their hands and field of view free for work. Workers use voice-controlled commands – even in high noise environments – to collaborate with remote experts or navigate through workflows. RealWear offers the only assisted reality wearable solutions fully supported by the world's leading video conferencing applications – Zoom, Microsoft Teams, and WebEx. RealWear is compatible with worker PPE (Personal Protective Equipment), purpose-built for industry and enterprise, and features the only "all shift" battery in its category. RealWear is field proven with world-class customers, including Shell, Goodyear, Mars, Colgate-Palmolive, and BMW, who use it to improve workplace safety while delivering unprecedented ROI.
RealWear is headquartered in Vancouver, Washington in the United States, with local offices in the United Kingdom, Singapore, Germany, Australia, the Netherlands, and Korea, along with a new customer experience center in Dubai. RealWear's number one position was further strengthened with triple (3X) year-over-year growth in 2020. The company has shipped wearable devices to more than 3,000 unique enterprise customers worldwide in a range of industries, including Energy, Manufacturing, Food & Beverage, Automotive, and Telecommunications.
About Anadolu Isuzu
Since starting production of commercial vehicles in 1984, Anadolu Isuzu continues its operations through strong partnerships with the Anadolu Group and two major Japanese companies, Isuzu Motors Limited and the Itochu Corporation, as a publicly traded company with a growing portfolio. Focused on the commercial vehicles segment of the automotive industry, Anadolu Isuzu boasts a strong product range, effective aftersales services, and a wide network of dealers and service centers. As well as being a leading manufacturer of trucks, light trucks, midibuses, buses and pick-ups in Turkey, Anadolu Isuzu also maintains an assertive position in export markets.
Anadolu Isuzu's manufacturing site in Turkey holds Isuzu Manufacturing Management (IM: Isuzu Monazakuri) certification, a testament to the highest quality and production standards of Isuzu in truck, pick-up, and bus production across the company's global operations, and is the only plant of the company outside Japan and Asia. Serving its customers with 937 employees, 29 sales points, and 99 service centers in Turkey, Anadolu Isuzu also operates in 44 countries through 35 distributors.
About VSight
VSight UAB is a technology provider company that develops and markets the leading Augmented Reality (AR) Remote Assistance software platform for enterprises. VSight is taking the concept of remote assistance further by providing to the market its product called VSight Remote. This is a complete collaboration and knowledge-sharing platform that allows remote field technicians and experts to connect with each other and collaborate on maintenance, repair, operations (MRO) via live video, audio powered by Augmented Reality technology. In addition, file sharing features such as 3D objects, PDF, or image sharing allows effective communication among users.