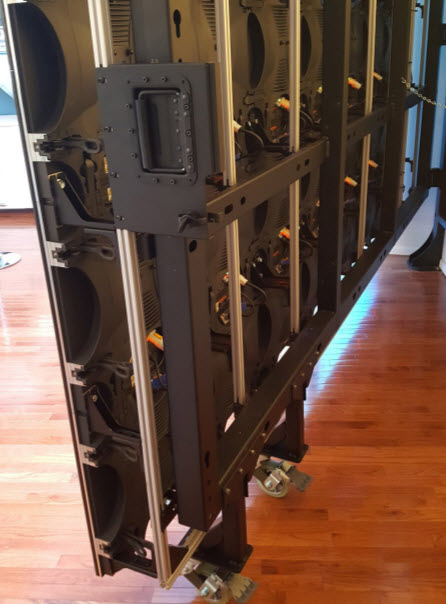 The frame that Peerless made for Christie could pivot to allow access for service.Peerless AV in the US has worked with Christie to develop a mount for Christie's LED video walls at the firm's New York showroom. There was very limited space and an uneven structure and together the companies came up with a solution that showed Christie's Velvet Merit series displays in a 7 x 5 configuration. The displays weighed 1,000lbs (453kg) so the design was created to transfer the weight to the floor as well as using a plate attached to four studs. There were castors fitted to allow the wall to pivot for rear-access service.
The wall features five different pixel pitch solutions (columns 1-3 = 1.5mm pixel pitch, column 4 = 1.9mm pixel pitch, column 5 = 2.5mm pixel pitch, column 6 = 3.0mm pixel pitch, column 7 = 4.0mm pixel pitch).
Christie said that it was very happy with the support and service from Peerless.