Cinno Research's latest data shows a significant year-on-year (YoY) growth in China's AR/VR market despite a slight quarterly decline. During the first quarter of 2023, AR/VR unit sales totaled 220,000, an 11% drop from Q4'22. However, compared to the same period the previous year, this represents an impressive 62% increase.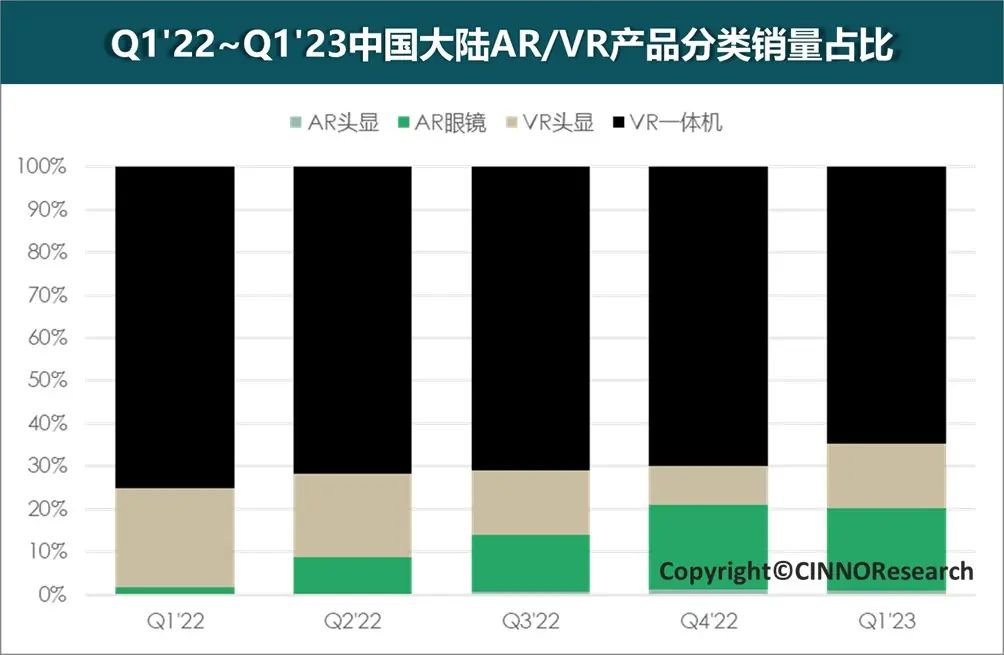 VR products saw a 31% YoY increase in sales. Despite the increase in cost from the transition of VR from Fresnel lens to Pancake, these brands dominate the market. At the high-end, VR technology that requires MicroOLED or MiniLED backlight remains relatively expensive. Currently, fast LCDs, with ordinary backlighting, are the prevailing technology used.
The AR market has displayed significant growth as well. Projection-type AR glasses, such as Thunderbird and Nreal, have been well-received, resulting in a 16-fold increase in Chinese AR product sales in Q1'23 compared to the same period last year. The incorporation of microdisplay MicroOLEDs and Birdbath optical modules has facilitated a improvements in practical designs and usage. The use of a USB Type-C connections has further reduced weight, costs, and retail prices, with most products priced between 2,000 to 3,000 yuan ($280-421).
The AR industry is not without its challenges, however. Qualcomm AR2 and other platforms aimed at AR products will replace XR2 to provide a less power hungry computing power for integrated AR devices. OEMs are looking to introduce features such as AR visual translation products to cater to the middle-aged and elderly market. The advent of MicroLED and optical waveguide technologies are also helping to give AR products a thinner, lighter form, with mass-produced solutions expected within the year.
Apple's entry into the AR/VR market with Vision Pro has put a spotlight on the the sector in 2023. Given the increasing number of manufacturers, vertical integration, and industry mergers and acquisitions, competition in the AR/VR market is expected to intensify further, as a result, according to Cinno.